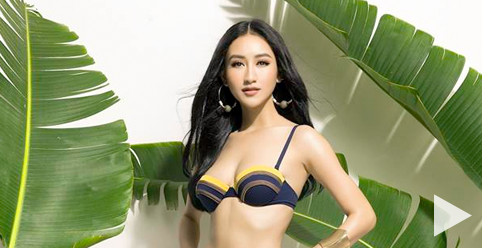 Age: 25
Height: 171 cm
Measurements: 85 cm - 60 cm - 90 cm
Profession: Model and Singer
Hometown: Ho Chi Minh
Language/s Spoken: Vietnamese, English, Thai
DESCRIBE YOUR CHILDHOOD GROWING YEARS (8-13 YEARS OLD)
During 8-13 years old, I grew up in a happy family with my parents and two younger sisters in a small village. Because my hometown was small and quite poor so in at that time, other children and I did not have modern equipment for entertainment. We focused on studying, programs of student's association and we played some tradition games together. That period was so happy. It is a wonderful memory in my life.
ANY SPECIAL STORIES OR FACTS ABOUT YOUR FAMILY?
My parents are farmers. My grandfather died when my father was young so my father could not finish his education. That's the reason my father hoped all of his children would try to study as much as possible. When I was a child he told me, "Although I am not rich, I will try to give you a good education, you should try to study hard in order to get a good job after graduation, then you will not have to hardship like me" Since I was a child, I have always reminded myself that I have to try more and more everyday to be better and make my parents proud of me.

WHAT IS THE MOST UNUSUAL THING YOU HAVE EVER DONE?
I unusually live alone. When I am alone at home, I am like a drop in the bucket. Seem that all the world forget me. I like to meet and talk with people. We will discuss about work, a social situation, a film, a song, etc. It is make my life.
WHAT MAKES YOU PROUD OF THE COUNTRY YOU ARE REPRESENTING?
I'm so proud of my country for many reasons; Vietnam has variety in spectacular scenery, people and culture. We have 54 ethnic groups and many different cultures as a result. I believe there's a kind of magic in diversity.
WHAT TRIVIA ABOUT YOURSELF WOULD YOU LIKE TO SHARE?