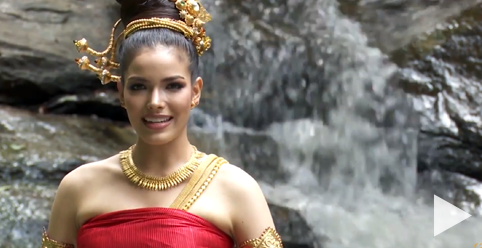 Age: 23
Height: 181 cm
Measurements: 86 cm - 66 cm - 94 cm
Profession: Radio DJ
Hometown: Bangkok
Language/s Spoken: Thai and English
DESCRIBE YOUR CHILDHOOD GROWING YEARS (8-13 YEARS OLD)
I was born in Thailand on October 12, 1993 and moved to Canada in 2001. So at the age of 8, I had to learn a new language, was challenged to adapt to a different environment and culture, while trying to make new friends in an unfamiliar school setting. Nevertheless with determination, motivation, as well as hard work, I became an honour roll student throughout my junior high years and was presented with the 'Female Student of the Year' award in grade 9.

I would also like to mention that, thanks to my father, I became aware at an early age of the need to be responsible for our environment. My dad told me that he was very proud of a story I wrote at the age of 9 or 10 years old; it was a tale about a prince meeting a princess at a city market, sharing an apple together and before leaving the scene, throwing their apple core in the trash can. With the environmental awareness being so engraved in my mind, he knew his teachings had paid off and that these values would be passed on to my children as well.
ANY SPECIAL STORIES OR FACTS ABOUT YOUR FAMILY?
I witnessed a very memorable experiment that took place in our home during my teenage years. My mother and I adore plants but at some stage, we had so many in the house that we unintentionally neglected a few of them. When my father came home for a vacation after working overseas, he noticed that some of our plants were dying and decided to take matters into his own hands. He told us how his mom used to pour water from the kitchen pots into her plant vases after cooking all sorts of vegetables. So, instead of getting rid of the water used to cook carrots or green peas (for instance) into the kitchen sink, my dad started to feed it to our dying plants. I will never forget how quickly this technique brought all the plants back to life! Cactuses even started to bloom because of the nutrients received from the vegetables which had been diluted in the cooking water. My father then told me that if this vegetable water could be a natural fertilizer for plants, it can also do marvels to us as well if we start drinking it - one very good and rewarding way of recycling our leftovers!
WHAT IS THE MOST UNUSUAL THING YOU HAVE EVER DONE?
The most unusual thing I have ever done is sitting on a jetty and singing "Part of Your World" from the Disney movie 'The Little Mermaid' hoping that I could meet a real mermaid or merman. At the end of my song, I asked the mermaids to give me a sign of their existence and a very large fish jumped out of the water scaring the living daylights out of me! My wish kind of came true but the shape and size of my mermaid wasn't quite what I had expected her to be. Besides, I wonder if I wouldn't have died of a heart attack should the fairy tale creature, much bigger than my fish, had miraculously appeared in front of me that day!
WHAT MAKES YOU PROUD OF THE COUNTRY YOU ARE REPRESENTING?
As Thailand's representative, I'm proud of the Royal Development Projects or RDPs inspired by His Majesty King Bhumibol Adulyadej. Our wise King realized that any projects aimed to truly improve the lives of his people (especially those in rural areas) must go hand in hand with protecting the environment as well as the sustainable use of natural resources. Therefore, most RDPs look into the development and conservation of soil, water, and forest. In recognition of His Majesty's work and to raise awareness on the importance of conserving soil resources for food security and sustainable development, The United Nations recognized King Rama IX's birthday, December 5th, as World Soil Day.
WHAT TRIVIA ABOUT YOURSELF WOULD YOU LIKE TO SHARE?
I am scared by a lot of things but what frightens me most of all are dogs. No matter their breed, size, or gender, whether they are cute little puppies or so old that they can only move at snail pace, I will freeze at the sight of them. So much so, that if my dad was nearby I would jump into his arms when a dog approaches me! My father thinks that I was traumatized by them when I was a kid; I was knocked over by a playful puppy and living in a Bangkok dead end street, the front of our townhouse happened to be the area where vicious dog fights were taking place at any time of the day or night. Therefore, it should not very surprising how my phobia developed given these circumstances!