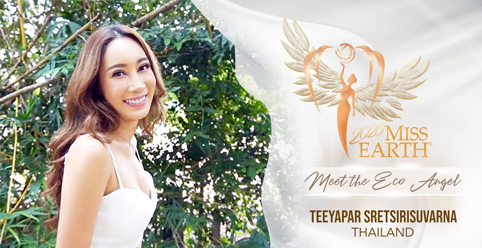 NAMPETCH TEEYAPAR SRETSIRISUVARNA
Age: 28
Height: 170 cm
Measurements: 33 in - 24 in - 37 in
" This year, I am very honored to be representing Thailand again in the Miss Earth 2020 contest. I want to promote my advocacy further in reducing plastic like Thailand has done this year. I believe that I can use Thailand as a case study on how we can reduce and recycle plastic in order to save the earth from plastic waste and this is my mission as Miss Earth Thailand 2020."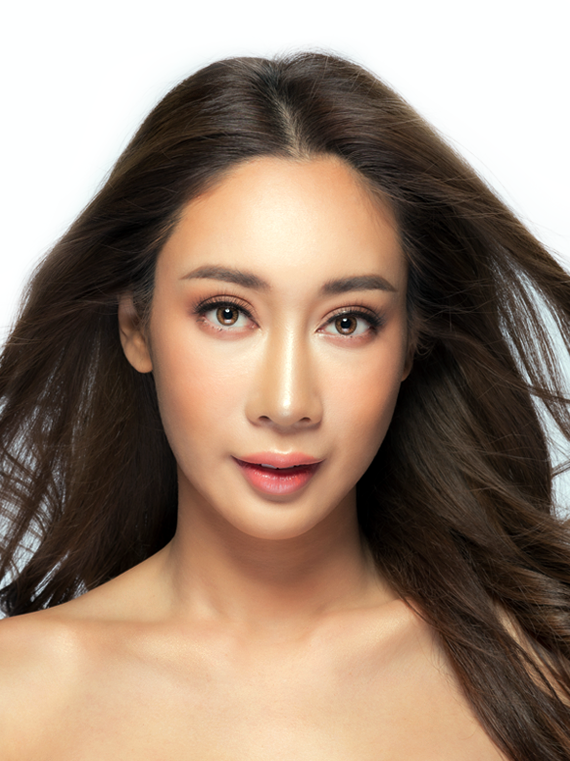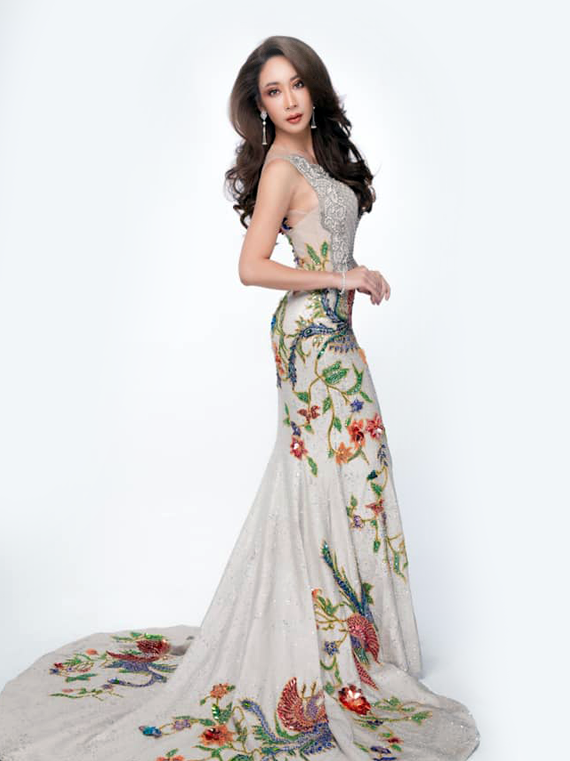 DESCRIBE YOUR CHILDHOOD/GROWING YEARS
When I was just a child, I was a very active, playful girl with a lot of imagination and love learning new things. Since I love to learn new things, I wanted to be a teacher because I wanted to teach the younger generations new knowledge and new skills. When I saw elders who became sick, I wanted to be a doctor to help and cure them. When I saw bad people on TV, I wanted to be a police officer to catch the bad guys and keep the citizens safe. However, at the age of 13, I was invited to become a beauty contestant for the first time ever at The Loy Kratong festival (Thailand's national festival). In that contest, I came in at 2nd place and since then, I wanted to be a beauty queen. It was exciting and it motivated me to improve myself and to learn new skills such as dancing, public speaking and to get good grades at school. Everything that I've learned and focused on ever since I was a child, has led me to become Miss Earth Thailand 2020 in representing The Kingdom of Thailand.
WHAT IS YOUR MEMORABLE MOMENT?
My memorable moment has to be 2020. This year I had the greatest opportunity in life to give rather than take. Due to the Covid 19 pandemic, which led to various economic crisis, a lot of people in the rural areas lost their jobs and their income. I had the opportunity to work with the "Miracle of Life foundation" not only to donate my money but my time by going to those areas all over Thailand to give out food and supplies to the less fortunate. Giving back to society and helping those in need and giving them hope, gave me such positive energy, a greater perspective in life and know why it is important to help others. I felt that this is what I am passionate about, to help those who are in need and I'll never forget the great experience and the people I met. Miss Earth is all about giving back to society and I am proud of what I've given to my country and that I can be a great example to other beauty contestants too.
ANY SPECIAL STORIES OR FACTS ABOUT YOUR FAMILY?
I did not grow up in a perfect family like what we see in many family advertisements. My parents got divorced since I was a child and my mom became a single mom in raising me. It is so amazing to feel that there is nothing greater than a mother's love. My mom taught me to be generous, polite, humble, soft spoken but strong at heart and to be diligent. If I wanted something, I had to work for it and that generosity is the greatest thing you can do for society. As for my father, he still loved me and I always make time to go see him. My father is a great man and he taught me to be a fighter and to never run away from problems but to face it and overcome them. I did not grow up in a perfect family but it made me stronger and I am very fortunate that my mom and dad both loved me.
WHAT IS THE MOST UNUSUAL THING YOU HAVE EVER DONE?
The most unusual thing I've ever done would have to be during the Miss Earth 2019 contest, when the contestants had to show their special talents, I wanted to do something different and unique. I decided to wield a fire club and spit fire from my mouth. I only had 10 days to learn this new skill and I practiced very hard to master it. As dangerous as it was, I wanted to impress the judges but it was very scary as the flames were so hot and I could've gotten burns. In the end, I overcame my fear and was able to impress the judge with this talent.
I would like to invite everyone to refresh themselves and our earth together to engage in solving the ongoing environmental problems by reducing waste and pollution. Furthermore, creating a greener and cleaner environment for our earth by changing our daily lives and see the importance of recycling. Our planet is in danger as humans are destroying our planet everyday by creating waste in the water system and oceans, polluting the air and destroying nature, which have led to global warming, forest fires and landfill of waste. Why we have to refresh the earth is because the year 2020 has been a tough year that has made a lot of people hopeless due to the situation that is occurring since the start of the year until today. At the start of this year, the forest fire in Australia killed over 500 wild animals and the Covid 19 pandemic has already ended the lives of over 880,000 people. Furthermore, the necessary lockdown has led to one of the worst economic crisis in history and unemployment. Due to the Covid 19 pandemic there has been an increase amount of waste from facemasks, disposable gloves and plastic to protect the products such as food from the virus. The reason I want to promote my advocacy and protect the environment is to promote the importance of "recycling food and plastic waste" because they can be used again for other purposes in order to reduce waste and the use of raw materials. Therefore, we must all engage and promote the 5 R in our daily lives to help save the earth together. Let's all refresh our mindset so that the earth can become greener and cleaner.
WHAT TIPS CAN YOU SHARE TO PROMOTE ECOTOURISM & CLIMATE CHANGE?
I believe that Mother Nature has natural remedies that can heal the body and soul. When I'm tired or fatigue, I would escape the city and into nature. I love to listen to nature echoing in my ears, the smell of the fresh breezy air and the greenery and beautiful scenery. I love the forest, the mountains, the sea, the sun and the wildlife. It makes me so happy to see how beautiful our world truly is. Nevertheless, nature can only be this beautiful if we travel in an eco-friendly manner. For example, use reusable cloth bags instead of plastic ones, use solar energy, help collect rubbish as an activity, plant trees as a hobby. These activities can help protect our world.
WHAT MAKES YOU PROUD OF YOUR COUNTRY?
I am very proud that Thailand is a nation that has raised the importance of protecting the environment and we have developed many projects to save the environment. For example, since the 1st January 2020, Thailand has banned the use of plastic bags in convenient stores and supermarkets. Furthermore, Thailand has been Up-Cycling plastics into value resources, for example, plastic bottles has been transform into polymers and into clothing, blankets and sportswear. Oil has been created from waste by using bottle lids and during the Covid 19 pandemic, we were able to control the spread of infection by following the safety precautions and eliminating the waste that could be carrying the virus.
WHAT CAN YOU PROMOTE ABOUT YOUR COUNTRY?
Thailand is the land smiles and like heaven on earth. Tourists come here to relax and refresh their body and soul, to be energized before returning home. Thailand is known for our beautiful beaches with white sand and warm water, we are a service minded country that is willing to assist the needs of our customers and visitors. Thailand also has beautiful mountains and trek that is perfect for trekkers. Thai food is delicious with so many varieties to experience and enjoy. We have a diverse culture living together in harmony and many tourist attractions that make Thailand the perfect destination and more than a one stop destination for travelers.
WHAT TRIVIA ABOUT YOURSELF WOULD YOU LIKE TO SHARE?
When I was young, I did not understand why we have to save the world by protecting the environment by not cutting down trees because I grew up in a country with such nature integrity. However, these days I've witness a lot of destruction caused by humans and the assertion about global warming. Therefore, I became a person of the world in promoting projects about protecting the environment by reducing waste and plastic in our daily lives as well as to teach others about how we can all save the environment. From a person who didn't know about the environment I became an activist in saving the environment and a person of the world.