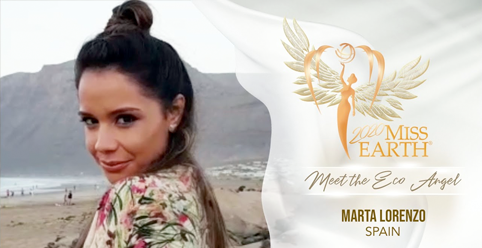 Age: 24
Height: 170 cm
Measurements: 35 in - 25 in - 35 in
"I would like to achieve in my life all my goals, surpass myself and be a better person each day. "
DESCRIBE YOUR CHILDHOOD/GROWING YEARS
Fortunately, I have a good childhood. I was a girl who had a lot of friends in school, studies a lot and practices a lot of activities, such as, swmming, dance, english lessons, music, tennis, artistic rollerblading, etc. Thanks to my parents and the love I received, I was very happy.
WHAT IS YOUR MEMORABLE MOMENT?
My memorable moment was when my little brother, whose name is Borja, was born when I was 4 years old.
ANY SPECIAL STORIES OR FACTS ABOUT YOUR FAMILY?
At christmas, I always went to tenerife with all my cousins and I went to town trying to find santa claus and his reindeers. When we came back, one of my uncles wore santa's clothes and gave us a present. Nowadays, it happens but for my little cousins. It is a tradition.
WHAT IS THE MOST UNUSUAL THING YOU HAVE EVER DONE?
Two years ago, I applied for erasmus in Italy but I couldn't get the vacancy. So I decided that I need a change. I moved from Tenerife to Seville and I began from 0. I was totally alone in a city where I didn't meet anyone, but this is my life, marked by a personal growth.
As I study a tourism degree, I would like to be focous on ecotourism. The importance of a responsible travel to natural areas which conserves the enviroment, sustains the well-being of local people. Practising ecotourism means a lot of advantages, such as, minimize impact, build enviroment and culture awareness and respect, provide experience for both visitors and host, etc. If we get ecotourism, at the same time, we will reduce the climate change.
WHAT TIPS CAN YOU SHARE TO PROMOTE ECOTOURISM & CLIMATE CHANGE?
As I see it, the key is renewable energies. Government should invest in them, they will help the earth. At the same time it will be part of being ecofriendly and develop responsible tourism. Reducing climate change means for tourism to keep its resources, such as, weather, landscapes, etc.
WHAT MAKES YOU PROUD OF YOUR COUNTRY?
What makes me proud of spain is the fact that it has a relationship with the citizens. Spain is a world leader in organ donation, and, of course, I am so proud of the health system which currently is fighting against covid-19, for all Spaniards, they are heroes.
WHAT CAN YOU PROMOTE ABOUT YOUR COUNTRY?
Spain is a country marked by diversity of cultures which live together; different landscapes, volcanos, larges beaches, etc; delicious gastronomy, like 'paella'; the particularity of each city that involves Spanish art and history; and specially the people and their hospitality.
WHAT TRIVIA ABOUT YOURSELF WOULD YOU LIKE TO SHARE?