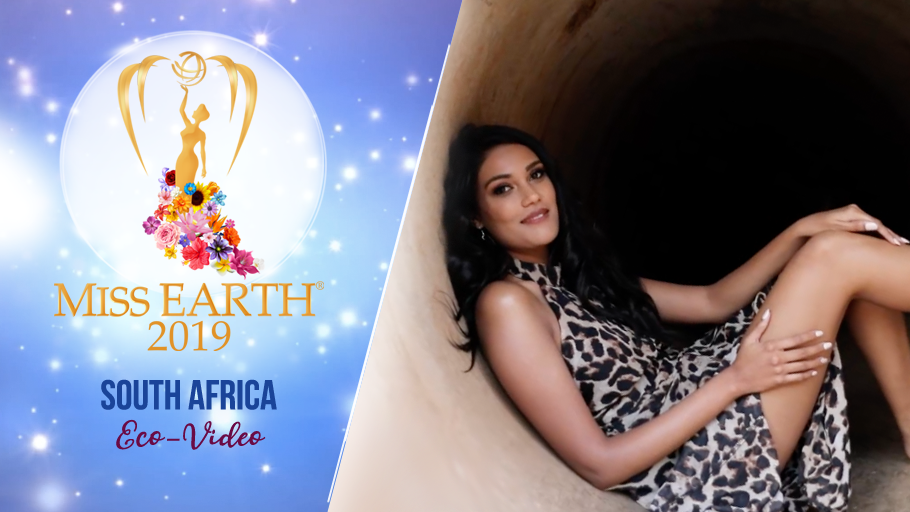 Height: 163 cm
Measurements: 39 in - 28 in - 33 in
Education: International Relations and Media Studies Graduate
Flower Name: The Protea
Advocacy: I drive the #WasteStopsWithMe campaign, which aims to address our current waste crisis, addressing and educating through community clean-up programs and school visits. The campaign aims to address waste management, keeping our communities clean, separating at source (separating plastics, paper etc. in your homes) as well as the importance of recycling and beating plastic pollution. Social issues are directly linked to environmental issues and I encourages running projects based on various social issues as well
WHAT ARE THE SPECIAL QUALITIES OF THE FLOWER? HEALING? FUNCTION?
The Protea brings beauty, strength and resilience.
DESCRIBE YOUR CHILDHOOD/GROWING YEARS (8-13 YEARS OLD).
I was born and grew up in Johannesburg in Lenasia and was raised by my single mother as well as my grandparents. My parents were divorced at my age of 3. Seeing my mother's resilience, individuality, strength and passion growing up continues to inspire my. I hopes to be even half the woman my mother is, a true embodiment of an empowered woman. Growing up with a lot of love, I learned early on the importance of doing the same for the environment and giving back to the community. Among my fondest of memories, a big part of growing up in a small community was doing community outreach programs. For countless hours I planted flowers and trees in spring with my grandfather. Sports have always been a big part of my, I spent lots of time there; I love the water and competitive swimming. My family's love and support molded me into who I am today.
WHAT IS YOUR MEMORABLE MOMENT?
My most memorable moment would have to be my graduation ceremony after obtaining my honors degree at my university this year, as I was the first in my family to obtain an honors degree. This experience was most memorable for me, because in this moment all I saw was how proud my family of what I am able to achieve. More importantly, I got to share this experience with my mother who made many sacrifices to allow my to have these opportunities to further my education.
ANY SPECIAL STORIES OR FACTS ABOUT YOUR FAMILY?
The beauty about South Africa is that we live in a truly rainbow nation with families that have a rich cultural history that varies from various cultural backgrounds. My family heritage has roots in India, Persia, Germany and Malaysia. My family ancestors have been in South Africa for more than 100 years.
WHAT IS THE MOST UNUSUAL THING YOU HAVE EVER DONE?
The most unusual thing I have done would have to be stepping into the world of pageantry, which was new to my community and to my family. I am grateful for the opportunity to have been in the pageantry industry as well as highlighting the many positive impacts that a pageantry can have on women and communities. It have allowed my to learn and grow as an individual, it have allowed my to empower myself so that I may empower others in my community, it have allowed my many platforms to make a difference in my community and surrounding communities, allowing my to inspire other young women to reach for their dreams despite the backgrounds and circumstances we face, and to show them that truly we, as women are capable of achieving anything that we set our minds to.
WHAT TIPS CAN YOU SHARE TO PROMOTE ECOTOURISM & CLIMATE CHANGE?
South Africa is blessed with beautiful landscapes, natural heritage, and home to a wide variety of flora and fauna unique to South Africa, different climates, natural resources, enriching ecotourism experiences, and overall makes visiting my an enriching experience. The country is appreciated for all of this and climate change is a direct threat to all that is considered unique to South Africa.
WHAT MAKES YOU PROUD OF YOUR COUNTRY?
What made me proud to be South African are my country's rich natural heritage and their unique rainbow nation. I am proud to be from a culturally rich South Africa that is home to a variety of people from a variety of cultural and religious backgrounds, this is evident in the fact that my country has eleven official languages. South Africa stands for the way in which all people irrespective of race, gender, religion, or sexual orientation can live together in harmony. My South Africa is a beautiful place, filled with natural beauty unlike any other in the world. With unique climates, flora and fauna that make South Africa one of its kind. South Africa's beauty is diverse, from the big five mammals, to our mesmerizing beaches, to table mountain and warm people. South Africa is home and I am a truly proud South African.
WHAT CAN YOU PROMOTE ABOUT YOUR COUNTRY?
I promote my country as a rainbow nation of people that are warm and resilient that has overcome so much of hardship and adversity together as one people. We have freed themselves from the clutches of the former apartheid regime and have built a beautiful and diverse South Africa that is accepting and tolerant of everyone. We are building a better South Africa every single day through following and instilling the values of our Constitution, which is among the most progressive in the world. South Africans are a united people and I believes that this is truly their greatest strength. South Africans are active citizens that will always stand together and this is part of the beauty of my country.