Age: 26
Height: 173 cm
Measurements: 32 in - 25 in - 29 in
Career / Education: Social Media Specialist
"I have a pageant business that I started to empower young women who have a dream of going into the pageant industry. This is where I give guidance and tips to excel in their pageant journey."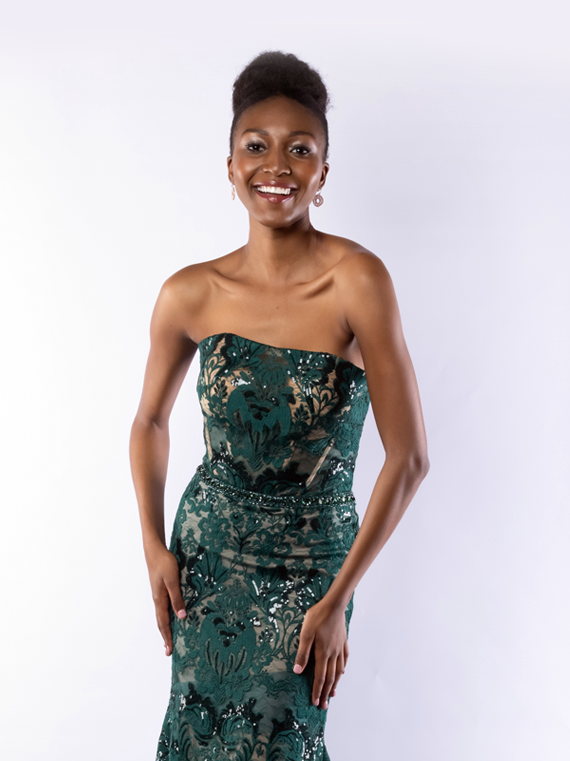 DESCRIBE YOUR CHILDHOOD/GROWING YEARS
My childhood was filled with joy and some challenges although I remember the charity engagements we were involved in. In the church we contributed to feeding schemes. I would prepare the meals alongside my grandmother which was always fun as we would sing and dance and she would tell me her life journey stories.
WHAT IS YOUR MEMORABLE MOMENT?
When I completed my degree and graduated. This was a difficult journey and when the honour of completion arose, I was overjoyed with gratitude.
ANY SPECIAL STORIES OR FACTS ABOUT YOUR FAMILY?
My family is one that celebrates victories often and failures because we believe that the failure that takes place is the short curve leading to another victory.
WHAT IS THE MOST UNUSUAL THING YOU HAVE EVER DONE?
I jumped into an ice filled swimming pool.
I have taken a pledge to plant more trees, build vegetable gardens within under privileged communities and to encourage citizens to be mindful of their actions in being environmentally conscious. My campaign slogan: "Waste Stops With Me."
WHAT TIPS CAN YOU SHARE TO PROMOTE ECOTOURISM & CLIMATE CHANGE?
Join the Meat Free Monday movement
Drive less or use one car when going to the same destination
Buy cruelty free products
Say no to plastic carry a reusable carry bag with you
WHAT MAKES YOU PROUD OF YOUR COUNTRY?
The resilience. South Africa has faced many challenges with increased unemployment rate and as citizens we rise in starting our business using attainable resources.
WHAT CAN YOU PROMOTE ABOUT YOUR COUNTRY?
Our beautiful diverse provinces, all with a unique heritage.
WHAT TRIVIA ABOUT YOURSELF WOULD YOU LIKE TO SHARE?