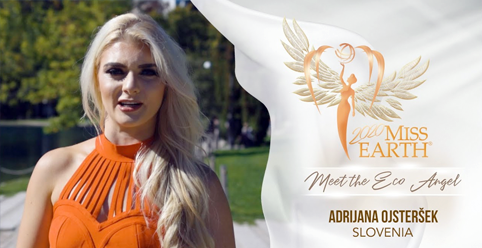 Age: 24
Height: 164 cm
Measurements: 33 in - 26 in - 36 in
"I am so grateful that I am here now. My dreams came true and I am so proud of myself and so grateful for all the people that helped me on my journey. I feel so confident now and I can't wait for all the amazing experiences as Miss Earth Slovenia 2020. I am willing to work hard and to learn to become even a better person and to help create a better future for all of us."
DESCRIBE YOUR CHILDHOOD/GROWING YEARS
As a child I was a shy and introverted girl who was reading a lot of books and studying all the time. I've never visited kindergarten, but instead I spent my first years at home on a farm and my grandparents took care of me. I spent the whole days outside in nature, taking care of our farm animals and exploring the landscape. I spent most of the days alone, connecting with Mother Earth, because there were not a lot of children living nearby. I was helping a lot at our farm and I am still very proud that I have a lot of different skills and working habits. My mother taught me many household chores and we were always cooking together and making desserts. I spent a lot of time with my grandparents, helping them with chores and listening to stories from their childhood. I was reading a lot of books and even writing my own stories. I was always the best student in my classroom, because I was studying a lot and I was interested in everything that I saw. I lived a really simple childhood, surrounded by nature and I am very grateful for that.
WHAT IS YOUR MEMORABLE MOMENT?
One summer I decided to climb a mountain in the Dolomites with my friends. The mountain is called Piz Boe and it is 3152 m high. I did some hiking and climbing in the past so I was really looking forward to climb a mountain that is over 3000 m high. It was in July so I packed some summer sportswear and also some long leggings and a jacket, just in case if it is cold at the top. It was a really nice hike with beautiful nature and a lake at the beginning. But after a few hours of hiking, the weather changed really quickly and it started to get really cold and the sky got dark. We were in the middle of our hike and there was no mountain cabin nearby so we had to go forward. After a while, when we were approaching the top, it started to snow heavily. I was freezing, wearing only some leggings and a jacket. I really didn't expect snow in the middle of July so I was really surprised by the weather. When we finally reached the top there was a cabin, where we had some tea and dried our clothes. The hike down was much easier, but this was really an interesting and surprising experience for me.
ANY SPECIAL STORIES OR FACTS ABOUT YOUR FAMILY?
My family originates from many generations of farmers. They were all living in the same area in my hometown in Laško and they were marrying spouses that lived nearby and also had a farm. My grandmother was often telling me stories about her childhood. She didn't have the chance to go to school for more than four years and she couldn't pursue her dreams or have a career. She had to work very hard on a farm and then marry a husband that her parents wanted to. They bought together a land and they were working really hard to build a nice home where we are still living today. My parents still own a farm and I am very proud of them to handle it despite that they also have a job. We are still living a very simple life, surrounded by nature and kind people.
WHAT IS THE MOST UNUSUAL THING YOU HAVE EVER DONE?
In 2018 I was travelling to Sri Lanka with my friends. We did some sightseeing and then we saw a bunch of people building Dagoba, this is a religious temple in Buddhism. They were building it only with their hands. People took bricks and they were carrying them to the top while climbing some dangerous stairs. We wanted to help so each of us took one brick (which was really heavy) and we carried that brick to the top of that temple that was under construction. Everyone was really happy that we helped, because the construction of that temple was really challenging.
My advocacy is to set the example of environmental protection for the rest of the world to follow. I want to spread environmental awareness through my voice, presence and actions towards a better future. The main responsibility of us humans is to protect, respect and preserve the nature from afflictions that are caused by humans. At first it is important to educate people that the physical environment is fragile and that we have to start taking actions to save our Mother Earth and create a brighter future for our children. There are numerous ways to promote environmental awareness through videos, articles, seminars, books etc. I believe the biggest environmental issues are:
-deforestation,| -global warming,| -polluted oceans,| -production of plastic goods,
-overpopulation and waste management.
I am willing to find opportunities to participate in communal projects, to get involved in existing environmental actions and also to create my own projects and activities to engage my community, friends and others to save our home. Together we can make a change and save our planet!
WHAT TIPS CAN YOU SHARE TO PROMOTE ECOTOURISM & CLIMATE CHANGE?
Tourism is one of the world's largest industries and there are many environmental impacts of it: pollution, waste problems and depletion of local natural resources. Tourism also contributes to climate change, especially with transportation. Ecotourism is a greener alternative with many benefits to the environment. Here are a few alternatives for tourists to be more eco-friendly and reduce the carbon footprint:
-staying in green hotels that use solar boilers for cooking, laundry and bathing,
-using green transportation like bicycles, hoverboards, electric bikes, hybrid vehicles, public transportation or walking,
-bringing reusable water bottles and bags,
-travel in the off-season,
-take care of heritage places,
-eat in local restaurants,
-respect the practices of local people.

It still remains a challenge to find ways to attract tourists who are willing to change their behavior and pay bit more for a low-carbon sustainable holiday. Here I see a few solutions for solving this problem:
-more ecosystem services and more sustainable approaches to tourism management,
-employing locals, creating jobs at a local level, local viewpoints,
-encouraging foreign investments in tourism,
-introducing sustainable consumption and production.

I am glad that I live in a green country as Slovenia which is one of the most sustainable countries and I've already seen many eco-tourism activities here. We have many tourist farms where you can experience local lifestyle. There are also many options for camping and glamping and other eco-friendly solutions.
WHAT MAKES YOU PROUD OF YOUR COUNTRY?
Slovenia is one of Europe's most beautiful destinations. It is small yet varied country with barely 2 million residents. It is also referred as the land of forests, because almost 60% of the territory is wooded. It is also one of the most environmentally-friendly countries in the world and has above average biodiversity. Slovenia each day offers new discoveries. We have an unique language. We are a nation of sports lovers and mountain climbers. I am so proud that I live here, because we have a lot of beautiful nature, forests and we can enjoy healthy organic food from our farmlands and are able to drink clean water. I am glad that we are environmentally aware and that we have beautiful landscapes and clean cities. We are friendly people, always willing to help each other. I also enjoy our local food, we have a special dessert called potica, I also love dumplings and all kinds of fresh and organic vegetables and fruits. We also have a good health system and government. I am really grateful to live here, because I have everything that I need.
WHAT CAN YOU PROMOTE ABOUT YOUR COUNTRY?
Slovenia lies at the intersection of the Alps, the Mediterranean, the Pannonian Plain and Dinaric Alps. It can be travelled across in a day. It is one of the most environmentally friendly countries in the world and has above-average biodiversity and a high number of animal and plant species per square kilometre. We have linguistic, cultural, natural and culinary diversity. In one day you can hit the ski slopes of the Alps and drive off to take a dip in the sea. The main tourist attractions to visit in Slovenia are:
-Predjama Castle that is build inside a cave,
-Postojna Cave that takes visitors through caverns, halls and passages with beautiful karst formations,
-Lake Bled is one of the most visited attractions in Slovenia with a small island with church,
-Triglav National Park with the country's tallest mountain offers great activities as rafting, skydiving and parasailing,
-Ljubljana Castle that offers the most beautiful view of our capital Ljubljana,
-Solkan Bridge is a great place to view the turquoise Soča River and beautiful Soča valley.
Slovenia is really an amazing place to take a nice, relaxing vacation and to experience so many different things in a really short time.
WHAT TRIVIA ABOUT YOURSELF WOULD YOU LIKE TO SHARE?
I am a young woman who likes to take challenges. People often say that I am stubborn, because when I have a goal I want to achieve it no matter what. I can be also very introverted and quiet, reading books, studying and thinking. I always have a lot of interests and things going on in my life, because I want to live my life to the fullest. I want to experience a lot of activities, travel to different destinations, meet and get to know many people and learn as much as possible. I take a good care of my body, because it is mine and I want it to be healthy, strong and full of energy. I also believe that mental health is very important and at times I can be very spiritual, writing in my gratitude journal and thanking God for all the beautiful things and experiences he gave me. I believe I am here with a purpose and I want to be the best version of myself. Every day I am trying to become better, to learn, to help others and to live a fulfilling life. I used to be very negative in the past and I was always blaming others for my mistakes or negative experiences. But I was strong enough to rise above that and to realize that I am responsible for my actions and behavior. How you treat yourself is very important. I try to treat myself with love and respect every day. I am so grateful for all that I've been through, even for bad experiences, because I learned from it. I became stronger and I gained self-confidence so I became the person I am today. But that is not over yet, every day I am going forward, step by step, towards my goals and dreams. Life is a journey, sometimes it is hard, sometimes it's beautiful, but you have to go forward. It is a beautiful experience and we have to cherish it.