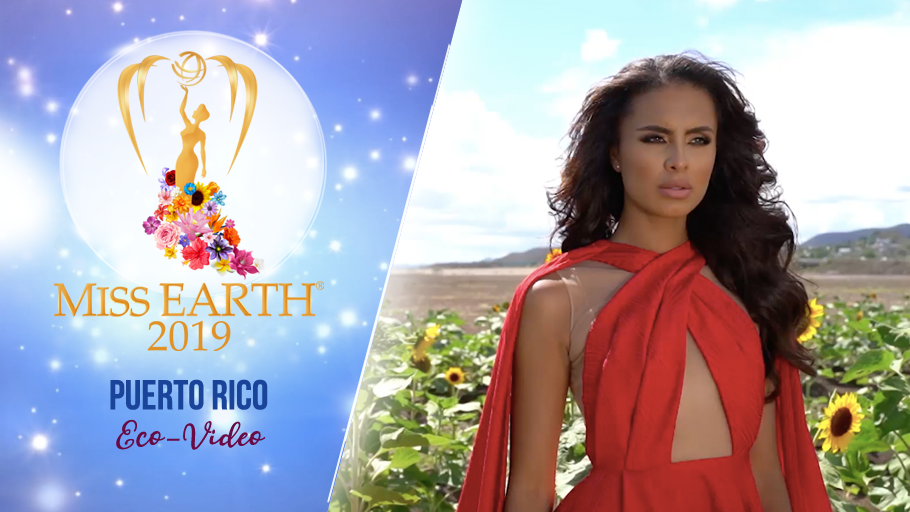 Height: 180 cm
Measurements: 33 in - 25 in - 40 in
Education: Psychology Graduate
Flower Name: Puerto Rican Hibiscus
Advocacy: My advocacy is heavily based on the family. The family is the base of society, and a society composed by families that love, respect, and value each other is the one that will also do the same and make efforts in creating a stable and safe environment, in every aspect. It is time to understand that the concept of love is the key to create conscious change through education. It is time to raise our voice to take care of our biggest home. Protect with love where we set footsteps today, Our Mother Earth: because big changes begin with small acts of love.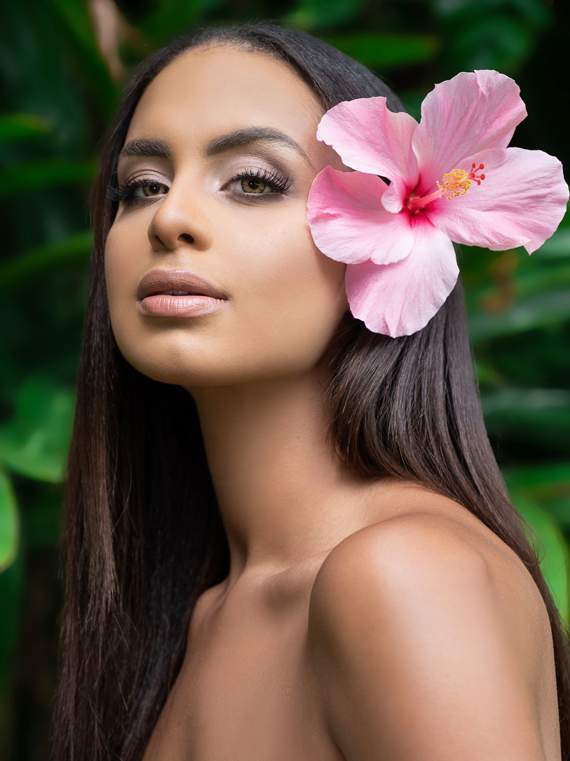 WHAT ARE THE SPECIAL QUALITIES OF THE FLOWER? HEALING? FUNCTION?
The Puerto Rican Hibiscus has a high concentration of calcium, iron, and potassium. It is mostly cultivated as an ornamental tree for the beauty of its large flowers, but can be also used in desserts as a softly sweet ingredient.
DESCRIBE YOUR CHILDHOOD/GROWING YEARS (8-13 YEARS OLD).
My childhood was a constant shift between my Dominican and Puertorrican roots. My cousins and I are first generation of Puertorrican-born from Dominican parents, meaning that I was always being influenced by customs at home and other customs at school, mostly based on language and idiomatic differences. During elementary school I was very studios, yet talkative in the classroom. By the end of second grade I was informed that I would be skipping the third and going straight to fourth grade. It took me some time to adjust to new people and different rules. Ever since then, most of the people i tend to familiarize with are older than I am. The media I watched also had an influence on how I thought about myself. What i said, how I actedAside from that, i would be found writing short stories, painting chalk, or drawing.
WHAT IS YOUR MEMORABLE MOMENT?
My most memorable moment, which I am unsure I have the authority to call mine was finding out about the death of an acquaintance. He was the friend of a friend, shot dead at a collegetown bar last year. I remember I only saw him once, the day that I met him. He was with my friend looking for apartments to move in together and three weeks later I saw on the news and in social media the report about his death: he was in the wrong place at the wrong time. It was hard to see and support my friend. But in that process I learned that life is fragile and that every moment and breath we have is an opportunity to be better and to help others be better. I promised myself, after that, that I would never let my feelings towards issues or other people go unheard.
ANY SPECIAL STORIES OR FACTS ABOUT YOUR FAMILY?
Every family is special in their own unique way. I would say mine is unique because of the summers we would all spend together: 7 to 8 cousins living under one roof with my grandparents where we would share stories about the lives we lived when we were apart. We made a lot of road trips to visit other family members too. Here in Puerto Rico, on the other hand, we would go to different gastronomical spots every Sunday.
WHAT IS THE MOST UNUSUAL THING YOU HAVE EVER DONE?
There are two things I have done that I consider to be unusual. The first: traveling to New Orleans with a group of students from another major i barely even knew during college. That developed into me having a minor in Marketing. The second: Taking the leap and competing in the Miss Earth pageant, something I thought I would never do. I decided to take a chance and see what new ventures this experience would bring, and here I am, representing my country, Puerto Rico.
WHAT TIPS CAN YOU SHARE TO PROMOTE ECOTOURISM & CLIMATE CHANGE?
Even though countries have different ecosystems, they all share one factor: the effects of climate change. It is not uncommon for us to look for information about venues or restaurants to visit when traveling. However, with this new wave of the environmentally conscious tourists, it is imperative to keep a few tips in mind: buy refillable water bottles to help reduce our carbon print, avoid plastics and cans to lower the amount of residues produced, research the environmental policies of every place to visit, be aware of the appropriate use and disposal of products in sensitive environments as you choose nature-friendly accomodations whose most, if not all products and produce are local.
WHAT MAKES YOU PROUD OF YOUR COUNTRY?
Puerto Rico is a country that never loses faith and that always finds a way to strive, even when all odds are against us. The people of Puerto Rico have one of the greatests hearts and use their creativity to the fullest in order to let others know just that. I can speak for the people of my generation when i say that we are not the ones to stay silent against any injustice or adversity. I am proud to have been born in a country whose citizens are not afraid, whose voices never go unheard, whose movements are the force that inspire and create change in others.
WHAT CAN YOU PROMOTE ABOUT YOUR COUNTRY?
Puerto Rico is well known for being the Island of Enchantment. Because of that, every corner people visit is truly a dream. Puerto Rico is filled with some of the most beautiful beaches in the Caribbean, the rivers and caves found in many towns have the greatest scenery for relaxation. Aside from the natural beauties, it is impossible to leave behind the people who live and enjoy them. Their way of living and enjoying culture while creating it: Puerto Ricans love a good meal and social affairs. Visiting Puerto Rico implies immersing in a community ready to give the best experience with the best resources there are.