Age: 19
Height: 175 cm
Measurements: 36 in - 26 in - 36 in
Career / Education: Environmental Technology Student
"I believe that beauty is something very relative and that each person has a valid point of view on this issue. But for me beauty is the essence of a woman, which goes hand in hand with what makes her be herself."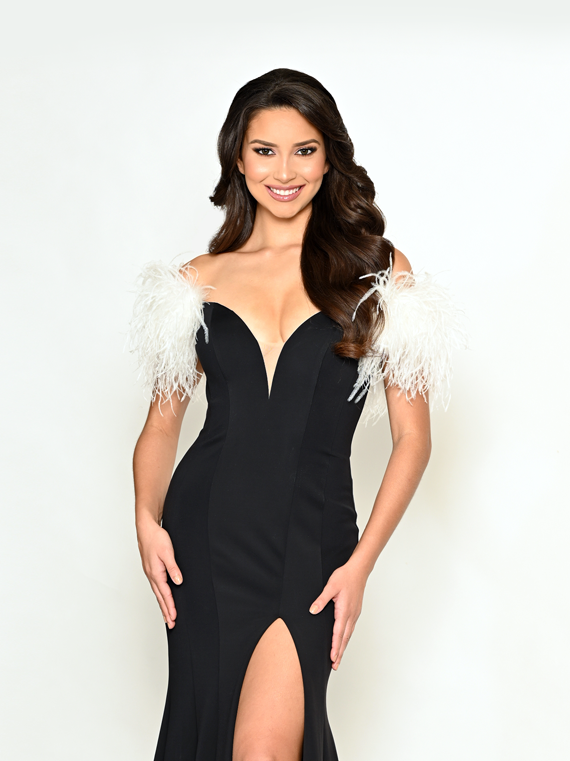 DESCRIBE YOUR CHILDHOOD/GROWING YEARS
My childhood was a very happy one. Since I was a little girl, I was a leader and participate in activities for my community. I was a Girl Scout, danced the national Puerto Rican dance with the dance group of PR, did oratory and dreamed with being the person I am today.
WHAT IS YOUR MEMORABLE MOMENT?
My memorable moment was when in an oratory that I presented in school about important women in my country, I talked about beauty queens who have carried the name of my country on their chests. At that moment I talked about my dream of being one of them and using the power of oratory to be a spokesperson for a cause that was important to everyone. Many teachers and students told me that they believed in me, and that inspired me to work hard to be able to make it happen, and now I am fulfilling it.
ANY SPECIAL STORIES OR FACTS ABOUT YOUR FAMILY?
Something that I always say about my family is that every New Year, all my family including my grandparents, uncles, aunts, cousins, and my parents and siblings, reunite and go to eat at restaurants, each year we select a new one in the touristic spots of Puerto Rico, and have a road trip visiting beaches and fun places.
WHAT IS THE MOST UNUSUAL THING YOU HAVE EVER DONE?
The most unusual thing I have ever done was diving. One day in a beach clean-up in Rincon, Puerto Rico, they were looking for persons that wanted to take a diving class for doing an under-water clean-up. I volunteered and took the class, and then went to the water and dived. It was the best experience in my life, and to be doing something useful for Earth while I was experiencing new things in my life.
We need to demonstrate that our biggest challenge as humans is achieving proper education: that we should not leave a better planet for future generations; but rather act now. It is imperative that we protect the planet in the present moment and our moral obligation to educate the upcoming generations so that they can also take care of Mother Earth. This is the way to achieve real change.
WHAT TIPS CAN YOU SHARE TO PROMOTE ECOTOURISM & CLIMATE CHANGE?
In my opinion, the most important factor is education. If we educate, and teach people that nature is such an important resource, we will be guiding them into understanding the importance of caring for our planet and taking action against climate change. At the same time, we would be encouraging people to be part of ecological tourism. This would be possible if we join as a conscious society to show the beauty of our flora and fauna without making them any harm.
WHAT MAKES YOU PROUD OF YOUR COUNTRY?
The thing that makes me feel proud about my country is our people. Puerto Rico is a very patriotic island, and we feel very proud of carrying our flag wherever we go. As a society we are kind, cheerful, respectful and we help each other out in times of need. We are very creative with our gastronomy, which is one of the things I love most about this island! In our touristic spots we receive visitors with a warm welcome and a lot of hospitality to make them feel at home. We Puerto Ricans are very resilient people, and no adversity can stop us.
WHAT CAN YOU PROMOTE ABOUT YOUR COUNTRY?
I can promote the beauty of our beaches, bioluminescent bays, waterfalls, rivers and lakes that we find on this island. In such a small space that we have as a territory we have a great variety of forests, which add up to 21, and there are different types. In addition to caves that are now tourist attractions, and mangroves that are in the coastal surroundings. These are things that I would like to promote because they support the ecotourism development of Puerto Rico.
WHAT TRIVIA ABOUT YOURSELF WOULD YOU LIKE TO SHARE?
When I was 5, I started dancing the national dance of Puerto Rico which is called "Plena". That was something that made me realize how much we had as culture derived from the Taínos, Africans and Spaniards. I can also tell you that I love agriculture and since I was a Girl Scout, I began to have home gardens and to be interested in this subject.