Height: 176 cm
Measurements: 34 in - 25 in - 36 in
Occupation: Model
Flower Name: Carnation
Advocacy: Currently my country has been experiencing several environmental problems. As a girl scout since I was 9, I learned to value the protection of mother earth, I became more active in society, participated in several solidarity walks, participated in the largest BTL tourism fair, cleaned one of the largest rivers in Braga, among others. I believe it is necessary to promote the adoption of more sustainable and economic models worldwide. I have a motto which is: "Taking care of the planet means making it better than we found it", and I would like to convey this message to future generations, knowing young people are our future, I want to be an example to them, show them through my attitudes the importance of preserving our planet, the environment and biodiversity.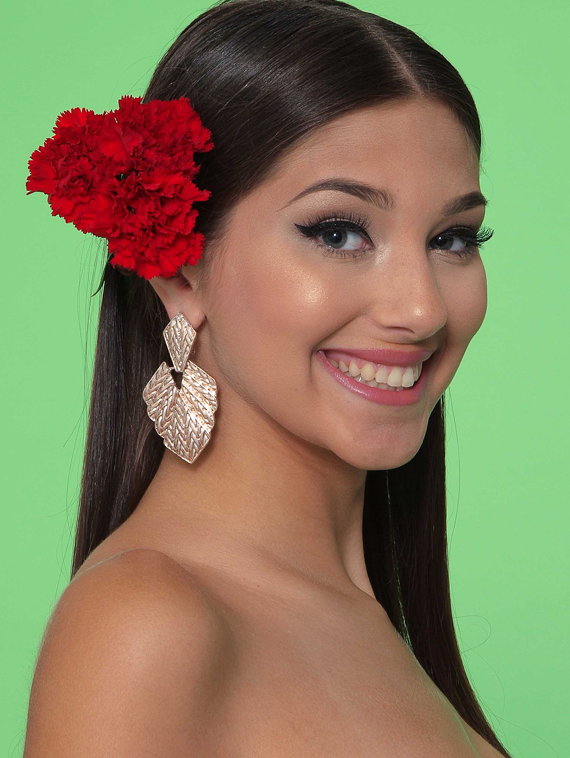 WHAT ARE THE SPECIAL QUALITIES OF THE FLOWER? HEALING? FUNCTION?
Portugal has a very varied flora due to the various landscapes and climatic contrasts. The carnation, known as the flower of the gods is one of these flowers and the third most produced in Portugal. The harpsichord in most cultures means a wish for good luck, the gift of attracting blessings and victories. For Portugal the harpsichord has immense significance as it became a symbol of the change to Portugal in the Revolution of 25 April 1974 becoming known as the Carnation Revolution. It has the property of being an excellent pesticide because its strong and characteristic perfume is not tolerated by most insects.
DESCRIBE YOUR CHILDHOOD/GROWING YEARS (8-13 YEARS OLD).
I consider that my childhood was very happy and with many memories. I was born in Copacabana, Brazil, where I stayed until 3 years. I have brief memories of that time, I remember the club where I was swimming and the playground where I played so much. I moved to Braga - Portugal in 2004 because my parents are Portuguese and most of the family lived in Braga. I always socialized very well with other children and adults, I only had one problem, I didn't like to eat. I have always enjoyed spending days at my grandmother's house in the village of Coucieiro. I spent most of my summer holidays each year playing outdoors with my cousins, having direct contact with nature. When I was 10 years old, I joined the scouts in the Coucieiro grouping 617, and since then, the preservation of nature is increasingly a personal goal, as one of our mottos is to "make the world better than we find it".
WHAT IS YOUR MEMORABLE MOMENT?
The fact that I won the Miss Braga contest on my birthday was one of the moments I will never forget, because even though it was the first time I competed, and consequently, not being confident with the victory I received, but it was the best gift I could have ever received in my life.
ANY SPECIAL STORIES OR FACTS ABOUT YOUR FAMILY?
My father immigrated to Brazil at the age of 20 to work, having several uncles and some brothers in the country as support and motivation. Meanwhile, on her various visits to Portugal, she met my mother, got married and went to live together for Brazil. I have an older sister and we were both born there. With the passing of years and homesickness, eventually decided to return to Portugal, I was not yet 3 years old, and stabilize life here.
WHAT IS THE MOST UNUSUAL THING YOU HAVE EVER DONE?
The most unusual fact I participated in was perhaps a service / volunteer project for young people from Scout Organizations and Hosting Institutions called field holidays. Thus providing them with 3 different and unforgettable vacation days, both for them and for us, with new experiences, new friendships, new responsibilities, new adventures.
WHAT TIPS CAN YOU SHARE TO PROMOTE ECOTOURISM & CLIMATE CHANGE?
Tourism can be considered a highly sensitive economic sector to climate change, and has contributed to the emission of greenhouse gases (GHG), one of the causes of global warming. As a direct impact, climate change is related not only to biodiversity loss and increased natural hazards, but also to social impacts as it threatens the economic growth and political stability of nations. Climate change will affect tourist destinations, their competitiveness and sustainability. Such impacts constitute the most urgent environmental problem related to tourism, and the sector faces the challenge of finding mechanisms to reduce environmental impacts, causing countries to lower their levels of carbon dioxide (CO2) emissions. responsible for global warming. The need for a long-term strategy for the sector to reduce GHG emissions and concrete initiatives by governments, businesses, consumers and research and communication networks to foster climate change awareness and education is acknowledged. The strategy is to promote initiatives that lead to a series of changes. These include using a cleaner energy matrix, stricter legislation regarding the conservation of natural ecosystems, environmental education, improvement in agricultural practices, reduction of consumption and waste, proper environmental and tourism policy, tree planting, among others, thus ensuring sustainability conditions for future generations. As a miss and as a girl scout I intend to encourage the population to practice environmentally friendly actions and I will participate in campaigns with scouts and schools so that we can change our attitudes and become aware of our actions.
WHAT MAKES YOU PROUD OF YOUR COUNTRY?
Our country should be recognized as a symbol of innovation with opportunities for economic growth where improving quality of life should always be a goal. The discoveries, which most symbolize the citizens' ability to unite, and the main elements of national identity remain the flag, Fatima, gastronomy and fado. Solidarity, family ties and language are other characteristics that help bring citizens together. There is a lot of pride in the achievements within history, sports, the arts and sciences. And this set of achievements from history, tourism and culture is what makes me a proud person of my country, me and all those who know Portugal.
WHAT CAN YOU PROMOTE ABOUT YOUR COUNTRY?
My country is very well known for tourism. Our variety of cultures, our cuisine, our fado, sports and our history. Portugal has once again conquered the "Oscar" of best destination in Europe, being the third consecutive year that the country wins the European World Travel Awards. We are among the 20 most visited countries in the world, receiving an average of 13 million foreign tourists annually.