Age: 22
Height: 180 cm
Measurements: 33 in - 25 in - 38 in
Career / Education: Model and Student
"I really like being sweet and showing affection to the people who live with me and the reciprocity that this brings me."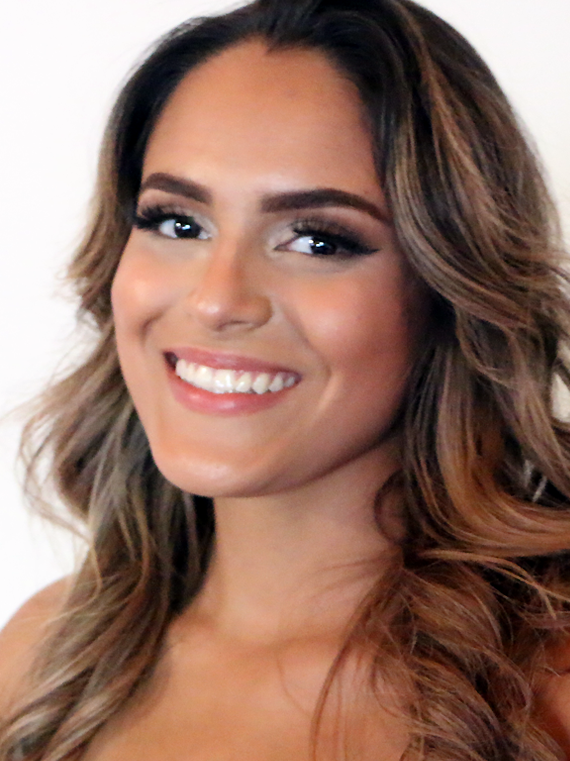 DESCRIBE YOUR CHILDHOOD/GROWING YEARS
My childhood was full of joy and love, thanks to my parents I had beautiful moments that I miss a lot. They always made an effort to give me and my sister everything that was necessary and essential so that nothing was lacking. They gave us a good education, instilled in us values ​​and principles that we still put into practice today, such as humility and gratitude, but above all, effort and work so that we can achieve what we so long for. They gave us the opportunity to study at a good school and provided us with harmony at home, where we also often lived with family and friends. Nothing was ever lacking. I will always be grateful for the woman I am. Thanks to them I had a happy childhood and I am who I am.
WHAT IS YOUR MEMORABLE MOMENT?
A memorable moment in my life is living the beginning of my dream right now. I never thought I would participate in a beauty contest when I emigrated to Portugal. My goals have always been to help my family and also to do my best to achieve what I projected for my future. For that, I decided to leave everything and went in search of new opportunities in my family's home country, which I always carried in my heart. Because life is not easy, nobody gives us a manual to know what to do or not to do, life is based on lessons, learning, mistakes and triumphs that make us what we are today. Thanks to my roots and my country Portugal I have reached this stage, where I feel honored and proud to represent the roots of my family. For me it is a memorable and unforgettable moment to have been elected Miss VIANA 2020, Miss Queen Portugal 2020 and Miss Terra Portugal 2021.
ANY SPECIAL STORIES OR FACTS ABOUT YOUR FAMILY?
My grandparents have always been a big influence in my life, they are my second parents who have always advised me, guided me, supported me, loved me and above all gave me values ​​that I consider precious and essential. A large part of the strength I use to achieve my goals is inspired by the strength they have always conveyed to me with their life story. Just as I left their country to have better opportunities and create a stable base for the family after emigrating to Venezuela. Years later, ironically, I also came across the same circumstances as they did, but the path was the opposite, I left Venezuela to come looking for new opportunities in Portugal. This learning of life makes me realize that I have the strength and persistence they also had when life put us to the test.
WHAT IS THE MOST UNUSUAL THING YOU HAVE EVER DONE?
It was to make a personal presentation for the first time before the cameras and strangers who evaluated me, this being my first participation in a beauty contest without having experience.
"We must transmit love and lovingly care for our Mother Earth"
That's why on my journey I want to be an inspiration and be able to reflect on people all over the world all the love I have for preserving our planet. By uniting and understanding the role of each being in nature, we can preserve the life of our mother earth. We all have an inherent duty to protect life and preserve all the history that inhabits it, because the value of Mother Earth is incalculable, without her we lose the identity of what we once were, what we are and what we will be. Therefore, I have been dedicated to supporting social and environmental organizations that help contribute to a better society, developing activities that increase awareness, empathy and respect for our planet and for all ecosystems and living beings that inhabit here. An example of the activities are, a walk in the green areas of the protected landscape, Corno do Bico, Paredes de Coura; With the objective of raising funds for the association ANEM, NATIONAL ASSOCIATION OF MULTIPLE SLCEROSIS.

In this way, awareness and knowledge would be created for people who do not know the disease and ecotourism would also be promoted in the locality. Another activity was a garbage collection walk in the Protected Landscape of Corno do Bico, raising awareness of the importance of keeping our green spaces clean, generating awareness, empathy and love for our mother earth, and volunteering at Quinta das Águias, a farm that promotes biodiversity, science and value for our ecosystem and for any living beings that inhabit our Mother Earth.
WHAT TIPS CAN YOU SHARE TO PROMOTE ECOTOURISM & CLIMATE CHANGE?
The tips I can give to promote ECOTOURISM are:
* Get to know the green areas in your locality
* Publicize the activities that are promoted outdoors; like horse rides, walks in green areas that help to publicize and publicize the beauties of nature. And, at the same time, promote awareness about the importance of preserving the environment, as by preserving, caring, respecting and loving our mother earth, we will be able to improve climate change; such as: promoting garbage collection activities, teaching children the importance of agriculture for the future and for the whole world, thus encouraging respect and love for ecosystems.
WHAT MAKES YOU PROUD OF YOUR COUNTRY?
What makes me most proud of my country is the love, sympathy and generosity of our people, who are always ready to help those in need, thus welcoming all emigrants who come to Portugal.

I am also proud of the patriotism we have, as we have always sought to value culture, thus valuing our traditions and also the beauty of our country's nature, which represents us so well.
WHAT CAN YOU PROMOTE ABOUT YOUR COUNTRY?
What I would most like to promote in my country are:
- The welcome we have with all nations
- The landscape and how biological resources are used without impacting the landscape
- The gastronomy
- Conservation of historical monuments and cultural traditions
WHAT TRIVIA ABOUT YOURSELF WOULD YOU LIKE TO SHARE?
When I arrived in Portugal it was a shock for my lack of practice in speaking Portuguese, my first job was in a bakery where I sometimes confused words, did wrong things and often pretended I understood when in reality I didn't even know who was speaking (customers). Little by little I understood better and progressed in my work, but I can say that these are things that scared me a lot at the time and nowadays they are a reason for a lot of laughs.