Age: 24
Height: 172 cm
Measurements: 97 cm – 69 cm – 97 cm
Profession: TV Presenter
Hometown: Moyobamba
Language/s Spoken: Spanish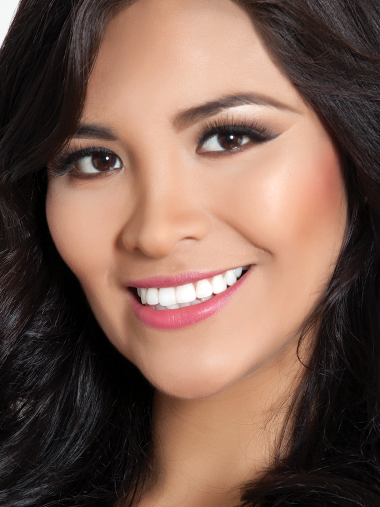 DESCRIBE YOUR CHILDHOOD GROWING YEARS (8-13 YEARS OLD)
I grew up in a home full of love, support and respect in my hometown of Moyobamba- San Martin. With my parents and my two brothers, surrounded by lots of nature and green forests. I loved those times, because they were the few moments where my whole family was very close. I loved to go with my cousins to the river that was located outside the city where we were going to swim and to spend the afternoon; those times were memorable
ANY SPECIAL STORIES OR FACTS ABOUT YOUR FAMILY?
At Christmas time my whole family meets or goes to great lengths to make it out of the city "an afternoon of sharing" to families with limited economic resources, bringing food and toys to the children. The peculiar thing is that every year we happen to strange things and at the same time funny because it is winter time, for example always on the road it rains and we get wet, the river overflows, we slip, there are strong winds; but that does not prevent us from reaching our destination.
WHAT IS THE MOST UNUSUAL THING YOU HAVE EVER DONE?
I have made great friends with unknown people while I am sitting on the bus that transports me throughout the city of Lima and I have preserved them to this day. It starts with a brief talk like, what time do you have? In Lima the distances are very long and the traffic is very intense, on average it takes me from 1:30 hours to 2 hours to reach my destination.
WHAT MAKES YOU PROUD OF THE COUNTRY YOU ARE REPRESENTING?
The biodiversity of its flora and fauna that exists in its coast, mountains and jungle, the varied gastronomy with fusion of other cultures and above all the human quality of its people. That is why I will always say: Welcome to my majestic Peru!
WHAT TRIVIA ABOUT YOURSELF WOULD YOU LIKE TO SHARE?
I am in love with life and everything that I have had to live in my 24 years of life. I am not afraid of change, yet fear is the immediate response to the unknown, but life is a box of surprises that one should assimilate in the best way. I love waking up at 6 am, because that's when my day starts. I always smile to people and also to life because I consider that smiling costs absolutely nothing and rejoices the soul.