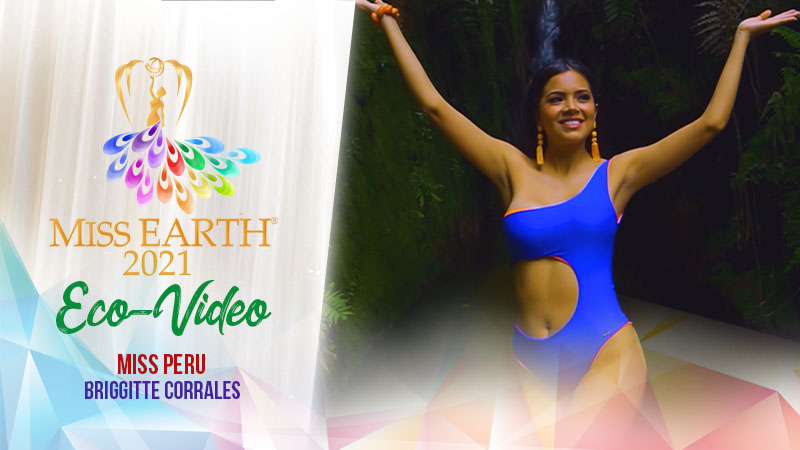 Age: 26
Height: 175 cm
Measurements: 37 in - 25 in - 37 in
Career / Education: Entrepreneur
"I am a dog lover. I love to share with them. I currently have two pets that are my happiness. My dogs have a very important role in life and I know that also for society and the whole world."

DESCRIBE YOUR CHILDHOOD/GROWING YEARS
My childhood moments were of great joy, friendship and fun, memories that always will be in my mind and heart. I remember that I had a lot of fun playing with my friends with traditional games such as hide and seek, playing with beautiful dolls. I was the sweetest girl of may parents, the golden one, since I am their only child. Along all these years I has developed my own personality, becoming a self-confident and independent woman.
WHAT IS YOUR MEMORABLE MOMENT?
I remember a lot when my mother told me that I was born to be a queen and touch many people, achieving incredible changes. When I knew I would be the new Miss Earth Peru I remembered her words which made a big difference in my life. The perfect time arrived, and now her memorable words are the force to make true all my dreams.
ANY SPECIAL STORIES OR FACTS ABOUT YOUR FAMILY?
My mother was a beauty queen at school. I have many photos of her during the competition and it is very exciting to know that I come from a legacy of a queen. We always share these anecdotes as unforgettable memories.
WHAT IS THE MOST UNUSUAL THING YOU HAVE EVER DONE?
When I was 13 years old my father took my mother and me to a helicopter landing strip and we got on it, justo to know how it works. It was a moment that we really enjoyed as it was something I had never done in my life. It was a great experience that I wanted to share it with them again, to fly on a helicopter over the enigmatic Nasca lines in the Coast of Perù.
What I promote is the empowerment of women in order to be able to be included at all levels of the society, equity that permits to develop and build stronger societies, tolerance as a first step in the creation of fairer and more democratic societies to improve our quality of life in every sense. A society that take care of its natural resources. That is why I created: "Miss Curvy Perù", a beauty pageant that empowers and is focused on plus-sized women and I am very proud of the message that is transmitted at international level.
WHAT TIPS CAN YOU SHARE TO PROMOTE ECOTOURISM & CLIMATE CHANGE?
Use natural resources, such as water and energy, in a proper manner and remind people that they are scarce goods, beginning with small things for example: Turn off the water while brushing your teeth. Promote messages through social networks in order to fight against climate change, fostering the three (3) r's: reduce, reuse and recycle.
WHAT MAKES YOU PROUD OF YOUR COUNTRY?
Being Peruvian for me is something unique. I am proud of culture, customs, architecture, food, history, typical dances. It is very important to mention our ancient culture, the Inkas, who gave us a legacy to be creative in all what we do, discovering many ways to face the nature, for example building irrigation canals and homes in inhospitable areas such as Macchu Picchu.
WHAT CAN YOU PROMOTE ABOUT YOUR COUNTRY?
I can promote about my country sharing different life experiences such as: Most outstanding places, customs of my people and through images and videos, an image worth a thousand words. Social media marketing would be a good way to make stronger and exclusive the experience to know my country, and to make it as tangible as possible.
WHAT TRIVIA ABOUT YOURSELF WOULD YOU LIKE TO SHARE?
My dream is not to get married. Being married is not synonymous with self-realization nor does it guarantee happiness. Nevertheless, it does not mean that I completely discard the possibility of getting married, it is not my golden dream or priority in my life, the concept of personal fulfillment no longer involves having a husband, children and being a perfect housewife, now it is related to individual goals and achievements. I am a person who decides to choose and not feel obliged to get married, or if the society demands it.