Age: 27
Height: 163 cm
Measurements: 34 in - 27 in - 37 in
Career / Education: Customer Service
"I envision my country is that everyone be supportive of each other, accept each other for who they are."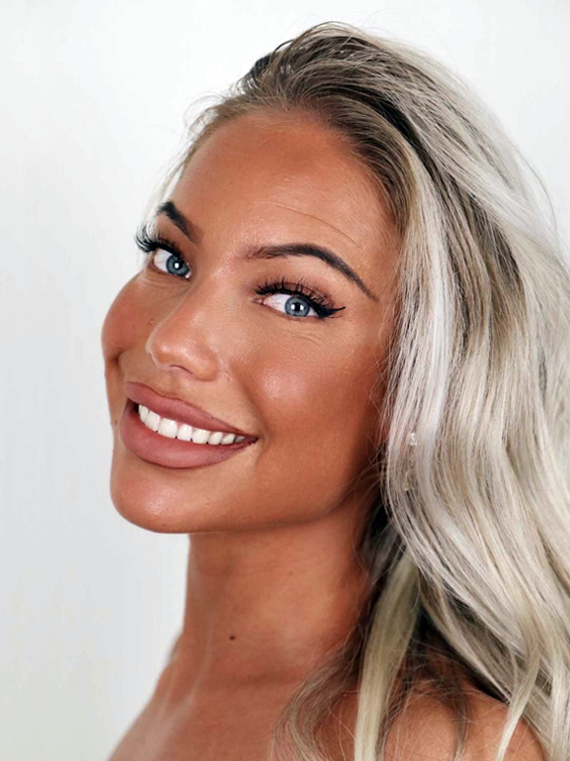 DESCRIBE YOUR CHILDHOOD/GROWING YEARS
My upbringing from 8 to 13 years was very nice. And that's something I'm very grateful for. I have a wonderful family that supports me in what I do but is strict also for my own good. I went to a good school where I got a good education and had good friends. At that age, I did a lot of theater and singing. It is something I loved to do when I was young and still to this day. Singing is what I do most to this day.
WHAT IS YOUR MEMORABLE MOMENT?
My memorable moment is when I was 10 years old, I was in a very big singing competition to be a girl in a known movie that´s called Annie, and I received second place of 2.000 girls. And that´s a day I will never forget because it was so much hard work and practice as well and so much fun.

And another memorable thing I have done was when I sang in one of my best friend funeral. It was a tough day but at the same time very beautiful because it was an honor to sing for the family.
ANY SPECIAL STORIES OR FACTS ABOUT YOUR FAMILY?
Family comes first – we always support each other and help each other. When I was young, we had a full-size camping bus, and travelled through Europe to Spain every summer. From I was age 2 until I was a teenager. On the way to and from Spain we always stopped an interesting amusement parks like Euro Disney in Paris. I will never forget my first visit there.
WHAT IS THE MOST UNUSUAL THING YOU HAVE EVER DONE?
I remember it was a summer day it was a real storm with thunder and lightning and was quite extreme weather conditions. At that time, I had a horse, and I was incredibly worried about her and the rest of the horses that was outside. So, I decided to run 1 km to look for my horse who and the other horses to make sure they were well and safe, which luckily, they were.
I want to help drug abusers and homeless people to give them a better future. So I want to have charity concert to collect money for this good purpose. Food, clothes, shelter and so on.
WHAT TIPS CAN YOU SHARE TO PROMOTE ECOTOURISM & CLIMATE CHANGE?
Include sustainable tourism alternatives in your trip.
Go green at your hotel.
Reduce your carbon footprint.
Support sustainable options in island destinations.
Take care of heritage places.
Challenge yourself to step outside of your comfort zone.
Support community-based tourism and initiatives.
Respect the practices of local people.
Use reusable bags.
WHAT MAKES YOU PROUD OF YOUR COUNTRY?
What makes me proud of my country is that together we have become as strong as a country. After the tragic and terrible terrorist attack that happened in Norway on July 22, we have become much more caring, take care of each other, give each other strength. As we say "Can one man can create so much hate, think how much love we can all create together".
WHAT CAN YOU PROMOTE ABOUT YOUR COUNTRY?
Norway is rich in many natural resources such as oil, gas, minerals, timber, seafood, fresh water, and hydropower. Since the beginning of the 20th century, these natural conditions have given the country the opportunity for an increase in wealth that few other countries have benefited from, and Norwegians have per. 2017 the world's third highest average income, measured in GDP per. inhabitant.

Norway has rejected membership of the European Union through two referendums, Norway has close ties to the union through the EEA agreement, and through NATO with the United States. Norway is a significant contributor to the United Nations (UN), and has participated with soldiers in several foreign operations with a mandate from the UN. Norway is among the states that have participated since the founding of the UN, NATO, the Council of Europe, the OSCE and the Nordic Council, and is in addition to these members of the EEA, the World Trade Organization, the Organization for Economic Co-operation, and Development and is part of the Schengen area. Norway is the world's largest producer of oil and gas per capita outside the Middle East.
WHAT TRIVIA ABOUT YOURSELF WOULD YOU LIKE TO SHARE?