Age: 21
Height: 184 cm
Measurements: 33 in - 25 in - 37 in
Career / Education: Financial Management Student
"I would say that I am a very creative person, emotional and optimistic."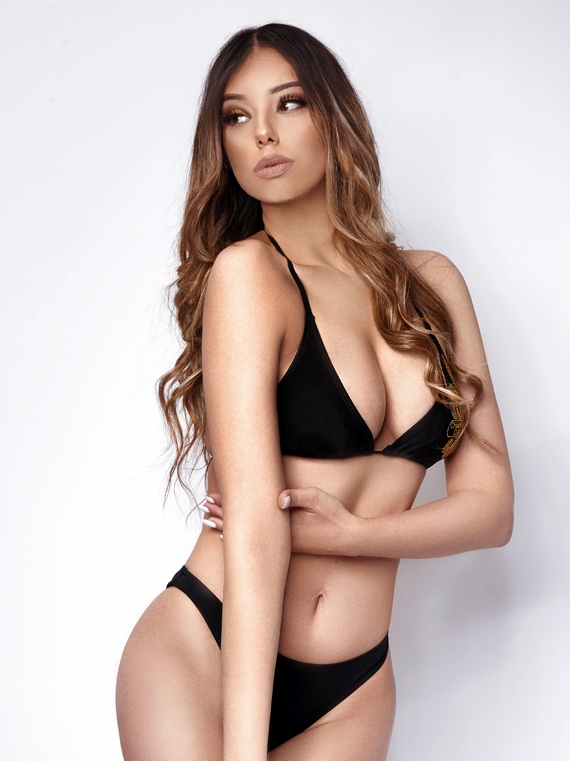 DESCRIBE YOUR CHILDHOOD/GROWING YEARS
I must say that I have lived a true childhood, void of any mobiles and social media, playing outside with my friends. When I look back to my childhood, there is always a smile on my face, I am truly happy to have experienced a childhood filled with children's games and smiles. Also, at that period I was very artistic, I adored drawing and writing poems.
WHAT IS YOUR MEMORABLE MOMENT?
To be honest, the most memorable moment for me is the moment when I was elected to represent my country as Miss Earth Macedonia. I consider it to be my biggest achievement, the highlight of my passion and hobby. I was not even dreaming that I could gain this title, especially in a moment when things were not going so well for me.
ANY SPECIAL STORIES OR FACTS ABOUT YOUR FAMILY?
My parents are of the same generation, they studied in the same high school. What I find most interesting is that I am responsible for their styling whenever there are some special occasions we have to attend. I consider myself to be their personal stylist.
WHAT IS THE MOST UNUSUAL THING YOU HAVE EVER DONE?
I keep a collection of odd things. To name a few – I keep a bottle of water, that my first crush had a drink of, I keep my braces, my hair – which I had to cut off when I started chemo.
My advocacy is to raise my voice, as loud as I can, and to inform the people as much as I can, so that the Macedonian should know how important it is to keep the rivers and lakes clean. I come from a small country which is very rich with rivers and lakes, among which the oldest and the deepest one in Europe – the OhridLake. I feel this responsibility to take some action over this issue, to share information and to fulfill various activities, since water is the driving force of all nature.
WHAT TIPS CAN YOU SHARE TO PROMOTE ECOTOURISM & CLIMATE CHANGE?
The best way to promote sustainable tourism is to lead by example! When it comes to raising awareness of an issue, it's always good to take a look at what actionable steps we can take as individuals. Here are some examples of how we can lead by: Say no to fast fashion - thrift or buy sustainable or recycled clothing instead. Reduce your meat consumption or slowly switch to a vegetarian/vegan lifestyle. Don't throw out food - start an organic compost instead. Avoid plastic packaging and processed foods - seek out ways to reduce plastic consumption in your life (try going zero waste for 1 month as a trial).

Encourage Business Owners to Be a Part of 1% for the Planet (or Become an Individual Member!) 1% for the Planet is an international organization co-founded by Patagonia founder Yvon Chouinard and outdoorsman Craig Mathews. The goal for 1%FTP is to bring together "dollars and doers" that goes toward funding thousands of environmental programs around the world. Thanks to the 1%FTP community, over $250 million dollars have been donated to environmental nonprofits!
WHAT MAKES YOU PROUD OF YOUR COUNTRY?
Although nowadays Macedonia is a super small country that one can barely be spotted on the map – in the ancient times it was actually the greatest empire that the World had ever known.

I am so proud to be born in this country, and the following facts prove that:
-The town of Ohrid and its gorgeous lake. What makes this town so original is the fact that the Ohrid Lake is the oldest and is one of the deepest lakes in Europe.
-The famous Catholic missionary, Mother Theresa of Calcutta, was actually born in the capital of Macedonia – Skopje.
-The Slavic literacy actually started in Macedonia. The two Macedonian brothers, St. Cyril and St. Methodius founded the Glagolitic alphabet from which their students, the above mentioned scholars St. Clement and St. Naum, established the Cyrillic alphabet, which has quickly spread and adapted, and is now widely used by numerous Slavic nations.
-When it comes to nature – Macedonia has the highest number of mountains and the mountain peaks in the entire world. Surprisingly, most of these peaks have never been visited or scaled by people!
-Macedonia is known as the only place in Europe where you can find ruby gemstones while the Macedonian opium is known as the best one in the world, with 14 morphine units!
WHAT CAN YOU PROMOTE ABOUT YOUR COUNTRY?
Of course, our pristine and marvelous nature!

I recommend to everyone to come and visit Ohrid and the lake, in order to experience the natural beauty that is within reach everywhere you look. The Jerusalem of the Balkans, many people have heard of Ohrid as an important cultural and religious city. But this UNESCO World Heritage Site is worth visiting for so many reasons. Yes, it is full of beautiful churches and monasteries, including the picture-perfect St. John at Kaneo, but it's also just a fabulous lakeside town. Here you can mix your summer fun with cultural pursuits, making Ohrid the perfect all-around vacation destination.

Matka Canyon as a second destination. Matka Canyon is beloved by hiking enthusiasts, spelunkers, and photographers of all levels. While here you can go for a boat ride, visit the monasteries, swim, kayak, hike, or visit one of the caves. While Lake Ohrid attracts international travelers, the rest of Macedonia's natural wonders are far less known outside of the country. Yet Mavrovo National Park is home to the country's highest mountain (Mount Korab), the best ski resort (ZareLazareski), and one of the country's most beloved festivals (the Galičnik Wedding Festival). So if you're looking for somewhere that offers interesting culture and beautiful nature year-round, look no further. If you're a foodie, you'll want to make a visit to the twin villages of Janče and Galičnik, which have become something of a culinary mecca in Mavrovo and across Macedonia.

Another destination, Trpejca. The town of Trpejca on Lake Ohrid has earned the nickname of the Macedonian Saint-Tropez as tourists have increasingly set their sights on visiting this tiny yet glamorous former fishing village.

Next stop. Located about an hour outside of Bitola, Pelister National Park is the second largest national park in the country. The most famous landmarks here are the two mountain lakes known as Pelister's Eyes.

Visitor's come for the spectacular views, hiking, camping, rock climbing, and horseback riding. So basically Pelister National Park is an outdoor paradise.
WHAT TRIVIA ABOUT YOURSELF WOULD YOU LIKE TO SHARE?