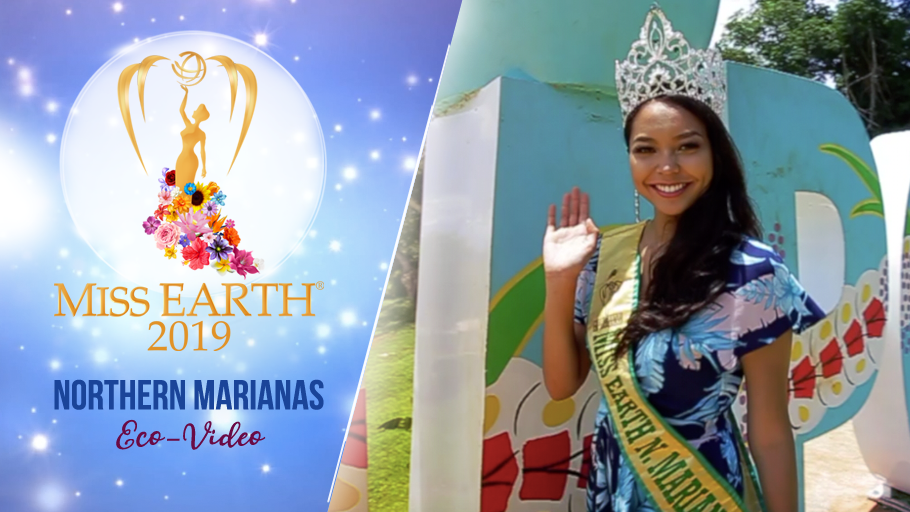 Height: 172 cm
Measurements: 32 in - 25 in - 33 in
Education: High School Graduate
Flower Name: Plumeria
Advocacy: My ddvocacy focuses on the effects that climate change has on our islands, improving our waste management, and developing eco tourism within the Northern Marianas Islands.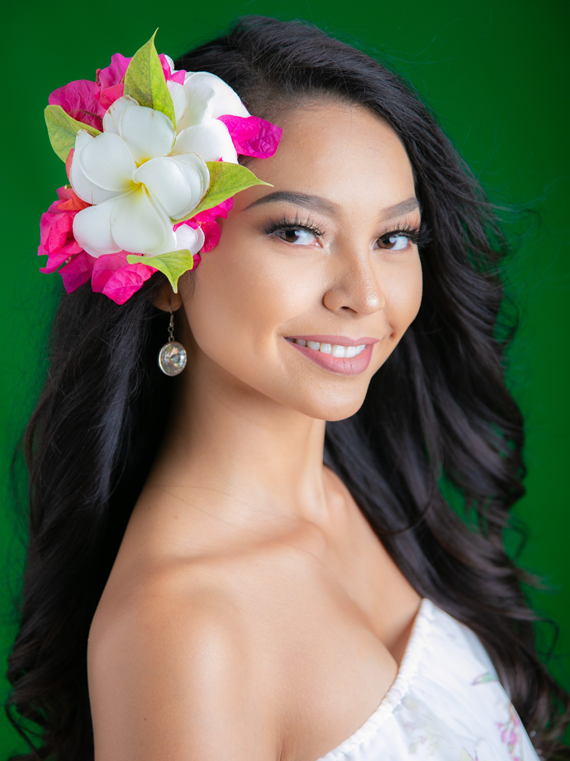 WHAT ARE THE SPECIAL QUALITIES OF THE FLOWER? HEALING? FUNCTION?
Aside from the plumerias alluring fragrance. It is used as a traditional symbol, and for its natural oils aiding in beauty. It has health benefits such as immunity support, relieving fevers, and is used as an antioxidant and anti inflammatory agent.
DESCRIBE YOUR CHILDHOOD/GROWING YEARS (8-13 YEARS OLD).
Growing up I was raised in the state of Oregon, then later returned to the island to complete the rest of MY education. Every weekend me and my family would enjoy Saipan`s white sandy beaches and the diverse marine life while on a day at the beach, which further taught me the importance of preserving the natural beauty NMI posses for future generations, so that them too, can enjoy the beauty we are experiencing today. Furthermore, in the Marianas the locals are deeply connected with both the land and sea. Growing up, it has been a tradition, enforced by family members to always ask permission before stepping onto the land, or when taking something as little as a seashell from our beaches. In addition, we were told stories of how our ancestors chanted as we sailed the oceans, and till this day believe that dolphins or other marine life that swam by boats offered safe sailing or represented passed loved ones. All of this taught me that we must respect and protect our land and seas, not to mention the biodiversity of the NMI. Having all this embedded in my mind at such a young age, it taught me to continue to practice sustainability, promote eco tourism, and keep our islands trash free as much as possible.
WHAT IS YOUR MEMORABLE MOMENT?
One of my most memorable moments would be participating in the 2017 Micro Cup Games. I, along with MY team members had the privilege to travel to the country of Palau, and compete in the canoe trip races. Where we achieved 1st place in the Outrigger competition, and received gold medals. We were also able to experience swimming amongst and array of marine life and witness how environmentally preserved their islands were. All in all it was such a memorable trip, considering Palau being known for its breathtaking scenery.
ANY SPECIAL STORIES OR FACTS ABOUT YOUR FAMILY?
- I am a Pescetarian for over 4 years
- I am a Chamorro and part Filipina
- I was raised in the state of Oregon up until 8 years old
- My Grandfather helped pioneer the CNMI Covenant with the U.S
WHAT IS THE MOST UNUSUAL THING YOU HAVE EVER DONE?
I would say the most unusual thing I have ever done was trying out for a soccer team. This was unusual for me because it was a completely new sport for me. Therefore, it was a spontaneous decision to join a soccer team in my opinion needless to say it wasn't quite my sport. However, it was something new, and it pulled me out of my comfort zone. This further taught me, not to miss out on any given opportunities, because it will always be a learning experience.
WHAT TIPS CAN YOU SHARE TO PROMOTE ECOTOURISM & CLIMATE CHANGE?
- We should educate visiting tourists on how to respect our land and seas
- continue to educate and bring awareness to the effects that climate change has, most especially on drowning islands
- Speak to local leader to push for more environmental development, such as laws restricting the use or plastic/littering
- Lead by example, when we as individuals carry out sustainable practices other will see and follow after
- hold events that bring awareness to these issues, events in which engage and educate all ages
- Raise funds, in which help promote these issues and go towards nonprofit organizations that help bring attention to climate change and eco tourism
WHAT MAKES YOU PROUD OF YOUR COUNTRY?
There are a number of things that makes me proud of my country. Coming from a small group of islands, we take much pride from where we came from, and all 15 of our neighboring islands have a tight bond as if we are all family. We help one another out and unite as one community. Having gone through two of the strongest storms to hit US soil, we all came hand in hand to help rebuild and help one another during these devastating moments. Not to mention the local people have such amazing hospitality and welcome anyone despite where one comes from. The NMI is also rich in culture ranging from dance, food, and tradition, all in which we share. Luckily, my country is surrounded by the shimmering Pacific Ocean, which is filled with vibrant corals and diverse marine life. It also has a variety of stunning sights and on of the most vibrant sunsets. All in all the NMI is a hidden treasure and Ia am immensely proud to call it my home.
WHAT CAN YOU PROMOTE ABOUT YOUR COUNTRY?
- My country has amazing hospitality regardless of where anyone comes from
- We have stunning sights such as grottos and hidden beaches, not to mention unforgettable sunsets
- The island is rich in culture, ranging from local crafts, dances, food, and tradition
- the NMI is home of the Marianas Trench, which is the deepest part of the world!
- There is an array of activities to take part in, all in which allows one to enjoy the natural beauty of the CNMI. Such as diving, parasailing, and even helicopter rides!
- The islands are filled with beautiful tropical jungles, which include blossoming flowers such as the hibiscus and the plumeria.
- It is a paradise that's people from all over the world come to see, and it takes less than and hour to travel to our neighboring islands by plane!