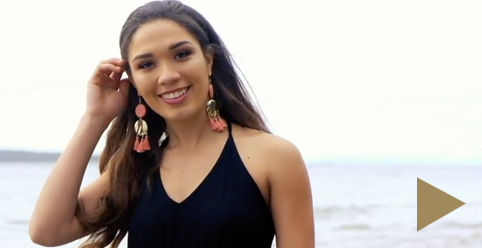 Age: 22
Height: 166 cm
Measurements: 79 cm - 64 cm - 94 cm
Profession: Customer Service Representative and Marketing Assistant
Hometown: Auckland
Language/s Spoken: English
Jzayla travelled to 21 countries before turning 21 years old. She currently travelled to 23 countries already.
DESCRIBE YOUR CHILDHOOD GROWING YEARS (8-13 YEARS OLD)
When I look back on my childhood, there is nothing I would ever change. I was very fortunate to have had such an adventurous, happy and safe upbringing. I grew up living with my mum, nan and sister. We would spend most of our time going on weekend adventures snorkeling, bike riding, dancing to music and enjoying the outdoors. As a family, we also supported the World Vision Organization and sponsored a girl around my age named Grace from Uganda that we also called our sister. My family are incredibly supportive and have always encouraged me to dream big, step outside my comfort zone and try new things. To me, my childhood was filled with a richness of love.
ANY SPECIAL STORIES OR FACTS ABOUT YOUR FAMILY?
My family lives all around the world! My dad actually lives in America and my mum works in Australia. It may seem difficult to live so far apart from family, but they are always just a video or phone call away!
WHAT IS THE MOST UNUSUAL THING YOU HAVE EVER DONE?
As an adventure seeker, I am not afraid to try new things and jump out of my comfort zone. At 14, I signed up for an unlimited Bungy Jumping pass for a year and have Bungy Jumped over 30 times!
WHAT MAKES YOU PROUD OF THE COUNTRY YOU ARE REPRESENTING?
With breathtaking natural scenery and a variety of cultural opportunities, New Zealand is an example of inspirational virtue.
WHAT TRIVIA ABOUT YOURSELF WOULD YOU LIKE TO SHARE?
Since starting my acting career, I have worked on over 20 film and music video productions. Last year, I performed in a Musical called Sweet Charity, in which I performed a sign language interpreted show to raise funds and welcome the deaf community to theatre. Inspired by this, my chosen talent for Miss Earth New Zealand was to sign language interpret an environmental speech which I absolutely enjoyed learning and sharing.