Age: 25
Height: 167 cm
Measurements: 36 in - 26 in - 29 in
Career / Education: Entrepreneur and TV Host
" I like to see and interpret things beyond what can be seen from the eyes and like to be a shoulder to be leaned on."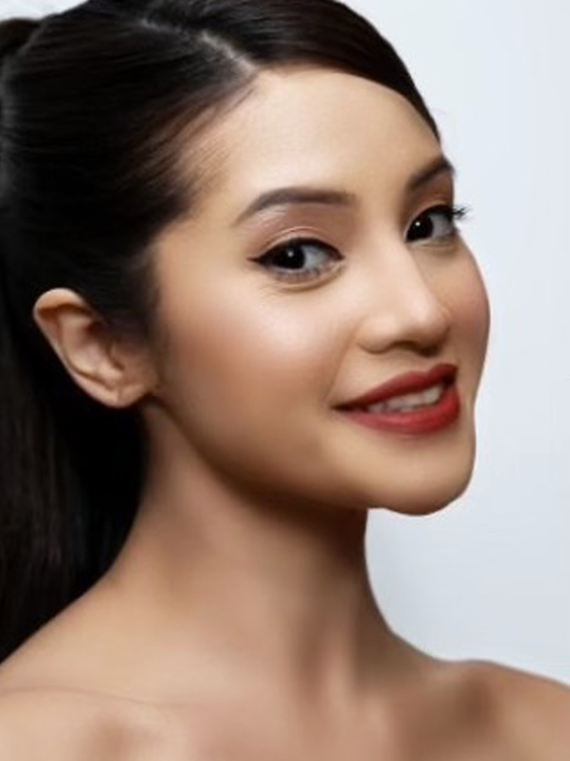 DESCRIBE YOUR CHILDHOOD/GROWING YEARS
I was a very shy and reserved kid, contrary to what I am right now. However, I had a buried seed in me that wanted to be out there and someday I knew I would make it. I had the most amazing family who blessed me with everything I wanted and motivated me in whatever I wanted to do. I grew up in a convent school that taught me discipline and the value of time, which I still abide by. All these have led me to who I am today.
WHAT IS YOUR MEMORABLE MOMENT?
The first time I grew out of of my comfort zone, participated and won a poem competition in third grade, it broke all my barriers and then I knew I could do it all.
ANY SPECIAL STORIES OR FACTS ABOUT YOUR FAMILY?
We are a very happy family that celebrates the smallest of the things in life.
WHAT IS THE MOST UNUSUAL THING YOU HAVE EVER DONE?
Climbed a mountain, setting my fear of height aside on a gown and a converse to shoot for my eco video. That moment I realised I want this so bad.
Nepal is a country rich in cultural heritage Nepal has an age-old highly scientific, highly engineered water management system which has been running sustainably from the past 1000-1300 years, dhunge dhara meaning stone spouts. They run simply on the force of gravity for the past 1000-1300 years without much maintenance. Because of not having received much attention recently, they are drying up through rapid urbanization. Hence, I have taken up the project of reviving a stone sput located in a community where people are involved in the laundry profession that will not just conserve the aesthetic and traditional value but also help in sustaining the livelihood of a community and help preserve their traditional occupation which is being threatened by lack of water.
WHAT TIPS CAN YOU SHARE TO PROMOTE ECOTOURISM & CLIMATE CHANGE?
We can promote eco tourism by encouraging conversation, creating an ecotourism driven content strategy and building an active community of eco-travelers. Also, promoting respective places in one's country through various platforms, for example, the way Miss Earth Organization has given to us is a great way of promoting eco tourism. For climate change, people should be educated about what climate change is and what should be doing and not doing in order to contribute to combating climate change.
WHAT MAKES YOU PROUD OF YOUR COUNTRY?
Nepal is the oldest sovereign country in the entire South Asia which was always an independent country, never been conquered. Nepal is a diverse country which is home to over 900 species of birds, 3.96 of the world's mammal species, from food to festivals, mountains to plains, our culture teaches us to be compassionate to love and respect for all creatures.
WHAT CAN YOU PROMOTE ABOUT YOUR COUNTRY?
Nepal with rich ancient cultures set against the most dramatic scenery in the world is a land of discovery and unique experience. For broad minded individuals who value an experience that is authentic and mesmerizing, Nepal is the ideal destination. One can surely come across the untouched and the undiscovered side of themselves. It is unsurpassed and the sheer diversity Nepal boasts, from steamy jungle and Terai to the icy peaks of the world's highest mountains means that the vast range of activities on offer. Last but not the least, Nepal offers amazing hospitality to visitors.
WHAT TRIVIA ABOUT YOURSELF WOULD YOU LIKE TO SHARE?