Height: 173 cm
Measurements: 34 in - 23 in - 36 in
Occupation: Actress
Flower Name: Ber (Scabiosa)
Advocacy: My advocacy would be environmental sustainability. Giving safe future for our next generation is vital. Because the outdoor air pollution is the most significant environmental risk faced by children in Ulaanbaatar. Children and pregnant women are the most vulnerable victims of the air pollution. So we all should take an action to protect ourselves and our next generation immediately.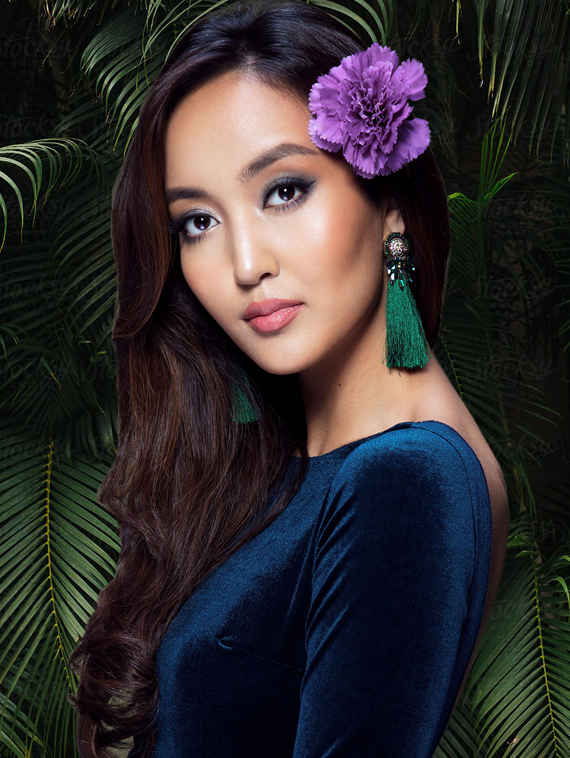 WHAT ARE THE SPECIAL QUALITIES OF THE FLOWER? HEALING? FUNCTION?
From ancient times the Mongols have honored the flower as a symbol of peace and harmony. Ber has been used as a traditional medicine by Mongolians. It is used to treat coughs, fever, internal inflammation and skin problems.
DESCRIBE YOUR CHILDHOOD/GROWING YEARS (8-13 YEARS OLD).
As a child I was really into maths and physics, I always had 1st place starting from 4th grade for a number of years at national olympiads of mathematics. Dancing and singing were also my favorite activities.
WHAT IS YOUR MEMORABLE MOMENT?
When I was 5 years old I starred in a Mongolian movie "Vansemberoo", it is Saussurea flower in English. I was away from my family and relatives for 2 months while we were shooting the film. It was quite an experience for a young girl. It seems to me very symbolic that I have become an actress and participating in Miss Earth.
ANY SPECIAL STORIES OR FACTS ABOUT YOUR FAMILY?
My mother is a Mongolian folk song singer, my grandmother is a Honorary actress of Mongolia and an acting teacher, grandfather was a famous Mongolian national wrestler and my uncle is a sumo wrestler in Japan. So I think love for art and competition is in my genes. That's why I became a musical actress.
WHAT IS THE MOST UNUSUAL THING YOU HAVE EVER DONE?
I think the most unusual thing I have done so far is playing a role of a sack. It was a drama for kids which played at my work, the theater of drama. Most of actresses played in a role of inanimate objects, and trees. Even though it sounds easy to play in a such role, it required me to stay silent and moveless for a long time.
WHAT TIPS CAN YOU SHARE TO PROMOTE ECOTOURISM & CLIMATE CHANGE?
My call for tourists and locals to promote ecotourism and climate change is to use reusable bags. As walking through the capital city Ulaanbaatar you will see flying plastic bags. I think using reusable bags is the simplest but the most effective way to eliminate the plastic bags that pollute our environment.
WHAT MAKES YOU PROUD OF YOUR COUNTRY?
The clear blue sky in the day and the millions of shining stars in the night. This view, which you can see in the countryside of Mongolia, is one of the amazing scene of my country. A lot of tourists come to see Mongolia to spend peaceful and relaxing time in countryside watching the uncountable shining stars.
WHAT CAN YOU PROMOTE ABOUT YOUR COUNTRY?
Mongolia's traditional pastoral lifestyle is one of important aspects of keeping the country's ecosystem. Mongols have deep traditions for respecting the Mother Nature and this culture is still seen in today's Mongolian life. So Mongolia is the ideal destination for nature lovers - accommodating in traditional dwelling Ger with solar panels, experiencing centuries old culture, having healthy organic food in Mongolia.