Height: 178 cm
Measurements:
Education: Finance and Economics Student
Flower Name: Tulip
Advocacy: People have to rethink the way we treat mother earth and rethink our consumption, once people will rethink and reduce our consumption and start consuming less, producers of the goods will reduce the volumes of the goods produces, as there will be no demand on it, and where there is no demand there is no supply. Decrease in production and its means will decrease the impact people have on nature.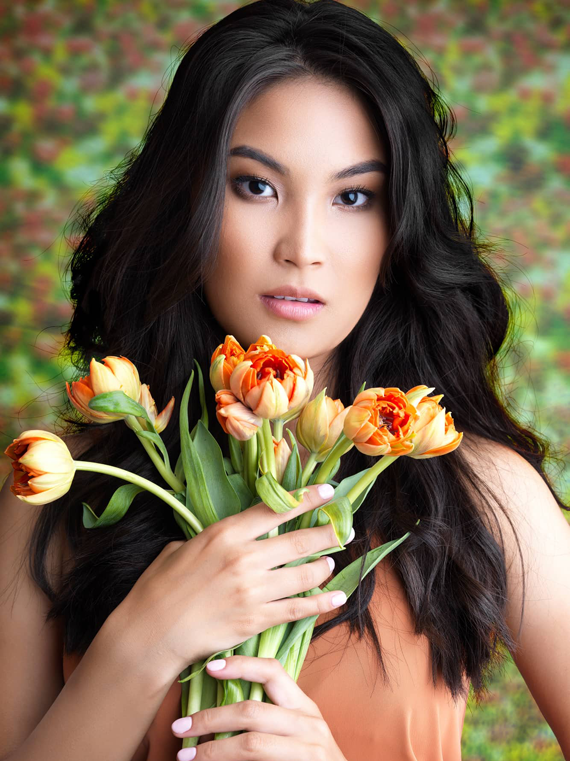 Having rethought the consumption, in order to decrease the demand on goods, I believe we would start reusing the goods, not buying new ones. And one of the main things that each of one has to start doing is helping recycling the goods that we do not need anymore. Every house needs to implement the system of the bins: at least dividing them on recyclable and non- recyclable, ideally on glass, paper, plastic, metal wastes and other garbage. By doing that we would create some new beautiful things from garbage, not the harm that we cause now in the oceans and natural habitats of all the species. And lastly, every human being has respect first themselves, other people and our work, every animal, nature and our Mother Earth. Once people start respecting themselves and others, we would start having a clean and peaceful world, with people having harmony with nature. Every action has its consequences, that is why I believe that even acting locally will cause global effects, by the butterfly effect. A small action will cause huge changes all over the world.
WHAT ARE THE SPECIAL QUALITIES OF THE FLOWER? HEALING? FUNCTION?
Tulip is historically the only flower that lived on the territory of Kazakhstan. Our ancestors have captured and caroled that beauty of the flower throughout art and culture. Fields filled with red, yellow, purple and white tulips can be seen on the most of the pictures from different periods of Kazakhstani history. National designs copy the flower's tracery in various versions. Thus, flower plays a great role in Kazakhstani history, art and culture. As well as with that tulip also has healing power. The flower is widely used in cosmetology and dermatology as one of the treatments against various skin problems. The sap helps to cure dermatoses, eczema, pimples and acne.
DESCRIBE YOUR CHILDHOOD/GROWING YEARS (8-13 YEARS OLD).
When I was 10 years old, my little brother was born. Since that moment, my parents came home with the little nubbin of happiness. I stopped being a spoiled little child of my parents, but started being a responsible elder sister. Helping taking care of my little brother with my parents taught my to struggle with my ego, helping those who need it and become responsible for those people who cannot and are unable to take care of themselves. It is needed to mention that despite having a big family, I had enough attention from my parents and had a childhood full of fun, love and care, that any kid would have wanted. Understanding the fact that childhood plays a big role in personality transformation, I does my best at providing care and love to those children, who due to various reasons cannot receive it from our parents, like kids from orphanage houses.
WHAT IS YOUR MEMORABLE MOMENT?
One day, we went on a trip with the family and were swimming in the ocean on the boat. We made a stop to swim with family and friends. I was very scared to swim, as I was very small and the water was deep, still I jumped into the water. Swimming for some time, I noticed that the uncle started to shout and smile. We saw the dolphins swimming near them. I was at first frightened, and started to lose control, as I have never seen the dolphins before, while my parents who were a little far from me, saw that and headed to me. Then one of the dolphins swam towards me and by his nose supported my chin, so that I would not drown. This moment I realized that nature, plants, animals are our friends, not enemies and we have to help each other. This is one of the most memorable events in my life that I will never forget.
ANY SPECIAL STORIES OR FACTS ABOUT YOUR FAMILY?
When I went to Vietnam within this April (Before I became Miss Earth Kazakhstan), I met a woman in Vietnam. And it turned out it was Miss Phuong Khanh, Miss Earth 2018. I I have a big family, consisting of 6 people, my parents, elder sister and 2 little brothers. My family is very friendly. Every Saturday we go hiking to mountains and Sunday is our family day that we spend together. Interesting that my family works in a very different branches: My grandfather is a politician and was one who signed the constitution of Kazakhstan, my grandmother is financier, my other grandparents are doctors, my uncle is military, my dad is a producer and actor, my mother is a teacher. Thus, kids in the family were raised being very versatile and developed personalities.
WHAT IS THE MOST UNUSUAL THING YOU HAVE EVER DONE?
I think the most unusual thing that I has done is flying with parachute. This was very exciting and breathtaking experience. Seeing the land from such a height changes mind, one starts understanding that the Earth is not that big as is thought to be. If every person takes responsibility for the piece of land near him, his home, it will change the planet.
WHAT TIPS CAN YOU SHARE TO PROMOTE ECOTOURISM & CLIMATE CHANGE?
Ecotourism is one of the crucial things that make people wittingly reject the cult of the comfort, and instills the other culture of spiritual enrichment from communicating with the nature, involvement in protection of the natural heritage instead of cultivating the hotels and rest zones to destroy the nature for the bigger recreation zones for people. Climate change is being a serious consequence of the human unconsciousness and unlimited wants. It is a problem since XIX century, and a little was done to solve the problem. Because people do not consider it as one. Climate change started because of the Greenhouse effect, which is caused by the pollution of the air. First of all, one of the things I would suggest to promote ecotourism and climate change is by enhancing human consciousness and love for nature within the upcoming generation and millennials. Everyone can do this by including into education the right use of the natural resources. Also, popularization of the ways to reuse products has to be done. It can be set through media, celebrities and governmental encouragement. In addition, there some discounts may be introduced for the ecotourism, so that it would be accessible and affordable for everyone. This would probably promote ecotourism. Perhaps the limit of cars per family may be introduced. So that 1 family could only have 1 car, this would reduce the pollution and increase the propaganda of the mindful usage. It would probably make people Rethink the ways of the consumption.
WHAT MAKES YOU PROUD OF YOUR COUNTRY?
Kazakhstan is one of the most unique and beautiful countries. The uniqueness is in its diversity in everything, as from the landscapes and people. In Kazakhstan there lives more than 125 nationalities in peace and love. In 60s Kazakh families has hosted a lot of people coming from the other parts of USSR, without prejudices. And I is very proud to live in such a welcoming atmosphere. The country connects Europe and Asia and thus has the range of landscapes: starting from dunes, mountain lakes, canyons, Tyan Shan mountains and Caspian Sea. I am very proud to represent the country with such a diversity and tolerance.
WHAT CAN YOU PROMOTE ABOUT YOUR COUNTRY?
Kazakhstanese transportation because it arrives on time and is never late.Kazakhstan has a breathtaking outstandingly beautiful nature. The government protects most of it, but it is very important to mention that people themselves try to protect the environment from the barbarous usage of the resources. Thus, the consciousness of the Kazakhstani people is very high and I want to promote that to world and thus become an example of mindful consumption.