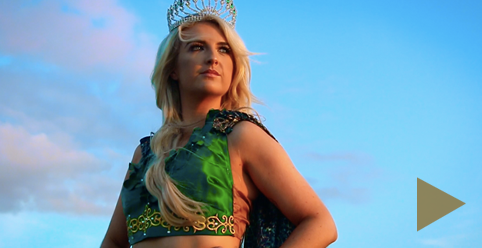 Age: 24
Height: 167 cm
Measurements: 86 cm - 69 cm - 86 cm
Profession: Student
Hometown: Downings
Language/s Spoken: English
Sarah is a volunteer for the Tidy Towns group and work closely with the primary schools with the "Green Warriors" programme she have been running for the past 2 years.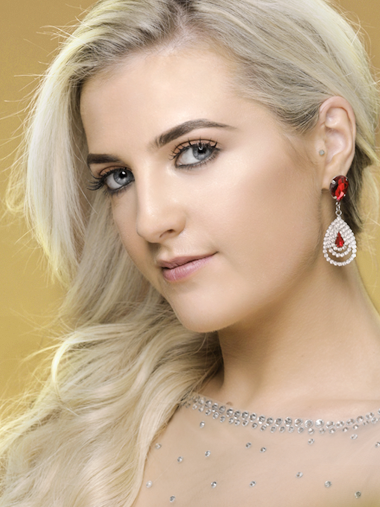 DESCRIBE YOUR CHILDHOOD GROWING YEARS (8-13 YEARS OLD)
I grew up in Downings, a seaside village surrounded by my loving family. I attended a multi cultural diverse primary school on the outskirts of Letterkenny who have attained a green flag for their endeavors with conservation. The preservation of Mother Earth has been instilled in me from a young age, growing up with a family who are very much eco friendly i have been educated from a young age about the importance of disposing of rubbish in the appropriate bins.
ANY SPECIAL STORIES OR FACTS ABOUT YOUR FAMILY?
My great grandfather wrote a lexicon dictionary and was awarded a scholarship in ancient Celtic language.. My grandmother was a concert pianist who overcame great adversity due to her being born partially sited. My other grandparents are linguists and school teachers.
WHAT IS THE MOST UNUSUAL THING YOU HAVE EVER DONE?
The most unusual thing i have ever done is actually entering beauty pageants, growing up as an only child i was quite reserved and timid. As i got older i developed an interest in fashion and beauty i wanted to stand out. I took the plunge in 2013 and entered a local beauty pageant ''Miss Donegal'' since then my confidence grew and i have grown into the young hard working dedicated woman i am today.
WHAT MAKES YOU PROUD OF THE COUNTRY YOU ARE REPRESENTING?
I am proud of Ireland because of its unique language and heritage, its breath taking scenery, the warmth and friendliness of the people. I feel that Ireland as a country is leading the way in recognizing that current and future focus is on environmental protection, Ireland boosts its very own world heritage sites for example The Bend of Boyne or Bru na Boinne, which has been an important ritual, social economic centre for thousands of years, renowned for its elaborate Neolithic passage tombs, and containing the largest assembly of megalithic art in Europe, this area was also recognised in 1993 when it was designated a UNESCO world heritage site. Another example of a UNESCO world heritage which you may recognize from the blockbuster film ''Star Wars; The Force Awakens'' is the magnificent Skellig Islands. These islands make a worthy side trip from the popular Ring of Kerry tourist trail, a pair of small rocky mounds that rise up from the sea of off the coast of Portmagee. I am lucky enough to live beside a world heritage site Glenveagh National Park which is situated directly beside an area of national conservation surrounded by miles of Bogland. Gleanveagh is a designated special area of conservation and special protection area under EU and Irish law. Gleanveagh is also home to Irelands oldest pair of golden eagles, from 2001 onwards golden eagles were reared and released in the Gleanveagh National Park as part of an ambitious programme to re-establish this iconic wild bird in their former mountainous haunts. A small number of eagle pairs now breed in Donegal and the battle to restore one of Irelands wildest animals is ongoing. I am so proud represent Ireland and all of our efforts to protect Mother Earth and our sites of heritage.
WHAT TRIVIA ABOUT YOURSELF WOULD YOU LIKE TO SHARE?