Age: 27
Height: 176 cm
Measurements: 36 in - 24 in - 40 in
Career / Education: Veterinarian
"The day that I was crowned Miss Iran, it felt like a brand new start, and I began living my healthy lifestyle again and have gained a lot of strength, so I am confident I will become an even better and stronger woman than I was before, and will once again serve as an inspiration for women everywhere."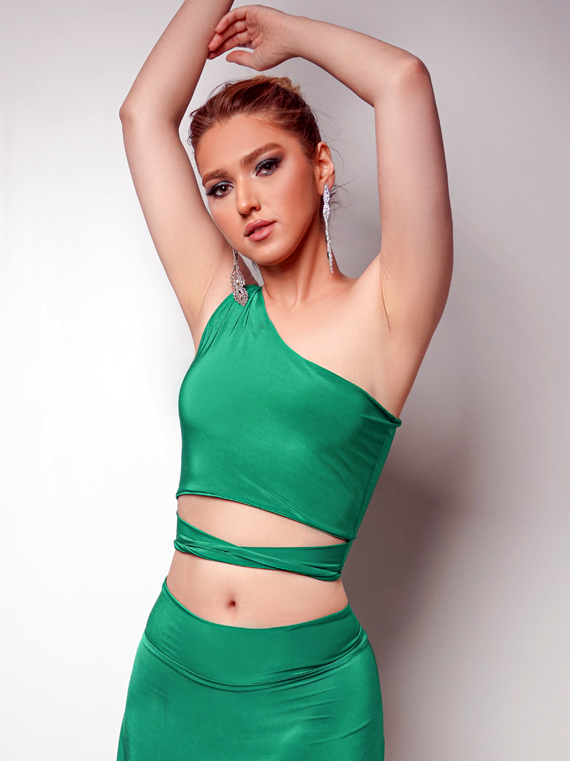 DESCRIBE YOUR CHILDHOOD/GROWING YEARS
During that period, I studied English intensively. I was also learning swimming and playing other sports like handball and skating. For one year, I was a member of the school's handball team.
WHAT IS YOUR MEMORABLE MOMENT?
For me, seeing my niece for the first time was the most memorable and joyful moment. It was an early birth for her, and I did not get to meet her until she was five weeks old.
ANY SPECIAL STORIES OR FACTS ABOUT YOUR FAMILY?
I am blessed to have a small family that is loving and caring. I am the youngest child of my parents and have an older sister who is married.
WHAT IS THE MOST UNUSUAL THING YOU HAVE EVER DONE?
I began traveling abroad for the first time as an all-by-myself passenger with no tour guide, which was quite an interesting and unique experience for me. Among most Iranian families, it is considered unusual for a girl to visit foreign countries by herself.
A cause near and dear to my heart is environmental advocacy. My country is currently facing bleak climate conditions, with increasing temperatures and decreasing precipitation and available water resources. Iranians in the south of the country are suffering from drought and water shortages. Experts have been warning for years that some areas of Iran's south and east that are considered dry may become uninhabitable one day. Millions of Iranians could be forced to leave and start over elsewhere if this happens. It is clear that water will play a crucial role in determining Iran's future, so, denial and silence about climate change and water shortages tell us there is still more to be done to protect the environment and human health.
WHAT TIPS CAN YOU SHARE TO PROMOTE ECOTOURISM & CLIMATE CHANGE?
Ecotourism can be promoted by finding responsible ecotourism programs. The best tourism programs are those that maintain the cultural integrity of the indigenous people's land while also minimizing the negative impacts of routine tourism activities on climate change. Recycling, water and energy preservation should be emphasized in these programs, as well as the creation of economic opportunities for local residents of such areas. The negative effects of tourism on climate change are well documented. It is no secret that the actions of people who visit animals and their natural habitats cause extensive damage, which is why the sharing of information about how to protect the environment should be a priority for today's world.
WHAT MAKES YOU PROUD OF YOUR COUNTRY?
I come from a country where culture and language are deeply intertwined. Among the many aspects of my homeland that makes me proud is its diversity of languages. Languages are like colored lenses through which we view the world. You can observe a beautiful rainbow when you consider the diverse languages in Iran. Each color is unique and has its own characteristics, beauty, and wonders. Learn Farsi so you can read Rumi's sublime poetry, as well as Kurdish and Arabic to listen to songs from the past. By learning the Azari language of Iran, you will be able to appreciate Turkish songs in a different light, just as you will be able to appreciate folk tales from the north and east of Iran by learning Balouchi and Mazandarani.
WHAT CAN YOU PROMOTE ABOUT YOUR COUNTRY?
Iran is home to a diverse range of ecosystems, including two important mountain ranges, wetlands, unique drylands, and forests. However, Iran suffers from rapid environmental destruction and biodiversity damage due to a variety of causes. As well, limited water resources are severely strained and polluted. Therefore, I intend to raise awareness about these environmental issues and work alongside communities in order to protect the environment and improve sustainability.
WHAT TRIVIA ABOUT YOURSELF WOULD YOU LIKE TO SHARE?
If I could be trapped in a film for a day, it would most definitely be Princess Mononoke. I grew up watching Studio Ghibli films avidly. Princess Mononoke was always an inspiration to me and has helped me become the person I am today. Princess Mononoke is a human raised by a wolf goddess and fights to protect the forest spirit. She is known for her courage and advocacy for nature and is a fierce fighter. When I first saw this film, I felt content and hopeful. However, having watched this film as an adult and acutely aware of our critical climate situation, I found myself feeling much more defeated. Thankfully, though, the film's powerful environmental message and its characters' relentless pursuit of change inspired me to keep fighting for a more eco-friendly world.