Age: 25
Height: 169 cm
Measurements: 26.5 in - 20 in - 28 in
Career / Education: News Anchor and Presenter
"Throughout my childhood/growing years I learned that communication is something really important, either between the family members or society, either you're inside or outside your home."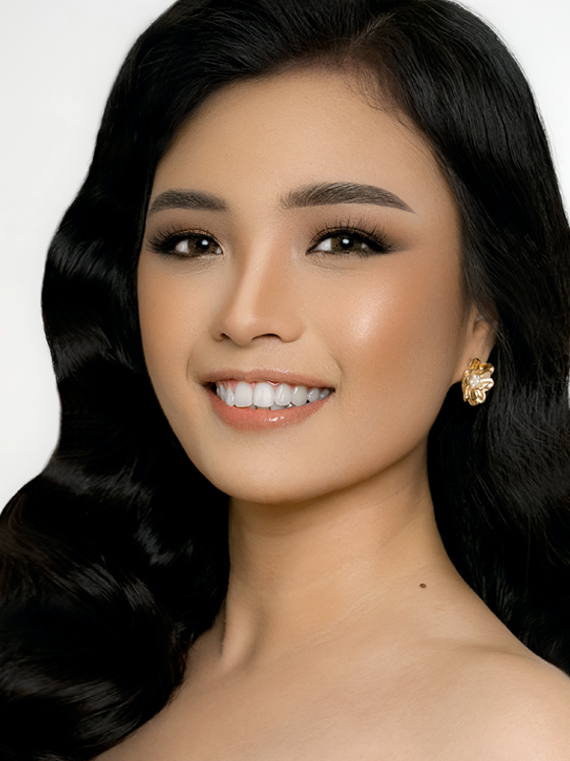 DESCRIBE YOUR CHILDHOOD/GROWING YEARS
I spent my childhood or growing years just like other children, I went to school, I study and do assignments, and I play with my friends, as well with my younger brother and sister. As the eldest children in the family, I was raised to be someone responsible at home. I should be able to take care and lead my younger brother and sister. In additional, my father and mother at that time was a working parents, so I really value the time we spent together as a whole family.
WHAT IS YOUR MEMORABLE MOMENT?
The most memorable moment during my growing years is really simple. Spending time together as a whole family at home, gardening, cooking, play, pretend to fall asleep on the sofa so that our parents will carry us to our bedroom. I'm so grateful for those years, because I know we could never turn back the time. Family, is what I think about every time I feel down about life, because they cheer me up and gives me strength to always do my best and never give up.
ANY SPECIAL STORIES OR FACTS ABOUT YOUR FAMILY?
Unlike most families, there's something different in my family. My mother has a hearing impairment disability. Since I was little, I was taught to communicate in a clear voice and gestures with my mom. I am so proud of my mother, although she has a hearing impairment, but she raised me and my siblings in a great way. We're taught to be responsible, helpful, and hardworking. My mother can't physically listen my voice, but she listened directly to my heart and feelings.
WHAT IS THE MOST UNUSUAL THING YOU HAVE EVER DONE?
I actually never imagined to learn civil engineering in university, because I dreamt of being a medical doctor, but end up as a bachelor of engineering. What's even funnier is that I start my job as a journalist and news anchor. But that's it, we never know where life brings us to. We just need to keep on doing our best in everything we do.
My advocacy is to help reduce the global warming, which in my opinion is the roots of most environmental issues, through simple things that any one could do. It is to live a low-waste lifestyle through reducing single-use plastic, fashion and food waste. Besides that, I encourage people to increase the green open spaces, starting from our home.
WHAT TIPS CAN YOU SHARE TO PROMOTE ECOTOURISM & CLIMATE CHANGE?
Just like the slogan of my hometown in North Sulawesi, Indonesia that says "Sitou Timou Tumou Tou" which means we live to educate others, I believe that we should share and educate more people about the climate change and ecotourism. Because when people understands about it, they will start to act on their own and not by force. If then, it will last for a long time or becomes a sustainable act. Through this, we could still enjoy our beautiful earth but also at the same time, we take a good care of our Mother Earth.
WHAT MAKES YOU PROUD OF YOUR COUNTRY?
I am proud of my country Indonesia. Because it is the place where I am born and raised. The Indonesian may came from different regions, ethnic, race, and religion but just like the Indonesia's motto "Bhinneka Tunggal Ika" which means unity in diversity, the people were all so tolerated and friendly with each other.
WHAT CAN YOU PROMOTE ABOUT YOUR COUNTRY?
Unity in diversity. I'm proud to promote how diverse it is the culture, race, ethnics, and beliefs in Indonesia, yet we're all still united into one, we are Indonesia.
WHAT TRIVIA ABOUT YOURSELF WOULD YOU LIKE TO SHARE?