MICHELLE VICTORIA ALRIANI
Age: 20
Height: 168 cm
Measurements: 83 cm - 65 cm - 81 cm
Profession: International Law Student
Hometown: Bandung
Language/s Spoken: English, Indonesian, French, Japanese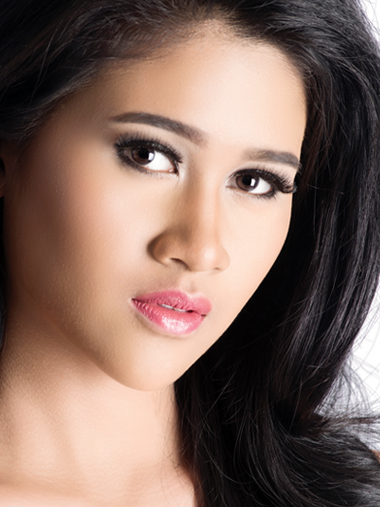 DESCRIBE YOUR CHILDHOOD GROWING YEARS (8-13 YEARS OLD)
My childhood growing years consisted of moving from one country to another every 3 years, and adapting to the new community and environment of the country itself. I have lived in 4 different countries and moved around between each. I was born in Bandung, Indonesia, but shortly moved to Ottawa, Canada at the age of 3. Afterwards, I moved to Makassar, Indonesia for a year and a half. I then returned to Canada, but in the small city of Guelph, where I stayed for a year. This was then followed to Japan, where I was in the third grade, and lived there for 3 years. Then, I moved to Madagascar, home to most of my epiphanies. Lastly, I returned to my motherland of Indonesia, starting High School in Jakarta, and continuing with University in Yogyakarta.

Of the years that I moved around, I was engulfed in a down-to-earth, outdoor upbringing. My after school activities involved crafts, sports, and service. My upbringing – from the countries I have lived, to my everyday life – has shaped me into an open-minded and curious being, with a love for the outdoors.
ANY SPECIAL STORIES OR FACTS ABOUT YOUR FAMILY?
I believe that everything in life happens for a reason, and with everything I experience in my life, I consume as a lesson to shape a better and stronger me. My parents separated when I was in 11th grade, and officially divorced just about a year ago. For me, this is a special story, because of the drastic change from the three musketeers to two strong ladies.

From this separation, it gave me the strength and courage to face hardships on my own for my mother, and shaped me in becoming a wiser individual. It became the root of all my motivations in life, including joining Miss Earth itself. Not only did it make my mom and I closer and stronger together, but it also gave me an important principle, for which I base my career: I must combine my passion, talent, and hard work into a successful career for my family.
WHAT IS THE MOST UNUSUAL THING YOU HAVE EVER DONE?
The most unusual thing I have ever done is visit Scientia Square Park (a mall in Indonesia), that has an ox in it, and just as I was about to climb up on it, it moved and stepped on my toe. Funnily enough, I did not scream, I stood silent. When I removed my shoes and socks back at the hotel, my toe was completely black!
WHAT MAKES YOU PROUD OF THE COUNTRY YOU ARE REPRESENTING?
I am proud of the values and principles that my beloved country embodies. I like to compare my relationship with my country like a tree. I was born in Indonesia, but due to moving around so often, I often feel a bit of a detachment with my country. However, I am very blessed to have a mother who has persistently and lovingly instilled the Indonesian values and principles in me, teaching me to always stay humble and kind. An example of one these principles, is "Memayu Hayuning Bawana," meaning "Memperindah keindahan dunia." This roughly translates to "Embellishing the Beauty of the World," for which I have adopted to my concept in approaching this year's Miss Earth competition.

With a very simple and genuine meaning, I believe that this principle's scope extends beyond myself and Indonesia, but applies even to the world and our earth. We often forget that this Earth is our direct home before anything else. We are the cells on this earth. Ironically though, we often malfunction and cause our earth to endure pain and sorrow. Memayu Hayuning Bawana is a reminder that we must work together cooperatively to protect and love our Earth, and empower this sacred body we call our home.
WHAT TRIVIA ABOUT YOURSELF WOULD YOU LIKE TO SHARE?