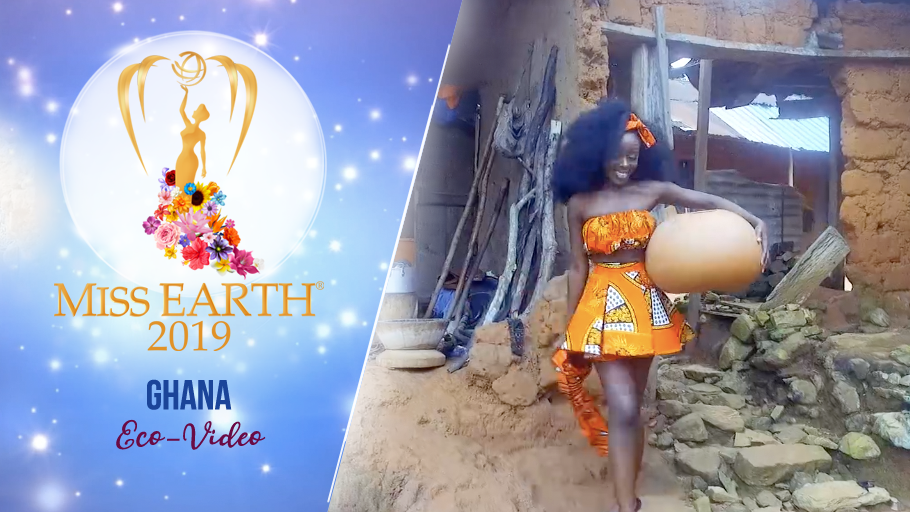 Height: 182 cm
Measurements: 34 in - 23 in - 37 in
Occupation: Flight Atendant
Flower Name: Jasmine
Advocacy: My advocacy as Miss Earth Ghana is to promote my campaign "Educate to Eradicate". This is a project I have been working on for the past five years and plan to use my platform as Queen to continue to teach, motivate and create awareness, so we all understand the importance of raising equipped earth warriors. This project strives to introduce environmental teachings in the classrooms to educate our youth on environmental matters. The main idea behind this is to ensure that our next generation will better understand the importance of protecting and preserving the beauty of the Earth. I have developed a strategy that will ensure environmental lessons are very fun and most importantly memorable for all children.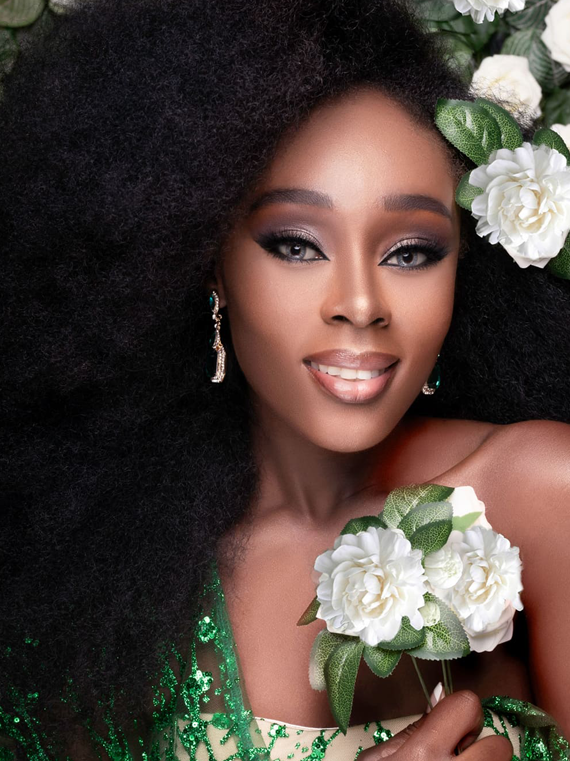 WHAT ARE THE SPECIAL QUALITIES OF THE FLOWER? HEALING? FUNCTION?
The Jasmine flower is used for a variety of things in my country, we use it in treating some severe diseases such as hepatitis, dysentery, cancer, and heart related problems. It is also used as a sedative to prevent stroke, anxiety and sleeping disorders. The flower is also used in the beauty industry to make oils, lotions and pills that reduce skin diseases, speed up wound healing, prevent aging and beautify the skin. The scent of the jasmine flower is so sweet and powerful that it can improve your mood and reduce stress.
DESCRIBE YOUR CHILDHOOD/GROWING YEARS (8-13 YEARS OLD).
I was born in Accra, Ghana and raised around the world. My parents traveled constantly due to work, so I got the opportunity to adapt and learn from different cultures. In 2003, we settled in the United States and I must say that was the hardest time in my life, I started regular school and immediately bullying began. I was teased for the way I looked, the color of my skin and the texture of my hair. This was hard for me, but it was also the best time in my life because the pain has taught me to be strong, determined and most importantly, it has shaped me into becoming the role model that I am today.
WHAT IS YOUR MEMORABLE MOMENT?
I would say the most memorable moment for me was the first student that enrolled in my school. The purpose of my school is to give girls the opportunity to discover what they are good at. Some girls where I come from, do not have the opportunity to go to school, so my programs allow them to strengthen their skills so they can use it to better themselves and society.
ANY SPECIAL STORIES OR FACTS ABOUT YOUR FAMILY?
I have seven sisters and two brothers; with me included we are ten in total. They call me Mother because I have always been the problem solver, and also in my culture the one named after the mother automatically takes on the responsibilities as the second caretaker of the home. At a very young age, I have been given the opportunity to care for, raise and train my siblings, which has prepared me for the future.
WHAT IS THE MOST UNUSUAL THING YOU HAVE EVER DONE?
Because of my love for kids, I have decided to switch my career path. I am now studying to become a pediatric doctor in the future, so that I can be put in a position that will allow me to save lives and give more to society.
WHAT TIPS CAN YOU SHARE TO PROMOTE ECOTOURISM & CLIMATE CHANGE?
Let us take proper care of our Earth because she is always taking care of us. She gives us food, water and air so we can survive. She is lending us her home so let us be better guest and fighting for her safety. We are one with Mother Earth, so let's treat her how we would want others to treat us. With love, care and respect.
WHAT MAKES YOU PROUD OF YOUR COUNTRY?
My country is known for her hospitality and kind hearted people. Greeting and saying "hello" is very important to us, so you will hardly find people walking past each other without a polite hello or wave. Making life time friends is very easy in my county and I am very proud to represent a country that opens its arms to everyone and allows them to call her home.
WHAT CAN YOU PROMOTE ABOUT YOUR COUNTRY?
Ghana is rated the third most peaceful country in sub-saharan African, with very loving and heartwarming people. Ghana is a very safe country and her citizens look after one another. Our music, dance and fabrics are becoming popular around the world and it is enjoyed and appreciated by many.