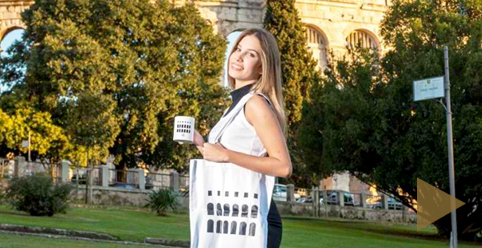 Age: 20
Height: 174 cm
Measurements: 84 cm - 61 cm - 91 cm
Profession: Political Science Student
Hometown: Istarska
Language/s Spoken: Croatian, Italian and English
Michelle wants to make good moments to remember, everywhere she travels.
DESCRIBE YOUR CHILDHOOD GROWING YEARS (8-13 YEARS OLD)
I have a small family; my mum, dad and I. But it never bothered me because I had a lot of friends at school and cousins that lived near me. I was always an excellent student in school. In that time, there were no media as today, like mobiles, internet and so on, so we had quality time and growing up in a more healthier environment. I was always very active, I danced and attended music school and I spent a lot of time in nature, also because I lived in a small town.
ANY SPECIAL STORIES OR FACTS ABOUT YOUR FAMILY?
None
WHAT IS THE MOST UNUSUAL THING YOU HAVE EVER DONE?
I am a perfectionist and I tend to organize everything. I like to have everything in control so I can't think of anything unusual thing that I have done.
WHAT MAKES YOU PROUD OF THE COUNTRY YOU ARE REPRESENTING?
Whoever comes here has a positive feedback. Croatia is not a polluted country and has biodiversity that can't be seen everywhere.
WHAT TRIVIA ABOUT YOURSELF WOULD YOU LIKE TO SHARE?