Height:
Measurements:
Education: Journalism Student
Flower Name: Iris
Advocacy: I want to start an environmental education in all public institutions - from kindergartens to the most powerful companies. People need to know how to help Mother Nature and make a better life for themself and their loved ones! Love your Earth like you love yourself and your loved ones!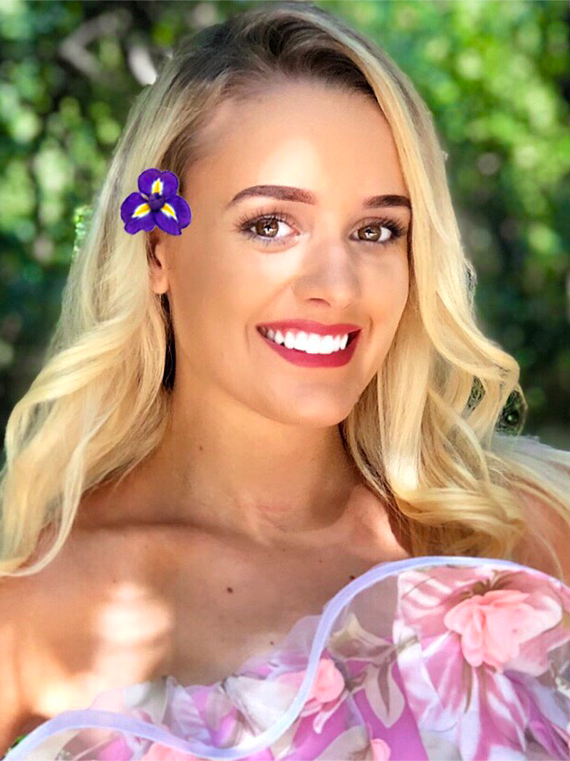 WHAT ARE THE SPECIAL QUALITIES OF THE FLOWER? HEALING? FUNCTION?
The Iris flower is well shaped for pollenation, whether self-pollenation with its own anthers or cross-pollenation from another plant. Rhizomatous irises can also be reproduced asexually from cutting a section from the rhizome. We have 6 petals: 3 standards and 3 falls. Irises are herbaceous perennials, we have soft, green stems and will die in the winter but the roots stay alive and will send out new growth in the spring.
DESCRIBE YOUR CHILDHOOD/GROWING YEARS (8-13 YEARS OLD).
When I was 8, I got the best present from my parents – my sisters. I was waiting for them for years. I was going to school but my favorite part of the day was playing with my sisters. My childhood was perfect. I had a lot of friends, school was easy, I was dancing step and jazz in one club and when I was 12, I won 3rd place in the World Championships. My childhood was full of smile and great moments.
WHAT IS YOUR MEMORABLE MOMENT?
My memorable moment was my first trip to Greece when I was 13 years old. Since then traveling is one of my biggest love.
ANY SPECIAL STORIES OR FACTS ABOUT YOUR FAMILY?
My dad is a waterpolo coach so I started swimming when I was only 3 years old so I loved being near the sea – especially on the islands.
WHAT IS THE MOST UNUSUAL THING YOU HAVE EVER DONE?
The most unusual thing I has ever done is sleeping in a car when I came to Las Vegas with my best friend where we didn't book accommodations because everything was full because of a sports event.
WHAT TIPS CAN YOU SHARE TO PROMOTE ECOTOURISM & CLIMATE CHANGE?
We should make more, Green and, Eco-friendly'' hotels and build a communication based on love for ecotourism. Organizing cleaning and collecting plastic will help to make our planet better place for living. As one already knows healing the planet starts in the garages and in the kitchen so all should power their homes with renewable energy. Everyone has to reduce water waste so people take shorter showers and turn off the tap while brushing the one's teeth.
WHAT MAKES YOU PROUD OF YOUR COUNTRY?
My country is the most beautiful country in this world. Croatia is so small but it has a heart and soul that far outweighs its size. We have mountains and seas, villages and big cities, rivers and lakes, a lot of national parks etc. We have the world's most atmospheric Roman ruin and one of its finest amphiteatres. We have a lot of beautiful beaches with perfectly clean sea. Their food is delicious and Croatians really love their country.
WHAT CAN YOU PROMOTE ABOUT YOUR COUNTRY?
We have spectacular national parks and beaches. Croatia is a perfect place if someone wants their soul to rest. Everywhere one goes we will find green areas. It's a very peaceful and safe country.