Age: 21
Height: 174 cm
Measurements: 81 cm - 58 cm - 91 cm
Profession: Sales and Warranty Administrator
Hometown: Lethbridge
Language/s Spoken: English and French
For Jaime, role models, like Miss Earth, give the youth respectable and intellectual women for the younger generations to look up to.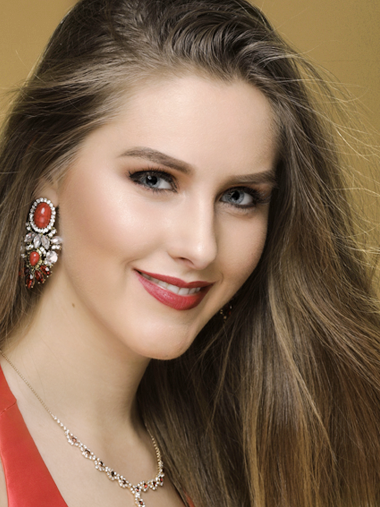 DESCRIBE YOUR CHILDHOOD GROWING YEARS (8-13 YEARS OLD)
My childhood growing years were full of time spent travelling with my family. Since my father owns an RV dealership, my family would often road trip to pick up new trailers or motorhomes instead of having them shipped in. Thanks to my growing years I can say I have been to every American State, except Alaska and Hawaii.
ANY SPECIAL STORIES OR FACTS ABOUT YOUR FAMILY?
A fun fact about my family is that one time we went on a road trip and let a magic 8 ball decide when we turned. Through series or random turns we ended up in a candy parade! There is never a dull moment in my big family!
WHAT IS THE MOST UNUSUAL THING YOU HAVE EVER DONE?
The most unusual thing I have ever done was skydiving! I am terrified of heights but it was something I wanted to check off of my bucket list. There's nothing like accomplishing your biggest fears to make you grow as a person.
WHAT MAKES YOU PROUD OF THE COUNTRY YOU ARE REPRESENTING?
I am proud to represent Canada because it is home to so many diverse cultures. To match our diverse cultures, Canada also has some of the most diverse geography. With the world's longest coastline to our endless prairies, the Rocky Mountains and our ice fields our geography also makes us home to over 70,000 plant and animal species. I love representing such a peaceful and diverse nation!
WHAT TRIVIA ABOUT YOURSELF WOULD YOU LIKE TO SHARE?
Out of all of the places I have travelled by favorite experience was joining a women's circle in India with local girls to learn about their culture and encourage young girls to attend the school. I believes education is crucial in encouraging people to make environmentally friendly changes in their life as a clear understanding fosters an individual's ability to explain to others why change is necessary as well as what others can do to shrink their environmental footprint. It is important to remember that even small changes in ones lifestyle can make a large impact in the long run.