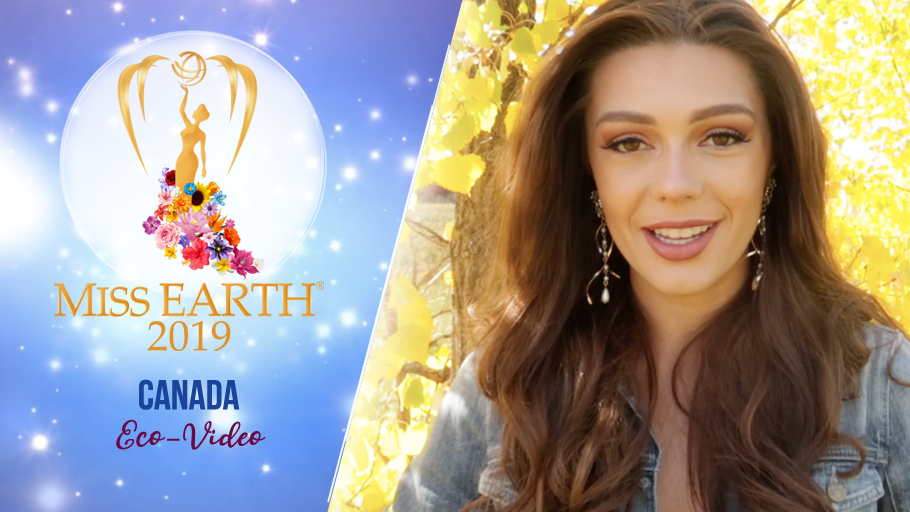 Height: 171 cm
Measurements: 33 in - 26 in - 36 in
Education: Marketing and International Business
Flower Name: Maple Leaf
Advocacy: I advocate for the importance of the stewardship, conservation and safeguarding of our Fresh Water! Currently, over 844 million people in our world live without access to safe water, although it is stated by the United Nations it is a Human Right to have access to sanitary water. With current global temperatures rising, our freshwater storages are at risk and need to be protected. Water is one thing in our world that undeniably sustains life.
WHAT ARE THE SPECIAL QUALITIES OF THE FLOWER? HEALING? FUNCTION?
Canadian Indigenous Peoples would gather maple sap in the early spring from Maple Trees; this was the first discovered food property of the iconic Maple Trees. This delicious syrup from the branches, leaves and sap can be a key to regulating blood glucose levels in humans. The medicinal properties can help counteract inflammation, help individuals who have diabetes or are pre-diabetic. There is also new evidence suggesting effects of maple compounds on Alzheimer's, potentially by counteracting neuroinflammation. Boiling down the bark and consuming the liquid according to Indigenous Peoples of Canada can act as a liver tonic too.
DESCRIBE YOUR CHILDHOOD/GROWING YEARS (8-13 YEARS OLD).
Pictures are worth a thousand words, but here are a few to help you see how amazing my early years were in Canada. My childhood home in Ontario consisted of a 100-year-old heritage home surrounded by crab-apple trees, and wildflower gardens, wild pear trees, a wooden barn with a red roof, two golden retrievers, 2 siblings (1 brother & 1 sister) and two parents. I vividly remember tapping our sugar maple and making our own homemade maple syrup in the spring. I couldn't be more thankful for how I spent my childhood. Filled with pots and pan concerts in the kitchen, pancakes dyed green & adventures in and around the Greater Toronto Area & long walks in the hardwood forests. I was surrounded in a loving, supportive and very family oriented environment. Because of living in Markham, Ontario for my childhood I was exposed to people of all walks of life and all faiths. I attended a duel-track English-French school where diversity was embraced. My parents taught me the importance of believing in myself, to accept each person that crossed my path as a human being & take the best of each life lesson and apply it daily.
WHAT IS YOUR MEMORABLE MOMENT?
This past June I had the privilege of walking the stage at my convocation, I completed my Undergraduate Degree in Marketing, minoring in International Business. I have been told for several years that my work ethic is something that I should be proud of. The reason why this is my most memorable moment is because I sustained a skull fracture at birth that altered my way of perceiving information and how I process it. I do not know what my life would have been like without this injury. I am extremely proud of the work ethic that I have developed through overcoming this adversity. Hard work made me the woman I am today and underlies why I strive to excel. My work ethic is my proudest personal accomplishment and because of that, it is a memory I hold very near to my heart because of how it impacts my daily life and I know that with my dedication and hard work I can achieve my aspirations and great things.
ANY SPECIAL STORIES OR FACTS ABOUT YOUR FAMILY?
I love my family more than anything on this planet. A fun fact about my family is something that has been passed down for generations. I am 5th generation Canadian on both sides of my family. This reason why I love this fact is because Canada recently just celebrated 150 years. Knowing my family homesteaded a portion of Alberta, I am extremely proud to see the evolution and growth of Canada & to be able to pass that patriotic pride to my children.
WHAT IS THE MOST UNUSUAL THING YOU HAVE EVER DONE?
The most unusual thing I have ever done is be subject to cognitive & behavioural testing, which resulted in finding out I am in the 99.99% of puzzle solving. I remember looking at the woman who administered the specific test and I told her I completed it, she didn't believe me and had to double check it was correctly completed before she stopped the timer.
WHAT TIPS CAN YOU SHARE TO PROMOTE ECOTOURISM & CLIMATE CHANGE?
Learning to love nature and what your country offers our Earth is something every human should treasure, embrace, and take pride in. Once you do feel such pride, you lean to take accountability to educate others in ecotourism & climate change and want to share it with good stewardship. Small incremental changes by one individual at a time and create a progressive momentum of society to be a bigger change on Earth. By focusing on YOUR ECO-FOOTPRINT, YOU CAN protect our Earth and be proud of how you respect our Mother Earth. Be conscious of what YOU DO!
WHAT MAKES YOU PROUD OF YOUR COUNTRY?
Canada is built upon immigration, because of that we have a strong pride in our tolerance, education and understanding of each individual's sense of life and beauty. Having lived across Canada & being 5th generation, what makes me so proud to be Canadian is to see people that come to Canada and their reaction to the literal beauty of Canada's land as well as the pride they take in living in Canada and how that translates internationally to how Canada is seen by the world.
WHAT CAN YOU PROMOTE ABOUT YOUR COUNTRY?
Assessed for stability, healthcare, culture and environment, education and infrastructure, Canada accounts for in 2019, 3 of the 10 Most Livable Cities in the World. Seeing the progressiveness and the appreciation Canadians have for different facets of life, I am honoured to have lived in two of the three Canadian cities on this list. When you look at our ecological advances in sustainability and creating new opportunity to preserve our environment, I am excited to see what Canada will do next to better our Mother Earth and the quality of life for its citizens.