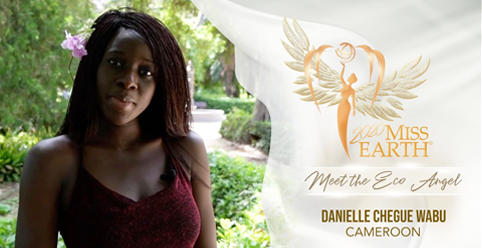 Age: 27
Height: 175 cm
Measurements: 35 in - 24 in - 36 in
"I have been an ambassador for several associations. I come from a disadvantaged area, education and the connection with nature have been my doors out. That is why I have raised nearly $30,000 so far in support of education. I worked for almost 4 years in a male technical environment where I was the only girl, so I am also a fervent promoter of technical trades with women.

During 2 years with an association, we set up a garden on a university city. I also worked with associations in Cameroon and Ivory coast for the construction of water wells for children, the implementation of biomass energy and the recycling of plastic bottles. Now I'mstarting my own business."
DESCRIBE YOUR CHILDHOOD/GROWING YEARS
Most of my classmates told me I was too black. Some even offered to whiten my skin by giving me a few examples and hesitated at a certain point. My only moment of refuge was when I spent it alone with the trees, with nature, this moment was also my sources of artistic inspiration and allowed me to escape. Seeing these leaves of different colors, showed me that I can be different and make a place for myself, that this difference is a richness. It also showed me the impact that nature can have on human beings. Moreover, from the age of 11, in teenage It appeared some low stretch marks on my breasts and most of them came to see my mother to ask them if I was pregnant or if I lost weight, certainly has never been the case until now. I always like sports but especially athleticism where I excelled in school. I also remember studying several times with candles and oil lamps that's why I decide to work on the energy sector.
WHAT IS YOUR MEMORABLE MOMENT?
One of the memorable moments was when I was decorated honorary citizen of the Economic Capital "Douala" for all the actions carried out in Cameroon and for those to come. Another is my first day of official work as an Engineer, my first job at 22 was in the big business district at the Defense in Paris. I came to the Manhattan Tower and I thought wow, this Tower is high.

3 other significant moments in my activities as ambassador of several associations:
-the charity sale with one of the associations I had created. There in my company, my colleagues had planned a card with words to give to the children in Cameroon.
-And certainly during my visit, the light I saw in the children, pierced my heart.
-A last sad one is my tumor operation but it allows me to enjoy life more.
ANY SPECIAL STORIES OR FACTS ABOUT YOUR FAMILY?
My father is passionate about mechanics and my mother is good at mental calculus. My parents are hard-working and both are self-employed. I am the one who graduated High school late at the age of 16, my other siblings all graduated at the age of 14. In the family we are all passionate about mathematics and agriculture. We spent most of our vacation in the country (village) at my grandmother's to pick up corn, peanuts.
WHAT IS THE MOST UNUSUAL THING YOU HAVE EVER DONE?
Definitely, it was to record my first single "Mon Bounga", to compose it in one day and record it on the same day then to put it on all the streaming platforms.
I will continue on education because I believe, as Nelson Mandela said, that "education is the most powerful weapon in the world" and it also involves informing citizens about environmental conservation and recycling (recycling plastic bottles)
-Integrate environmental conservation courses into school courses (do practical tree planting activities to combat deforestation…);
-Setting up sorting bins in the cities of Douala;
-Reduce the use of pesticides on agricultural products;
-Encourage the use of renewable energies (biomass, solar energy, etc.)
WHAT TIPS CAN YOU SHARE TO PROMOTE ECOTOURISM & CLIMATE CHANGE?
The new definition of travel: ecotourism focuses on discovering nature, respecting the environment and local culture. For the preservation of the land, we all have a contribution to make and even more during the different journeys. How to do it? Green hotels, hikes in parks or in the mountains should be preferred as destinations. Travel by foot or bike most often to reduce carbon pollution. Reuse most materials. Dispose of plastic bottles in bins or in the trash can. Take and share photos of beautiful landscapes to bring others to visit the places.
WHAT MAKES YOU PROUD OF YOUR COUNTRY?
The black, smoked black and white peppers from Penja in Cameroon are in the top ranking of the world's best peppers and make you travel in an aromatic universe full of incomparable flavors.

Cameroon is often said as "Africa in miniature" so that's all of Africa in one. The gourmet cuisine is organic, rich and diverse. In his kitchen there are leaves, tree bark, yes tree bark as sauce and full of tubers. Thank you, Mother Nature, from all the Cameroonians.
WHAT CAN YOU PROMOTE ABOUT YOUR COUNTRY?
The Cameroonian territory is undoubtedly very rich and unique. It contains all major climates and ecosystems in Africa. From one- the savannah, from the other- are mountains, jungles, dense forests, the sea, lakes and even attention on an active volcano. Its cuisine is rich, there is choice for everyone. Besides that, there are many dances and cultures. The locals are welcoming.
WHAT TRIVIA ABOUT YOURSELF WOULD YOU LIKE TO SHARE?