Height: 178 cm
Measurements: 34 in - 27 in - 38 in
Occupation: Model and a Wildlife Zoo Volunteer
Flower Name: Patuju
Advocacy: I am a believer of everyone's importance and role in taking action for the health of the environment. Whether through creative outputs or responsible consumerism. I would like to help remind the youth that every single action builds up to a greater impact, in creating a better, sustainable future for all. Everyone has to implicate the 5R's, in every actions one takes. Everyone must Rethink, Reduse, Reuse, Recycle and above all, Respect the environment.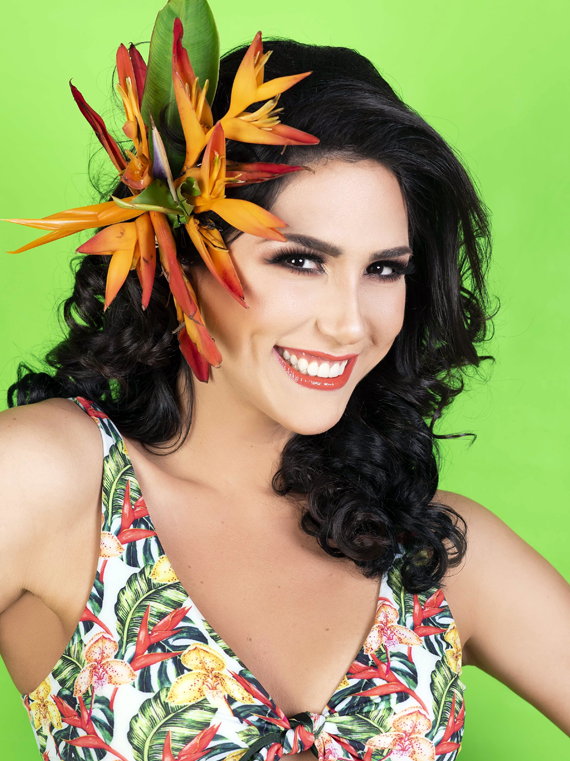 WHAT ARE THE SPECIAL QUALITIES OF THE FLOWER? HEALING? FUNCTION?
The Patujú flower is a patriot symbol in Bolivia, it has the colors of our flag, red, yellow and green. It symbolizes the brotherhood of all the Bolivian people. Its leaves can be used to wrap food. We also protect the source of water and are essential in reforestation.
DESCRIBE YOUR CHILDHOOD/GROWING YEARS (8-13 YEARS OLD).
I had a great childhood. I really enjoyed my parents and my family a lot. I was a very happy girl and still am. I used to travel a lot because my father worked at American Airlines and that provided them facilities to get cheaper tickets, which was amazing. I loved to enjoy my mother's company every single moment. I remember, I used to go to a park named "Fantasy" to play with my friends and cousins. The park was really green and wonderful. I studied in a German school and there were a lot of turtles, I love animals, and I always have dogs at home. My parents have this thought: "a kid with a puppy is always happy" and that describes almost all of my childhood. I was a girl that played a lot with animals.
WHAT IS YOUR MEMORABLE MOMENT?
When I graduated with my final test and became an Environmental Engineer. I felt so complete when I finally achieved my goal, and dedicated it to my parents who have always trusted me in each and every one of my plans. They are always there for me to catch and help me to stand up and move on every time I fell.
ANY SPECIAL STORIES OR FACTS ABOUT YOUR FAMILY?
My father leaves the country to work in the USA and there was this moment when he suddenly came back without letting anyone know, it was such a surprise to everybody. A very special one. Every time there was a "civism citizen day off" we used to go biking all the way to a little town near Santa Cruz. At the end of the day I was dead tired but I don't mind because the time that I spent with them was priceless. Once, we were on vacation in the USA to visit my mom's brother, we had a great time. It was halloween season, we played and gave a lot of candy to the kids that were passing by.
WHAT IS THE MOST UNUSUAL THING YOU HAVE EVER DONE?
The most unusual thing I have ever done was going to school in my sleep wear. When I was in the last year of school with my classmates, I decided to make a week of irregularities. One day, we went in sleep wear, the next day it was the backwards day so everyone had to wear their clothes backwards, it was really funny. Another day, the boys were dressed as girls and girls as boys. I will never forget that!
WHAT TIPS CAN YOU SHARE TO PROMOTE ECOTOURISM & CLIMATE CHANGE?
Ecotourism is being viewed more and more as a way to form a more rewarding travel experience, as well as revolutionize a massive yet environmentally harmful industry in the wake of climate change. Not only is the tourism industry harmful to the environment, this damage adversely poses risks to many high-tourist regions through worsening natural disasters, rising sea levels, increased insect populations and unsteady animal migration patterns, among others. These issues must be addressed, and finding more sustainable methods of travel and accommodation is necessary. This sustainable framework for a new face of travel limits environmental damage without compromising the enjoyability and leisure that is characteristic of vacation.
WHAT MAKES YOU PROUD OF YOUR COUNTRY?
What makes me proud of my country is its people, we are unstoppable. Every Bolivian knows that we have no limits. We are very hospitable and generous people. Whenever the country faces any difficulties, we become united to solve these problems. Every time we need help, we get together to find a solution. "Asi no mas somos" in English "that's just how we are", a pluri cultural society who deeply loves our folklore, music and culture. The geographic and cultural diversity, the kindness of people, hardworking people, generous and a very long list of adjectives that define their own way of being Bolivians but what makes me even more proud of my country is that we always do everything to become a better country.
WHAT CAN YOU PROMOTE ABOUT YOUR COUNTRY?
My country is so beautiful and bio diverse. The flora and fauna here are marvelous. Each landscape you get to see is so unique and different. But I feel good talking about all the things my country has, I even write about the situation in the way we are living now in my country. More than 1.000.000 ha has burned down in our chiquitano forest. The amazon is endangered, the trees are dying, the people are suffering from hunger, we need water supplies, and animals are getting extinct. We need international help as soon as possible. Every little help counts. Now, is when we need that the world look at them, we are responsible for 20% of the oxygen of the planet. We need help now.