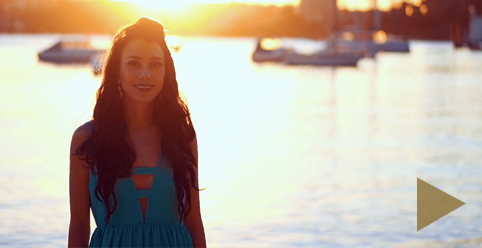 Age: 25
Height: 173 cm
Measurements: 86 cm - 70 cm - 91 cm
Profession: Children's Party Entertainer
Hometown: Sydney
Language/s Spoken: English
Have a big passion for repurposing, studied design in high school and made a dress out of recycled paper and scraps of calico fabric.
DESCRIBE YOUR CHILDHOOD GROWING YEARS (8-13 YEARS OLD)
During these years I was very shy, but my mother already enrolled me in drama and dancing classes to build my confidence. I showed an interest in singing, so I started attending lessons, as well as keyboard at age 8. I was involved in many performances, musicals and competitions which really helped develop my confidence and passion for the creative arts.
ANY SPECIAL STORIES OR FACTS ABOUT YOUR FAMILY?
My grandparents from my father's side moved to Australia, from England, shortly after I was born and I have always been very close to them. My younger brother and I would stay at their house everyday during the school holidays and make craft out of recycled bottle tops, cardboard boxes and toilet rolls. My father enjoys the outdoor lifestyle in Australia, so we always went on camping trips as a family to different states to experience the beaches, bush land, valleys and reef.
WHAT IS THE MOST UNUSUAL THING YOU HAVE EVER DONE?
I had to dress up as a unicorn for a children's party and because I was so busy that weekend and the shops were closing soon, I had no time to change clothes. So I went to buy a fathers day present, bought food and filled up petrol in a unicorn costume. I also love pugs, so I walk along Manly beach hoping to spot some going for a walk! When I went to Japan, I caught 2 trains, a bus and walked for 1.5km just to visit the pug café in Kyoto! They are such beautiful, loving dogs.
WHAT MAKES YOU PROUD OF THE COUNTRY YOU ARE REPRESENTING?
It is a tolerant multi cultural society with opportunities for everyone. The Australian tradition is that all people are given a "fair go". More than 80% of our plants, mammals, reptiles and frogs are unique to Australia and cannot be found anywhere else in the world. I am so proud to be representing Australia, because of our biodiversity.
WHAT TRIVIA ABOUT YOURSELF WOULD YOU LIKE TO SHARE?
I played the role of Posh Spice in the Australian Spice Girls Tribute Band in 2014. When I was 5 years old, I loved the Spice Girls and performed a dance in their talent quest with my friend. We won 2nd place. To play the role of Posh when I was 21 and touring all over Sydney for the entire year, felt like a childhood dream.