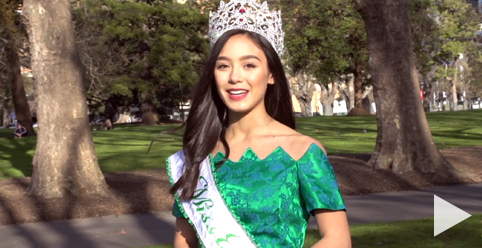 Age: 20
Height: 171 cm
Measurements: 84 cm - 61 cm - 91 cm
Profession: Bachelor of Science Student
Hometown: Melbourne
Language/s Spoken: English and Tagalog
DESCRIBE YOUR CHILDHOOD GROWING YEARS (8-13 YEARS OLD)
I was the youngest of three children and constantly surrounded by my big family especially from my mother's side. Living all in the same area means we all grew up spending lots of time together, celebrating special events with lots of food. Another thing that my family taught me was to appreciate all the opportunities I had growing up in a developed country compared to their upbringings in the Philippines. We frequently visit The Philippines and make sure to take part in actions to give back to the unfortunate, so far we've been able to visit - Golden Age Care , The Children's Hospital PGH, squatters in manila, Pulo Island in Novotaste, Orphanage in Quezon City and the Fire Victims in Mandaluyong. All in all, it's shown me what life is like on the other spectrum and taught me to always be humble and generous with all of my successions in life.
ANY SPECIAL STORIES OR FACTS ABOUT YOUR FAMILY?
Our family enjoys travelling because we are all open minded individuals, and love to learn more about ourselves and different cultures. Some of our best times together includes the rush of almost missing flights due to intense traffic or collecting tax returns at respecting countries. All these taught us to be more organised and more importantly sticking together during tough times.
WHAT IS THE MOST UNUSUAL THING YOU HAVE EVER DONE?
One of my most unusual things I have ever done was to swim with whale sharks. It was such an exhilarating experience - I have a fear of sharks and so initially I was so terrified, but I was pleasantly surprised to see how calm and beautiful thare. Just comes to show that beauty can be found in anything, even the things that scare you the most.
WHAT MAKES YOU PROUD OF THE COUNTRY YOU ARE REPRESENTING?
I'm proud to be Australian because we are renowned for our laidback and outgoing nature. I think this makes us very approachable and easy to get along with and we have a deep love for nature and being outdoors.
WHAT TRIVIA ABOUT YOURSELF WOULD YOU LIKE TO SHARE?
Food has always been a big favourite in our family especially when it feels like we celebrates birthdays every week, as a result I've grown to love sweets. My sweet tooth cravings include - pavlova ( an Australian favourite) , boba tea, cakes and icecream. In my spare time I enjoy being able to bake some of these.