Height: 170 cm
Measurements: 31 in - 24 in - 35 in
Occupation: Journalist
Flower Name: Kerekede
Advocacy: Saving the River Nile from plastic and water polution as it is South Sudan's primary source of water.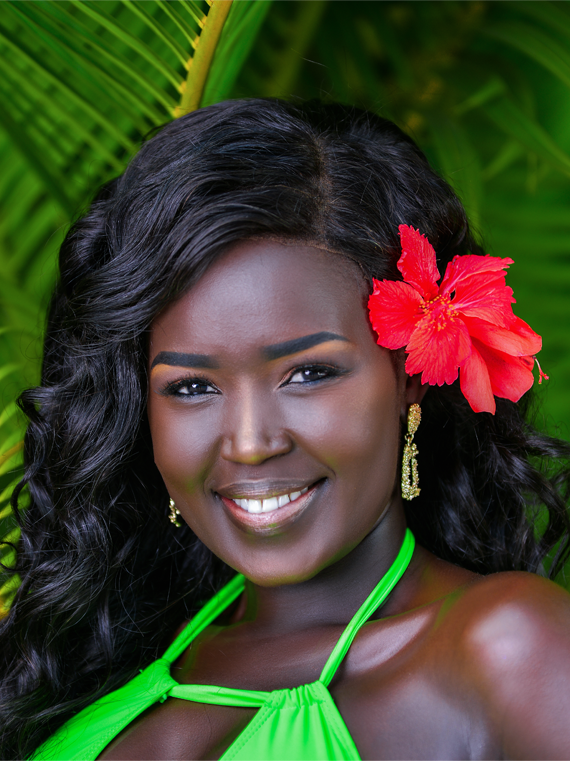 WHAT ARE THE SPECIAL QUALITIES OF THE FLOWER? HEALING? FUNCTION?
Kerekede is a symbol of life, courage and rapid growth for south sudan. In South Sudan kerekede is consumed in the form of a hot sweet drink alongside tea and coffee. It is also consumed as a fresh juice and carries a lot of health benefits. Boosting metabolism, reducing high blood pressure and high cholesterol, cure liver disease and helps with healthy gradual weight loss as well as skin care. Hibiscus is a natural skin moisturizer.
DESCRIBE YOUR CHILDHOOD/GROWING YEARS (8-13 YEARS OLD).
I am 5th born in a family of seven kids six girls and a boy. Loosing a mother at a tender age was very hard but i had the love of my sisters and i was a happy girl. My dad took me to a boarding school in primary seven and i hardly came home until my sisters were on holidays.
WHAT IS YOUR MEMORABLE MOMENT?
When my mother passed away right before me when I was very little in primary five, and I thought i had lost all the love in the world.
ANY SPECIAL STORIES OR FACTS ABOUT YOUR FAMILY?
My family has a long life span of 100 years and above and polygamy is comfortably practiced, in my family female children are numerous to male ones and their names are recurrent.
WHAT IS THE MOST UNUSUAL THING YOU HAVE EVER DONE?
Just afew days after arriving boarding school, I was very home sick, I had already missed everyone because this was a new life to me and so i started looking for ways to go back home and the simplest was to fake that I was sick .
WHAT TIPS CAN YOU SHARE TO PROMOTE ECOTOURISM & CLIMATE CHANGE?
South Sudan is very rich in biodiversity, she has species of animals that migrate from other parts of the country like ethiopia and they are able to survive here for example: elephants. Human beings should protect and care for animals not only are they touristic sight but we co-exist with them
WHAT MAKES YOU PROUD OF YOUR COUNTRY?
South sudan is rich in culture for her 64 tribes. Her uniquesness is highly noticed among others because of her smooth melanin and strong tall bones. South Sudan makes me unique!
WHAT CAN YOU PROMOTE ABOUT YOUR COUNTRY?
The rich culture of our 64 tribes. With unique lifestyles, food and dressing iss very attractive. The Boma National Park with variety of anymals lions, elephants ahyna, giraffees etc, and the amazing creanary that surrounds them not to foret the beautiful that is a heart to South Sudan and other African countries .