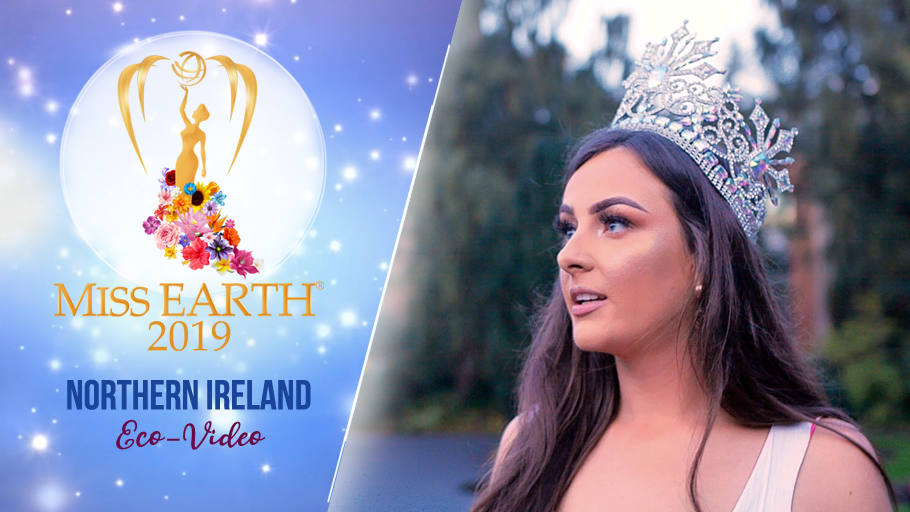 Height: 165 cm
Measurements: 35 in - 28 in - 36 in
Education: Geography and Environmental Sciences Student
Flower Name: Shamrock
Advocacy: Mitigating climate change and ecocide. Clean the seas, Plant more trees, Save the bees. Clean the seas, (only 1% of the earths water is fresh water for human consumption. By 2050 50% of the world pop will be in a water deficit and there will be more plastic than fish in the sea) plant more trees (as part of the UK we are only 11% forested which is the lowest in Europe. One of the most practical ways to reverse the global warming, as well as soil stability and many other environmental/ economic benefits) and save the bees (if the pollinators went extinct, humans would starve within 4 years). I choose this as my slogan as I believe all aspects of sustainability are as important as each other. Each system is in a fragile state as we have little over a decade to reverse the damage done to earth.
WHAT ARE THE SPECIAL QUALITIES OF THE FLOWER? HEALING? FUNCTION?
Shamrocks are small annual herbs with leaves that are arranged in the manner of three leaflets. It is a fitting symbol for my country as it is all green, just like the emerald isle. According to urban legend, the shamrock was a sacred plant to the Druids of Ireland because its leaves formed a triad shape, which coincided with their belief that 3 was a mystical number in the Celtic region. It was used by St. Patrick to introduce the holy trinity. Shamrocks come from the clover family and can provide protein, fiber, calcium, iron and vitamin C. Tossing them in your salad or as a topping on your sandwich can offer your body a number of health benefits. Consuming these can help prevent coronary heart disease and a variety of other cardiovascular conditions. It can also reduce inflammation throughout the body, particularly within the cardiovascular system (Hypertension). Immune System: If you consume the green leaves of clover, you are much more likely to get a boost of vitamin C than if you were to consume it in the form of tea. The leafy green is high in antioxidants that can neutralize free radicals, which cause degenerative diseases and cell mutation. Again, it can help Maintain Healthy Cholesterol Levels. Clover contains an ingredient called coumarins, which have been shown to keep blood flowing smoothly while stimulating healthy circulation.
DESCRIBE YOUR CHILDHOOD/GROWING YEARS (8-13 YEARS OLD).
Family is everything, we in Ireland are very family orientated, we very much try to look out for each other and regardless of where we are in the world, we strive to maintain a close bond. My childhood was very busy with 4 siblings plus me and too many cousins on both sides to mention. Every summer we would travel around Ireland together with our cousins and extended family. We would visit many castles like Blarney Castle, Dingle peninsula and landmarks like Newgrange ( Brú na Bóinne ) a grand passage tomb built during the Neolithic period, around 3200 BC, making it older than Stonehenge and the Egyptian pyramids.
WHAT IS YOUR MEMORABLE MOMENT?
Acting in my primary school play: The wizard of Oz, as the wicked witch of the West. I had so much fun and got to sing a solo from the famous Broadway musical Wicked.
ANY SPECIAL STORIES OR FACTS ABOUT YOUR FAMILY?
Irish people are migrating people. My family's ancestry has spread across the world but mostly in England, France, Canada, America and USA. Father Solanus Casey was a priest of the Catholic Church in the United States and was a professed member of the Order of Friars Minor Capuchin. Born on November 25, 1870 on a farm in Pierce County, Wisconsin, the sixth of sixteen children born to Bernard James Casey and Ellen Elizabeth Murphy, Irish immigrants. His mother is my ancestor. Recent revelations may see him ordained as the first saint of America. He was known during his lifetime as a wonderworker, for his great faith, and for his abilities as a spiritual counselor, but especially for his great attention to the sick, for whom he celebrated special Masses. The friar was much sought-after and came to be revered in Detroit where he resided. A founder of Capuchin Soup Kitchen for Detroit's poor during the great depression and is still in operation. His cause for beatification commenced over a decade after his death, and he received the title of Venerable in mid-1995. As a miraculous healing attributed to him was approved by Pope Francis in mid-2017, he was beatified in Detroit at Ford Field on November 18, 2017. Boxing is a huge sport in my country, and I come from a long history of renowned Belfast boxers. My uncle Francis has been written about in books like The Glove men of yesterday, and was friendly with Muhamad Ali. The boys in my family have taken the same championship cups home each generation, like the All Ulster title for example.
WHAT IS THE MOST UNUSUAL THING YOU HAVE EVER DONE?
Living in a different country and studying in different environments. Getting a tattoo of the earth to show me and my friends' dedication to earth studies. Although it is very out of character for me we've done this together on a fieldtrip in Cyprus in 2017 and it is now something special I will share forever with my geography girls. Going to Fiji doing humanitarian work was also quite unusual for me as it was the furthest I had travelled. I educated kids on sustainability, and done some marine conservation; implanting with hawksbill turtles.
WHAT TIPS CAN YOU SHARE TO PROMOTE ECOTOURISM & CLIMATE CHANGE?
Eco-tourism or green tourism focus' on conservation and environmental implications respectively. Where user groups conflict each other and an area is profitable the environment should take priority over profit. Law! Increasing community engagement and sourcing local produce helps. Always bring a lunch with you or utensils so that you can say no to single use plastics. Try to take public transport to popular tourist sites. Leave no trace of your visit except footsteps and memories. If you see litter pick it up.
WHAT MAKES YOU PROUD OF YOUR COUNTRY?
The landscape in Ireland, especially the north coast where I resided for 3 years during my degree, and its cultural heritage. We have blue flag beaches from top to bottom. The coastlines never far away on our lush, dramatic landscape. Also our history and our resilience. Historically, we are a troubled place but the 1998 good Friday agreement brought peace to NI, and we are renowned all over the world for our political advancements since then.
WHAT CAN YOU PROMOTE ABOUT YOUR COUNTRY?
World heritage sites like the Giants causeway. Renewables. The many AONB/ASSI it has and maybe mention some organizations that continue to conserve biodiversity like NI bat group, keep NI beautiful, Nature reserves, Belfast hills partnership etc.