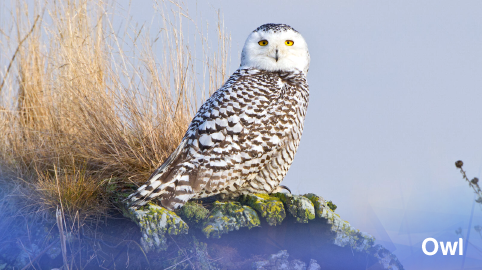 "The Owl is a symbol of wisdom, vigilance, and a lucky charm. Because their habitat is under attack, they are an endangered species. But that's not the only threat they are facing. Although owls have been hunted for a long time, poaching the animals is still on the rise."

Height: 179 cm
Measurements: 33 in - 24 in - 35 in
Career/Education: Interior Designer, All-around Stylist and Model
DESCRIBE YOUR CHILDHOOD/GROWING YEARS
Somewhere in the middle of the Netherlands is a small town called Dodewaard. That is the place where I grew up, right next to a dyke. When I think about my childhood, I get a warm feeling and a smile on my face. I have so many happy memories with my parents, sister and all the animals that lived with us. As a kid I was (and still am) a real animal lover. So I loved to be surrounded with animals. Although my parents liked being in our own home, when we went on a trip, it was always in the Netherlands, surrounded by nature, embracing our own country.
WHAT IS YOUR MEMORABLE MOMENT?
My most memorable moment was adopting my cat called Kees. I moved out of my childhood home and almost immediately missed the animals who were always surrounding me.

I always wanted to adopt animals and the opportunity finally represented itself. So off I went to the nearby animal shelter and there I found him. What made me pick Kees was the fact that the people who worked there told me to skip that kennel because the cat wasn't very social and not in good health.

It is important to have your own opinion, so I decided to go in. To say it was love at first sight is generous. Little Kees had been hurt a lot by humans and wanted nothing more to do with them. Rebuilding his trust in humans, having a safe environment has been quite a journey.

But now, after two and a half years later he is the most lovable and affectionate animal that I have ever seen.
ANY SPECIAL STORIES OR FACTS ABOUT YOUR FAMILY?
We might have a petting zoo without any of us knowing it. When I go to my parents' home, there are always some neighborhood children in our garden who wants to pet the animals. My mom and dad are fine with it and help them to see the animals better and sometimes they get to feed them.
It was a bit strange at first, coming home and seeing your garden full of strangers. But my parents love having people over. So I'm used to it now and I know that if I go over for a cup of coffee, there is likely to be some children there.
WHAT IS THE MOST UNUSUAL THING YOU HAVE EVER DONE?
Competing in a pageant. To be honest, I've never done this before. I didn't think that I would be the type or would fit in. That all changed when I saw that if you won Miss Beauty of the Netherlands, you would join Miss Earth. For me Miss Earth is a perfect fit because I'm a real nature and animal lover. Because of that I feel so blessed to be able to join Miss Earth. It is safe to say that I loved this journey so far. I never expected to grow this much as a person from a pageant, but I was wrong. So it might have started out as the most unusual thing I have ever done, but now, I wouldn't know what to do without.
WHAT TIPS CAN YOU SHARE TO PROMOTE ECOTOURISM & CLIMATE CHANGE?
Teaching our younger generation on how to be kinder for our Mother Earth. If you already start this in their upbringing, it will be only natural for them to care about the wellbeing of our Earth.

Start small and simple so it's approachable for everyone. Sometimes people get overwhelmed with all the details about climate change. If you simplify it for them, they will understand better and can take action.

You need to show people what they lose instead of what they gain (psychologically). So don't just show them the lovely new dress, but also broadcast what was needed to make that dress, where it goes when it isn't bought and what it does to their environment.

Create short reels on how people can fight climate change and promote ecotourism. This is the year 2022 so a lot of our life is online. If you show it to the people online, they are more likely to remember it, share it. And so the desired message is broadcast worldwide.
WHAT MAKES YOU PROUD OF YOUR COUNTRY?
I am proud to be a Dutch citizen. We are so much more than just windmills and tulips. We are a free country. We are a leading country in fighting climate change.

The most positive thing about the Netherlands is that we are a very progressive country in engineering High Tech Environmental solutions. The Netherlands is one of the smartest engineering countries in the world. This is why I can proudly say that my biggest environmental hero is from my own country ; Boyan Slat. Together with his engineers they created a solution to clean up our oceans. With the solution of the Ocean Cleanup we can clean up our Ocean for 50% already in 3 years! I'm so proud to represent one of the smartest countries in the world which can contribute to our mother earth.
When we speak, we wish for people to listen. But what if you have a voice that can't be heard. The Earth and its fauna is screaming for our help, but this scream remains unanswered.

Because of COVID many people stayed more at home and they all wanted to change their interior by buying new furniture, and the production of these items led to felling forests. And the outcome? Deforestation.

Deforestation causes habitat destruction, reduced food ability and much more damage for the species living there. So while making our homes beautiful, we destroyed theirs. But this is only one example. It frightens me to see how people treat the fauna of this Earth. If we keep destroying their habitat, their homes like we are doing right now, they will become extinct. And then it is too late, too late to make the change that we have to make right now.

We shouldn't busy ourselves with what we want anymore. We should ask ourselves what we need. What does the Earth and the fauna on it need, so that we can preserve it, care for it and cherish it like we should.

My advocacy is being a voice for the animals, but in the end I don't want to be the only one advocating for them. I want you to join me in being their voice!

It is time to stop turning a blind eye and open our eyes. We should educate our children to find ways to preserve and restore our Mother Earth. They are our future. But we shouldn't only educate them, but every generation. Because caring for our Earth is not only their burden, but the responsibility of everyone.

I do this myself by doing school tours to educate the children of my country, by going to webinars and seminars and informing companies about refurbishing furniture. By starting my own platform, so that they can see and learn how to take action.

With my voice I aspire to inspire, so that together, we can be the change.