Age: 21
Height: 180 cm
Measurements: 35 in - 25 in - 38 in
Career / Education: Law Student
"In response, I would quote Meša Selimović "I feel best among simple people in front of whom I can discard my armor, forget the complexes and caution, with which I can laugh, to say everything I think, without being afraid that I will misunderstand. Fortunately, there are people like that, and I'm always looking forward to them."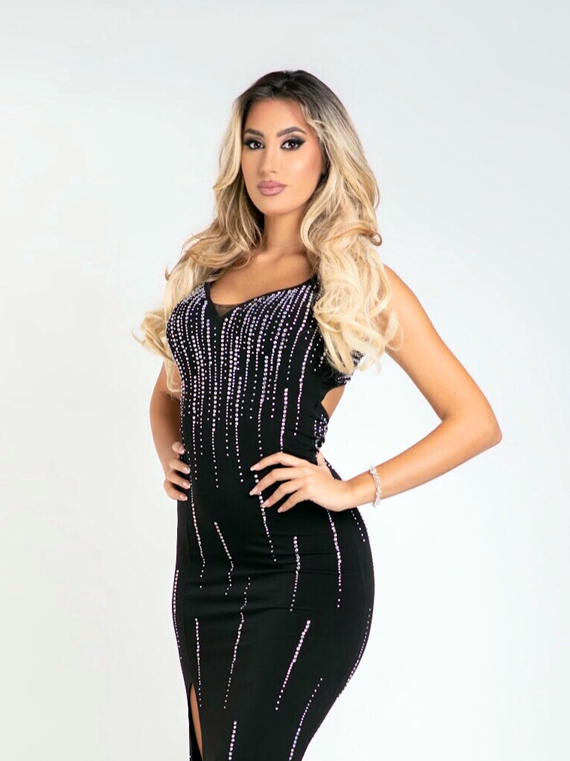 DESCRIBE YOUR CHILDHOOD/GROWING YEARS
My childhood was beautiful, carefree and filled with things that make me unusually happy. When I was little, my grandmother took care of me and all the beautiful memories from my early childhood are related to her and her house in the suburbs. I loved playing in the big yard, running around with cats and dogs. I was a naughty child, but my grandmother never scolded me, even when I was carried away by the game, instead of walking on the grass, I would step on its newly blossoming flowers. I have careful parents who try to fulfill my every wish. My grandmother is no longer with me, but I will always remember her gentle look. Childhood is the first chapter of a great book called life and I am glad to be able to tell everyone that my life book has a great beginning.
WHAT IS YOUR MEMORABLE MOMENT?
Happiness when my dad told me that my mom had given birth to my sister.
ANY SPECIAL STORIES OR FACTS ABOUT YOUR FAMILY?
The first Miss Montenegro was the sister of my great-grandfather, Milena Delibašić, who, by order of Prince Nikola, participated in the beauty pageant held in 1907 in London.
WHAT IS THE MOST UNUSUAL THING YOU HAVE EVER DONE?
Since I grew up in a patriarchal family, I always tried to behave decently, so I never did anything out of the ordinary.
What I propagate and what I stand for is peace and respect for diversity. Also, I know very well that what I am writing maybe can change a lot, and each of us has a right to freedom of expression and I will try to exercise my right in the best possible way.
WHAT TIPS CAN YOU SHARE TO PROMOTE ECOTOURISM & CLIMATE CHANGE?
We need to know that our Planet Earth breathing, but every year it gets lower and lower. Due to the increase in Carbon dioxide causing the earth to heat up. And that has its consequences - floods, heat waves and stronger storms. 7 billion people on the planet are changing the atmosphere, and we must all become aware that the health of our planet determines our future.

Since climate change is conditioned by the increased use of fossil energy sources, they should be replaced as soon as possible by the use of renewable sources, sun, wind, water. And that will happen the fastest if the state creates the appropriate assumptions.

We have to: buy less meat, milk, cheese and butter; we eat more local seasonal food - and throw away as little as possible; we drive electric cars, go on foot or by bike; we travel by trains and buses instead of by plane; we watch video conferences instead of going on business trips; we are looking for products with lower carbon levels. The biggest single way to change your own impact on the environment is to change your diet and eat less meat - a recently published study shows.

Tourism, as one of the "silent" pollutants, primarily due to the transport that is at its core, must begin to change. In practice, eco-tourism involves individual or travel in small groups of up to 25 people. A typical eco-tourist stays longer in a destination, avoids mass travel and visits to popular destinations, and instead seeks something that has special value for him. Although highly educated, often traveling and financially independent, ecotourists prefer modest accommodation in smaller facilities, which do not disturb the appearance and cleanliness of the environment, and use renewable energy sources. Whenever possible, they move without means of transport or with the help of those that pollute the environment the least and produce the least noise. Hiking, cycling, rowing, paragliding and horseback riding are their favorite ways to move and spend their free time in nature.
WHAT MAKES YOU PROUD OF YOUR COUNTRY?
Montenegro has incorporated into its highest legal act - the Constitution of Montenegro, the determinant that it is both an ecological state and a country of preserved and diverse nature that should be preserved and preserved for present and future generations. We are just celebrating 30 years of ecological state. Bearing in mind the fact that Montenegro has committed its development on the basis of an ecological state, the issue of nature conservation as its most important resource and sustainable management will have an important dimension.
WHAT CAN YOU PROMOTE ABOUT YOUR COUNTRY?
Montenegro is located in the very south of the great blue of the Adriatic Sea, in the heart of the Balkan mountains. This beauty of wild nature is showered with superlatives that everyone would like. In a small area, gathered: the sea with beautiful beaches, rivers with unique canyons, clear lakes and gigantic mountains. Such beauty is breathtaking and at the first meeting every traveler remains forever in love with Montenegro.
WHAT TRIVIA ABOUT YOURSELF WOULD YOU LIKE TO SHARE?
I am engaged in humanitarian work and that fulfills me, because humanitarian work is not just giving money for certain purposes, but that help can be in various forms. It is important that we help as much as we can, to give as much as we have, to cheer someone up, to help. The measure by which we measure will be measured to us. That is why when we give, we need to measure a lot of love, peace and harmony.