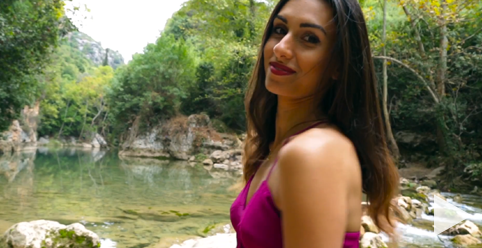 Age: 25
Height: 169 cm
Measurements: 86 cm - 64 cm - 91 cm
Profession: Art Director
Hometown: Araya
Language/s Spoken: Lebanese, French, English, Italian
DESCRIBE YOUR CHILDHOOD GROWING YEARS (8-13 YEARS OLD)
My childhood was very energetic, disciplined and packed with knowledge. I was always this dreamy girl who is interested in everything that happens around her. I found great interest in art and nature. I learned guitar, gymnastics, music but mostly dance. I loved to be involved in outdoor or indoor activities. My happy place was everything related to art and beauty.
ANY SPECIAL STORIES OR FACTS ABOUT YOUR FAMILY?
I come from a disciplined and strict family that has rules and standards I had to follow. This fact made me want to try to understand more, always searched for more, always questioned everything and it made me want to get my own answers by experience. It made me strong but always dreamy.
WHAT IS THE MOST UNUSUAL THING YOU HAVE EVER DONE?
Going with a friend and doing rappel and escalade in a stunning random place we found that was completely dark, once I got inside it. I had the most stunning feeling after it. It was something to do.
WHAT MAKES YOU PROUD OF THE COUNTRY YOU ARE REPRESENTING?
What makes me so proud of my country, is that beside the fact that my country went through a lot of damages, we still preserved and took care of our stunning nature and we still have many natural marvels, from sea to land.
WHAT TRIVIA ABOUT YOURSELF WOULD YOU LIKE TO SHARE?