Age: 19
Height: 181 cm
Measurements: 88 cm - 66 cm - 94 cm
Profession: Student
Hometown: Padua
Language/s Spoken: Italian, English and French
Sofia considers herself a very determined woman. When she sets a goal, she tries to work hard to achieve it, even if it means making sacrifices.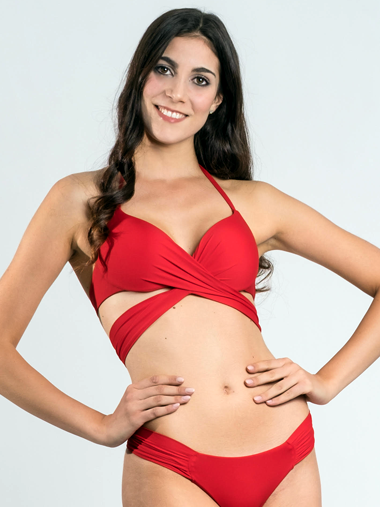 DESCRIBE YOUR CHILDHOOD GROWING YEARS (8-13 YEARS OLD)
Starting from primary school to middle school I was very happy to learn about new subjects since for me studying was important. I was very passionate about science and math. In elementary I practiced synchronized swimming and swimming in general. In middle school I studied violin and French language. I was not particularly keen on synchro and, what is more, studying and doing sports was complicated so I quit swimming. I have always believed my academic studies are more important than anything else, especially a sport. So only after that I was able to start doing volleyball, a sport I considered useful to make new friends. In summertime, I used to spend my holidays going to the sea where I had the chance to sail for the very first time and, thanks to my mother who is an apnea's instructor, I learnt very well this type of sport and once I decided to clean up the sea through some WWF's campaigns. In addition, I used to go to the summer camps organized by my church in the mountain where I experienced many activities such as trekking and skiing. More importantly, I was also able to become an educational teacher. Thanks to this, I discovered my passion to help people. Since then my dream has been to become a doctor.
ANY SPECIAL STORIES OR FACTS ABOUT YOUR FAMILY?
I do not know if this is a special story or fact about my family, but I believe that the relationship between my brother and I is unique. My brother Tommaso is 6 years older than me and he is an engineer and architect. Even though he is the elder, we have a strong bond: since we were young, he always helped me, so he became my mentor and the person I admire.
WHAT IS THE MOST UNUSUAL THING YOU HAVE EVER DONE?
Even though I was just a teenager, I knew studying was fundamental for my personal education and I put all my efforts on it. This is of course an unusual thing because I was mature enough to restrain myself giving up many funny activities or hanging out with my friends. I preferred studying instead of enjoying myself and I have no regrets because I believe that culture is essential to one's personal growth. I was lucky enough to meet teachers and classmates with whom I could share this growth experience.
WHAT MAKES YOU PROUD OF THE COUNTRY YOU ARE REPRESENTING?
I am proud of my Italian culture and art: we are particularly famous for our Latin culture, which characterizes many parts and buildings of Italy. Abroad Rome is legendary: it is enough to mention the Coliseum or the names of some great rulers such as Julio Caesar as well as the emperor Augustus. Not only is Roman culture present in Rome, but it is also clearly visible in many small towns that also show traces of the Middle Ages and keep some ancient traditions. There are many monasteries in distant parts of the city like in Montecassino since Saint Benedict founded the first monastic order in the fifth century. Moreover, I would like to mention our Renaissance's culture that we can still admire in many palaces, churches, streets, bridges and museums in Florence, a picturesque city notorious for the artist Leonardo Da Vinci and the scientist Galileo Galilei, who also taught at the University of my town, Padua. Many are the artists who made Italy beautiful: we all remember Michelangelo, sculptor and painter of the Rome of the popes; Dante, the father of the Italian language; and Petrarch, the poet of love and the father of Humanism, as well as many other world-renowned Italian names. Not to mention the city of Venice, always visited by tourists from all over the world for its uniqueness and recognized for the famous merchant Marco Polo; the city of Verona whose Roman Arena is internationally envied for its musical performances as well as for being the city of the William Shakespeare's play "Romeo and Juliet". I am proud of the country where I live since Italy is imbued with a notable history that teaches us how to respect what we have. In particular, our people treasure our land and try to make Italy great by maximizing every field, from the food industry to sciences, from fashion to medicine and so forth. In this regard, I love Italian food and fashion. The landscapes are amazing: from the Dolomites that are considered a world heritage site to the beaches and coasts that unfurl blue flags. I love my people since our fortitude links us all: in times of disastrous events, as you may recall from all the earthquakes that destroyed our land and cities and that brought along many deaths, my people are strong enough to support one another without giving up and by trying to move on.
WHAT TRIVIA ABOUT YOURSELF WOULD YOU LIKE TO SHARE?