Height: 173 cm
Measurements: 35 in - 24 in - 35 in
Education: Fashion Stylist Degree
Flower Name: Daisy
Advocacy: My advocacy is to raise public awareness and fashion in order to emanate a law that will stop all the production of plastic objects forever, this will reduce significantly plastic pollution in the ocean, rivers, lakes.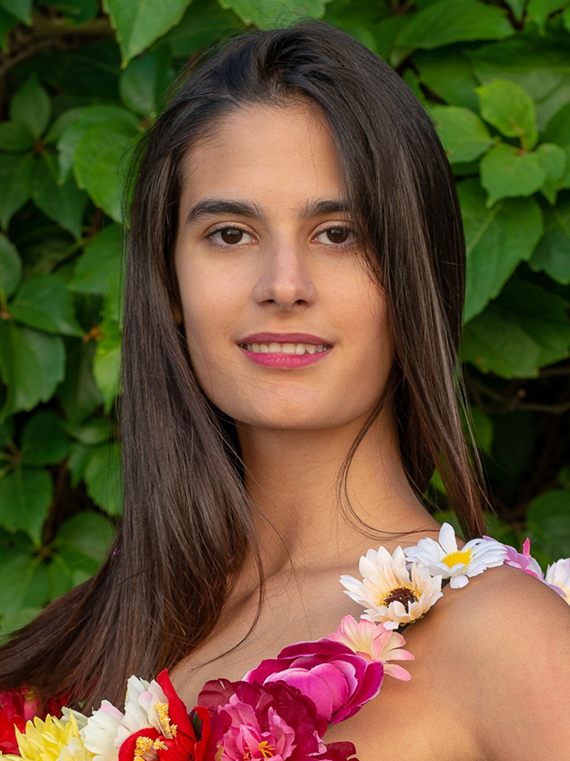 WHAT ARE THE SPECIAL QUALITIES OF THE FLOWER? HEALING? FUNCTION?
Daisies or Bellis perennis has astringent properties and can be used in herbal medicine. It has been a tradition for children to use these flowers as daisy chains in their games. And in ancient Rome, the surgeons who accompanied Roman legions into battle would order their slaves to pick sacks full of daisies in order to extract their juice; bellum, Latin for "war", may be the origin of this plant's scientific name. Bandages were soaked in this juice and would then be used to bind sword and spear cuts. Up until now Bellis perennis is still used in homeopathy for wounds and after certain surgical procedures.
DESCRIBE YOUR CHILDHOOD/GROWING YEARS (8-13 YEARS OLD).
I did not grow up like most children. I got bullied a lot, I was very tall and slim, they kept calling me anorexic, but it wasn't true. I always ate a lot, even now. I become really insecure about myself, I didn't have a lot of self confidence because of that. Now, I become a strong independent woman who can handle life at everything I am doing.
WHAT IS YOUR MEMORABLE MOMENT?
When I won the Miss Earth Italy 2019
ANY SPECIAL STORIES OR FACTS ABOUT YOUR FAMILY?
I think that relationship between me and my family is very important and must be strong. The person I admire the most is my Mum, she's like my best friend: We go shopping together, I confide myr secrets to her. She is always by my side and helps me resolve everything. For me, she is the best. Another person that I admires the most is my grandma, I love her so much. She taught me a lot of things.
WHAT TIPS CAN YOU SHARE TO PROMOTE ECOTOURISM & CLIMATE CHANGE?
I would promote to stop to use gasoline because the greenhouse effect is ruining the planet, I would enjoy that people understand this, it's a serious problem that is changing our world. The oceans are rising up, the arctic ice is declining, clouds and precipitations are becoming fewer in the last years and the temperature is rising. All these changes have huge impact on the planet. Everyone can revolutionize the world by changing their habits.
WHAT MAKES YOU PROUD OF YOUR COUNTRY?
The incredible quality and variety of food, recipes, ingredients, natural resources related to gastronomy along with the incredible variety of landscapes shaped by History and Nature. And because we make the best pizza, pasta and cafe of the world.
WHAT CAN YOU PROMOTE ABOUT YOUR COUNTRY?
The territory of Franciacorta, literally short France, is a section of the Province of Brescia in the Italian Region of Lombardy. It's a territory known all over the world because of the very good sparkling wine. The most respected wine producers of Franciacorta sparkling and still wines in the region are Berlucchi, Bellavista and Ca' del Bosco.