Height: 167 cm
Measurements: 31 in - 28 in - 34 in
Occupation: Doctor
Flower Name: Lotus
Advocacy: To raise global awareness about environment and nature to protect planet earth. Create an opportunity for all to have access to clean air, clean water and equitable and sustainable use of natural resources. For avoidance of depletion of natural resources in order to maintain an ecological balance. Preserve and protect the beauty of Mother Earth for future generations.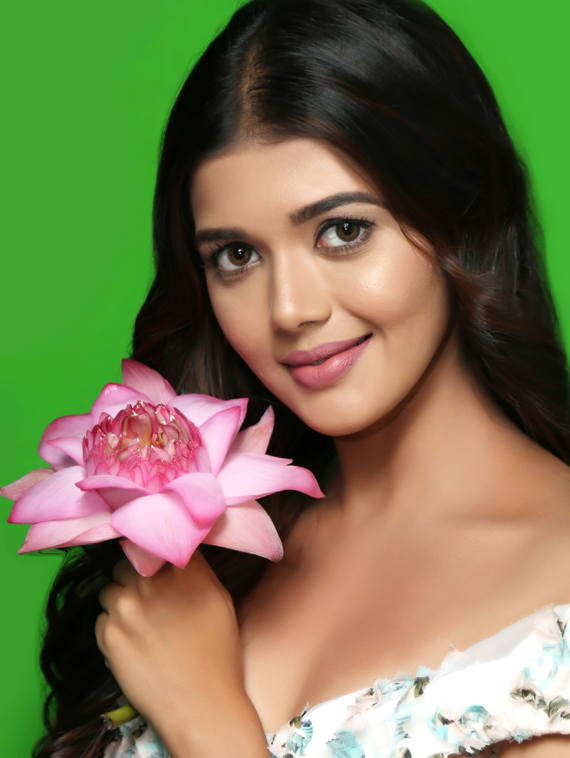 WHAT ARE THE SPECIAL QUALITIES OF THE FLOWER? HEALING? FUNCTION?
Indians believe that Lotus is a Symbol of Purity, Beauty, Majesty, Wealth, Knowledge, Divinity, and Spirituality. It offers Hope and Strength. Right from its Roots to Petals. It has Extensive Medicinal Value. It signifies Purity of Mind and Heart and Occupies a Meditative Position in Yoga. Personally I relate to Lotus for its Quality of rising from Muddy Waters to Blooming above the surface with Remarkable Beauty.
DESCRIBE YOUR CHILDHOOD/GROWING YEARS (8-13 YEARS OLD).
In my tender age, I was a systematic, self motivated, and disciplined child who used to cut newspaper articles of eminent personalities fascinated by their contribution to Mother Earth. I followed busy schedules juggling between school, performing arts , sports classes ,nature clubs and youth wing of army but still kept the creative and naughty child within me alive by making fun and enjoyed my child life .
WHAT IS YOUR MEMORABLE MOMENT?
As a Doctor- Holding, seeing a Baby Alive in my arms after the First Labor Delivery I Conducted was the Most Cherished and Memorable Moment.

I keep Motivating Numerous Underprivileged School Children every week. There were Instances when these innocent kids promised me they will become even better than me and Serve Mother Earth, that's a Proud Moment for me.

Receiving Prime Minister and Presidents Medal for Excelling in the Youth wing of Indian Armed Forces.

When Former Prime Minister complemented my mother, saying that you have given wonderful child to the Nation.

Winning Miss Earth India 2019
ANY SPECIAL STORIES OR FACTS ABOUT YOUR FAMILY?
I belong to a simple, traditional middle class family with a nominal income source. I have studied with scholarship money. I had a value based upbringing. My parents always emphasized on the need of giving back to those less fortunate, as a way of life. My participation in pageants came as an unexpected surprise to them, but still they let me follow my passion giving me unlimited opportunities to explore and build myself.
WHAT IS THE MOST UNUSUAL THING YOU HAVE EVER DONE?
I am a girl who has became an achiever against all odds. I broke stereotypes, carved my way to success in unconventional fields going an extra mile to pursue my dreams. The very fact that I am in pageant is an unusual thing for the traditional family I belong to. But having won Miss Earth India 2019,I made my family proud.
WHAT TIPS CAN YOU SHARE TO PROMOTE ECOTOURISM & CLIMATE CHANGE?
Eco Tourism : Travel to Eco Tourist area, appreciate culture and Natural History of Environment taking care not to disturb the integrity of Ecosystem while creating Economic and educational opportunities to benefit the Local tribes. Conserve local ecological balance while enhancing facilities for Tourism. Keep it Natural.

Climate Change : To anticipate the impact of Climatological changes ,To Protect Environment, To predict and prepare to mitigate disasters
WHAT MAKES YOU PROUD OF YOUR COUNTRY?
The adage, "Unity in Diversity", holds true for my country- India and I am proud to be Indian. The rich and varied diversity of languages, traditional values, ecosystems, Human Resources, monuments, The Technological advancements. The list is endless.
WHAT CAN YOU PROMOTE ABOUT YOUR COUNTRY?
India is an endlessly gifted country in terms of its ecological, historical, and cultural wealth. Yoga (Unity), Ayurveda (Herbal/Natural Medicines), Indian Handlooms and Handicrafts, Indian Classical Artforms are India's Gift to the World.