Age: 28
Height: 164 cm
Measurements: 34 in - 27 in - 35 in
"I am extremely proud of the opportunity to represent my beautiful country of Guyana. I am even prouder of the Miss Earth's platform helping women around the world to use their voices."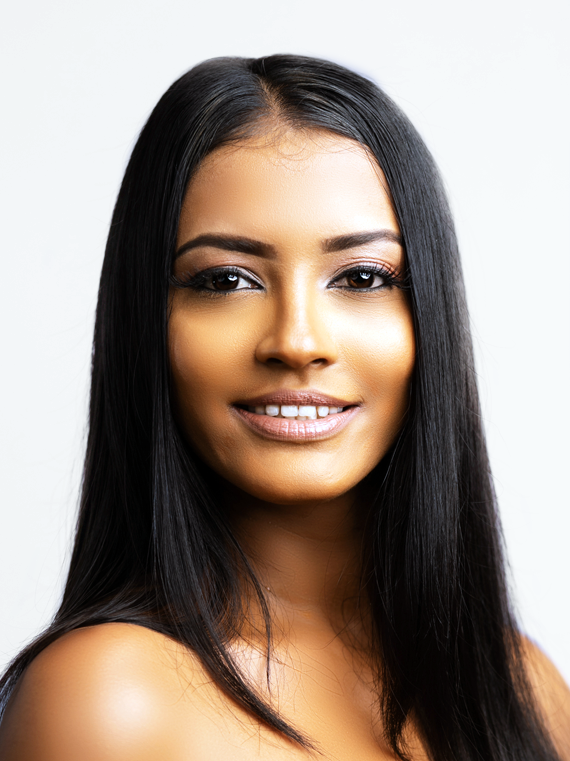 DESCRIBE YOUR CHILDHOOD/GROWING YEARS
My parents were very strict; culture and discipline were priorities. I vividly remember growing up in the countryside of Guyana, Berbice, along with my siblings enjoying what nature had to offer from fishing in the back dams, going by the beach and hiking.
WHAT IS YOUR MEMORABLE MOMENT?
Obtaining the keys to my own house. I have made many sacrifices from a young age in order to achieve my dream of living under my own roof. I believe this made me into the confident woman I am today.
ANY SPECIAL STORIES OR FACTS ABOUT YOUR FAMILY?
Actually yes, I remember so many stories I cherish in my heart and up to today reminisce. A very long time ago, I was very skeptical about ghost stories, however, my father used to always relate these in the late nights. The suspense was always thrilling so you'll sit patiently waiting to hear the end. By then, you're scared of even your own shadow.
WHAT IS THE MOST UNUSUAL THING YOU HAVE EVER DONE?
Pageantry! I was always the tom boy of my neighbourhood. I never viewed this industry without its glitz. Thankfully, the Miss Earth platform allow me to be the natural me and I am able to showcase my talents without faking it.
My advocacy is called Recover. Recover is a Non-Profit Organization geared towards helping vulnerable communities and families with children to build, by providing a window of opportunities in the most sustainable manner. It will focus to help balance our economic, environmental and social needs, allowing prosperity for current and future generations, especially in remote communities in Guyana.
WHAT TIPS CAN YOU SHARE TO PROMOTE ECOTOURISM & CLIMATE CHANGE?
Climate change is a proven fact. Global warming has caused serious changes to the planet, such as rising sea levels, extreme weather events, deforestation, and disappearance of species. But, as individuals we can slow down global warming by implementing small more sustainable actions within our community. A few suggestions for promoting ecotourism, especially in the Caribbean:

• Before leaving for your trip source out restaurants that provide organic and sustainably sourced foods
• Bring your own items, such as a cup or straws, instead of using disposable ones that might be provided
• Don't eat at places that use disposable cups, plates, etc.
• Unplug appliances when you leave a hotel room
• Choose a hybrid when renting a car
• Don't touch wildlife, habitats or monuments
WHAT MAKES YOU PROUD OF YOUR COUNTRY?
Definitely Guyana's Greenery and rich resources. Guyana intends to become a low-carbon, 'green state', with eco-tourism a major feature.
WHAT CAN YOU PROMOTE ABOUT YOUR COUNTRY?
Kaieteur Falls is the world's largest single drop waterfall by the volume of water flowing over it. Located on the Potaro River in the Kaieteur National Park, it sits in a section of the Amazon rainforest included in the Potaro-Siparuni region of Guyana.
WHAT TRIVIA ABOUT YOURSELF WOULD YOU LIKE TO SHARE?