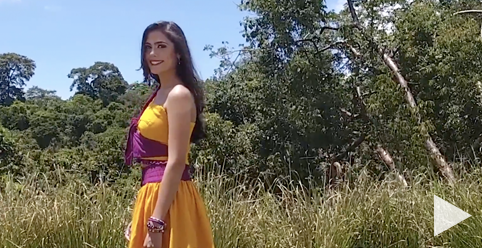 Age: 18
Height: 175 cm
Measurements: 91 cm - 69 cm - 94 cm
Profession: Civil Engineering Student
Hometown: Guatemala City
Language/s Spoken: Spanish and English
DESCRIBE YOUR CHILDHOOD GROWING YEARS (8-13 YEARS OLD)
I remember my childhood as a stage in which I was extremely happy, full of lessons, new experiences, love, friends, study, and changes in my thinking as in my body.
ANY SPECIAL STORIES OR FACTS ABOUT YOUR FAMILY?
My family is full of love, trust, joy, and we are very close. We are five, I have two siblings and my parents, I´m the youngest member of the family. We like to travel and in 2012 we had the opportunity to travel to the United States of America, we arrived in Connecticut, where we went to see our favorite band One Direction, and from there we rented a car to go overland to Orlando. The road was quite long but we took advantage of it to spend a good time with family telling jokes and anecdotes. A fact about my family is that we all focus our vocation on construction, design and engineering, but my mom and I have always been interested in fashion and beauty events.

I participated at the age of 13 in "Miss Niña Mundo Guatemala" and I have modeled for different brands in my country. My mother also participated in several beauty contests and in 1989 she traveled to the Philippines to compete in Miss Asia Pacific. So I am very proud to follow the same steps of my mother and happy to compete in the same country in which she was 28 years ago.
WHAT IS THE MOST UNUSUAL THING YOU HAVE EVER DONE?
In 2013, I went to Taiwan with my siblings for a month. One day, we decided to go snorkeling and surfing, two activities we had never done in our life but we learned and loved being in touch with nature.
WHAT MAKES YOU PROUD OF THE COUNTRY YOU ARE REPRESENTING?
My country has many factors of which I am very proud, among them I can mention that Guatemala is one of the lungs in the world, having areas with fertile land full of jungle. We have a very rich and diverse culture, full of traditions and many beautiful landscapes, Mayan ruins, lakes, black sand beaches, etc. Mainly, we are entrepreneurial women with a desire to excel.
WHAT TRIVIA ABOUT YOURSELF WOULD YOU LIKE TO SHARE?