Age: 24
Height: 174 cm
Measurements: 84 cm - 69 cm - 89 cm
Profession: Model and University Student
Hometown: Izabal
Language/s Spoken: Spanish and English
Lisa had the opportunity to sponsor a 6-year-old girl with cancer - Lupita, whom she admired for her strength.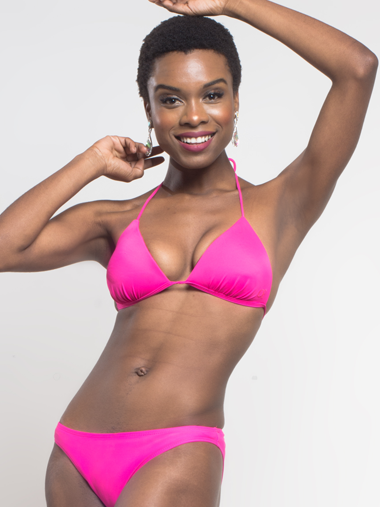 DESCRIBE YOUR CHILDHOOD GROWING YEARS (8-13 YEARS OLD)
My childhood was very beautiful, I was always restless and I loved to write, draw and declaim, one of the nice memories that I have is that I was a volunteer for the victims of Hurricane Stan and they gave me a medal for being the only person to reach the 60's days without missing I was 11 years old and the other people were over 20 years old, I learned to build houses, cook, and work with concrete.
ANY SPECIAL STORIES OR FACTS ABOUT YOUR FAMILY?
My mom is a professional nurse and I always accompanied her to the hospital when I left school and I loved playing with the children of the hospital. I made very good friends, they nicknamed me a "little earthquake" because I made everyone smile with my madness, those memories I remember a lot sweetness I did not grow up being indifferent to the pain of others.
WHAT IS THE MOST UNUSUAL THING YOU HAVE EVER DONE?
Acting in the film "September" of director Kenneth, I had to learn sign language and to use a wheelchair because my character used one, it was one of the best experiences of my life.
WHAT MAKES YOU PROUD OF THE COUNTRY YOU ARE REPRESENTING?
It is a culturally diverse country but my greatest pride is that we can still breathe fresh air and enjoy nature, you can cross the country in a few hours traveling by car and move from the Atlantic Ocean to the Pacific Ocean, that's trip I enjoy a lot.
WHAT TRIVIA ABOUT YOURSELF WOULD YOU LIKE TO SHARE?
I love to collect the leaves of trees that have fallen, my favorite are the ocher ones. Another curiosity is that I like to draw eyes, I love is to try and capture in each stroke the sweet look of a human being, I want my drawings to convey my feelings and my top 3 favorite animals are giraffe, elephant and zebra.