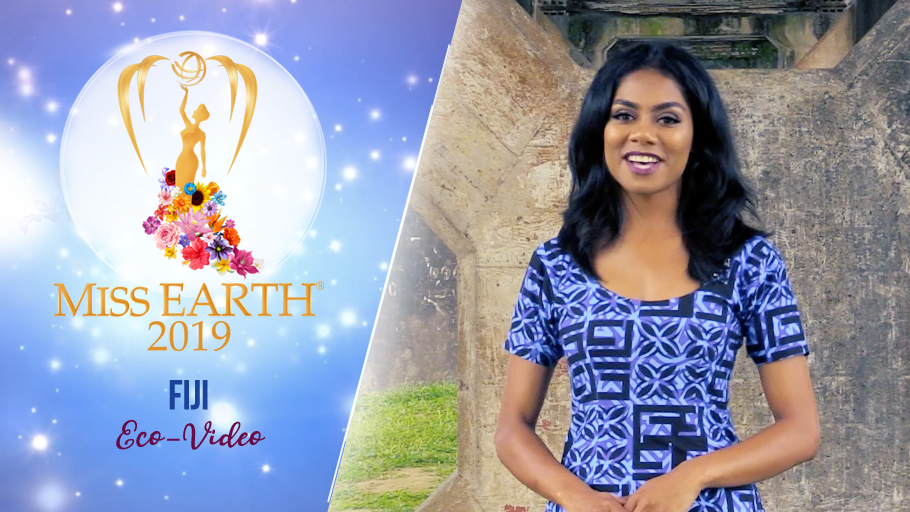 Height: 171 cm
Measurements: 32 in - 27 in - 32 in
Occupation: Police Officer
Flower Name: Tagimoucia
Advocacy: Climate change is a threat to all of us. World leaders must act against climate change and reduce carbon emissions. Listen to the cries of Pacific people who are first to be affected by global warming, the changing weather patterns and sea level rise. The impact and devastation of climate change is already upon us. We can't just be individuals, we need to join together and be part of the global movement to protect our planet. We are the last generation who have the chance to save the world - our home!
WHAT ARE THE SPECIAL QUALITIES OF THE FLOWER? HEALING? FUNCTION?
Tagimaucia (Medinilla waterhousei), the floral emblem of Fiji is a species of flowering plant in the family Melastomataceae which is endemic to the highland rainforest of the Fijian island of Taveuni. It is a liana bearing crimson and white flowers in 30 cm-long hanging clusters. The beautiful Tagimoucia flower only grows in the volcanic cold region high up in the mountains of Taveuni, thriving around Lake Tagimoucia. The rare red and white wild flower blooms between the months of October and February. One of the many legends passed down through the ages, tells the story of a princess in love, who was being forced by her father to marry another man from the village. She ran away, high up into the mountains above the village and fell asleep in the comfort of a tree that hid her and shared in her pain. The tear shaped flowers we see today, are a reminder of the princesses' true love. The $50 Fijian note features the Tagimoucia flower, perhaps Fiji's best known flower. Found in upland forest in Taveuni, the Tagimoucia has been the subject of songs, stories and folk lore.
DESCRIBE YOUR CHILDHOOD/GROWING YEARS (8-13 YEARS OLD).
I grew up in a family of 5. Mother, father and two older sisters so definitely I am the baby of the family. I had the best childhood ever, playing soccer with my neighbors, picking mangoes and tamarind during their season, catching the bus to school, having homemade food cooked by my lovely mom. Growing up I learned a lot of things from my parents, they taught me how to be independent. I grew up with so much love in a carefree environment and good neighbors. As a little girl growing up, I used to watch pageant videos and was fascinated by its glamour, entertainment and its platform. I got inspired and hoped one day to take a stand on that stage and talk about issues affecting our country and our loved ones.
WHAT IS YOUR MEMORABLE MOMENT?
When it was my first time to travel overseas and not only travel but represent my country as Miss Fiji at an international pageant.
ANY SPECIAL STORIES OR FACTS ABOUT YOUR FAMILY?
As Fiji is counted as one of the multiracial country, my family is known as the fruit salad, has a bit of all races and ethnicity. My sister and I share the same date of birth, one-year difference: born on the same day, same month but different year.
WHAT IS THE MOST UNUSUAL THING YOU HAVE EVER DONE?
The most unusual thing I have ever done is when I was competing for a pageant, I was back stage and was so nervous that I yelled out at the top of my voice and that's when everyone ran to me asking what happened. I smiled and said nothing and went on to the stage and presented my sarong wear.
WHAT TIPS CAN YOU SHARE TO PROMOTE ECOTOURISM & CLIMATE CHANGE?
Ban the usage of plastic bags, human survival needs drinkable water, breathable air and usable biological diversity we need to recycle and re-use waste materials. Planting more trees and by encouraging communities and tourists to preserve natural and cultural heritage.
WHAT MAKES YOU PROUD OF YOUR COUNTRY?
My people are my biggest inspiration, no matter what if you pass by any Fijian house, they would call you and say Bula, or call you to join them for lunch or dinner even if they don't know you. Fijians are one of the resilient people no matter what there's always a smile on their face. Rugby is an important sport in Fiji, when I see our Flying Fijians step out on the rugby pitch, the discipline, the culture it represents and when the noble blue Flag waving proudly in the wind is what makes me a proud Fijian.
WHAT CAN YOU PROMOTE ABOUT YOUR COUNTRY?
The heart of the South Pacific, Fiji is blessed with 333 tropical islands that are home to happiness. The very moment to arrive on our shores people will greet you with a Big "BULA" and the same greeting will be offered to you along your journey in Fiji. If you pass by any locals, they will offer you lunch and offer to take you on a tour or even chat with you and take you on a walk even if you are not known to them. The National flower of Fiji is found in the third largest island Taveuni which is known as the Garden Island of Fiji.