Age: 25
Height: 174 cm
Measurements: 34 in - 24 in - 36 in
Career / Education: IT Designer
"My life motto is Henry Ford's quote: "Time doesn't like to be wasted." I try not to waste hours and even minutes: I study, attend trainings and webinars, read, watch interesting movies, spend time with friends and family. I think it's much more productive than just indulging in dreams or worrying about failure."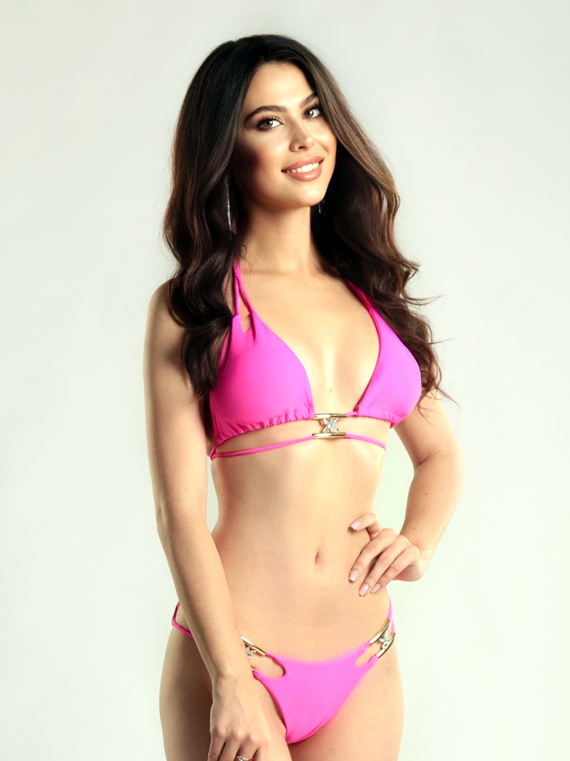 DESCRIBE YOUR CHILDHOOD/GROWING YEARS
My childhood is the happiest time in my life. I always had a lot of toys, I often had to rest in my grandparents' place. I was lucky to visit summer camps, go to the seaside and on various excursions. I always had a lot of friends, in summer we played outside all day long. Many childhood friends communicate with me now. It is very nice to have a childhood friendship grown into an adult friendship. I have a wonderful family which consists of my mom, dad, brother and sister. Everyone has always loved me as a child. I am the youngest child in my family. In kindergarten I was an obedient child, at school I was at the top of my class, and the most exemplary class-girl, and at the same time very bright and talented!
WHAT IS YOUR MEMORABLE MOMENT?
I remember that cashy childhood time when we could run barefoot on the streets, go to the seaside and just fool around. My childhood was wonderful and carefree, and I want these memories remain like this forever!
ANY SPECIAL STORIES OR FACTS ABOUT YOUR FAMILY?
I can't say our family is in some way very different from other families in our country. There is nothing unusual and outstanding about it. However, my family is the best for me.
WHAT IS THE MOST UNUSUAL THING YOU HAVE EVER DONE?
I've delivered kittens for my cat.
I take part in organizing events aimed at improving the environmental situation. I also take part in garbage collection, provision of urban amenities, tree planting, make speech at forums and seminars, take part in Saturday voluntary work days.
WHAT TIPS CAN YOU SHARE TO PROMOTE ECOTOURISM & CLIMATE CHANGE?
I advise to increase the area of forest plantations. Plant a tree. This will both get the air purified and make your area look beautiful. Recycle old mobile phones. About 130 million phones end up in the landfill every year, and over time they will emit toxic elements into the environment. Go to the store with your own package – don't buy them every time, even one package that has not been thrown away already improves the state of the environment. Recycle newspapers. It will save many trees.
WHAT MAKES YOU PROUD OF YOUR COUNTRY?
Crimea is famous for its natural resources: mineral waters and curative mud of salt lakes, thermal gases, vapors and, of course, the special microclimate of the peninsula.
WHAT CAN YOU PROMOTE ABOUT YOUR COUNTRY?
Crimea is one of the most unique places on our planet. There is an amazing symbiosis of different climates, types of nature on a relatively small area. Somewhere at the top of a mountain there is snow, and the first flowers bloom at its foot.
WHAT TRIVIA ABOUT YOURSELF WOULD YOU LIKE TO SHARE?