Age: 25
Height: 173 cm
Measurements: 86 cm - 60 cm - 90 cm
Profession: Television and Radio Broadcasting Student
Hometown: Simferopol
Language/s Spoken: Russian, English and German
Ksenia believes that tourism can be improved with new technologies and quality of tourism development, sports, a great future for seals, projects for improvements.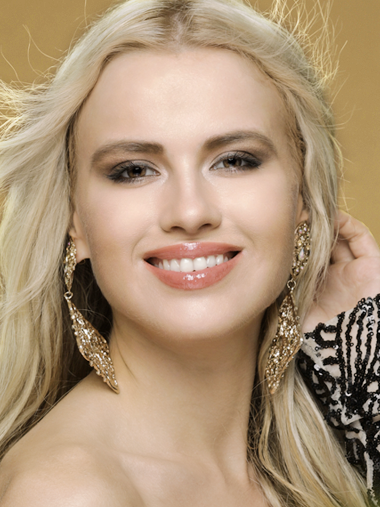 DESCRIBE YOUR CHILDHOOD GROWING YEARS (8-13 YEARS OLD)
My childhood was the most beautiful time, this is a magical time. It was associated with the scool of fashion, models, photography,television and designers fashion house of haute couture. As it was related to the teaching of languages, fashion, television, sport, vocal and dances.
ANY SPECIAL STORIES OR FACTS ABOUT YOUR FAMILY?
My family is very big and very friendly, she loves me very much and she believes in me that she gives me strength. My great-grandmother is the best! I really love my family!
WHAT IS THE MOST UNUSUAL THING YOU HAVE EVER DONE?
None
WHAT MAKES YOU PROUD OF THE COUNTRY YOU ARE REPRESENTING?
The steppe part of Crimea lies in the steppe zone of temperate climate. This part of the Crimea is characterized by a long arid and very hot in summer and a mild, little snowy winter with frequent thaws and very changeable weather. For the Crimean mountains is characterized by a mountain type of climate with pronounced zonality in heights. Summer is also very hot and dry, winters are damp and mild. For the Southern coast of Crimea, a sub-Mediterranean climate is typical. Snow cover is only temporary, it is set on average once in 7 years, frosts only when the Arctic anticyclone passes.
WHAT TRIVIA ABOUT YOURSELF WOULD YOU LIKE TO SHARE?