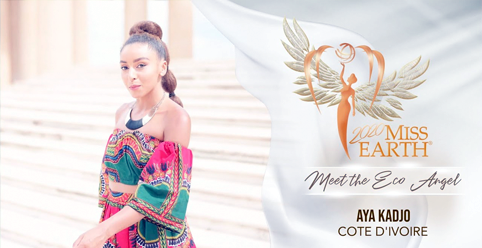 Age: 24
Height: 164 cm
Measurements: 31 in - 27 in - 37 in
" I love to help other women to feel good about their body and their mind, so I created a page for them to talk about their journey that each of them can recognize themselves through these stories and rise together."

DESCRIBE YOUR CHILDHOOD/GROWING YEARS
As a child, I grew up in the countryside close to nature. I am a loner but I have always been full of energy, loving to play in nature with my cousin. As an animal lover, I was bringing home injured animals to heal them. I have always been a creative and curious mind. I have been dancing since I was young.
WHAT IS YOUR MEMORABLE MOMENT?
My memorable moment is when I graduated from my double degree: engineering school of chemistry and master in material chemistry. It was not easy every day for me as I had to work at the same time to be able to finance myself. So, I was proud of my journey.
ANY SPECIAL STORIES OR FACTS ABOUT YOUR FAMILY?
I am half Ivorian, half French, so I have family in both countries, and I'm really proud to have these two different cultures.
WHAT IS THE MOST UNUSUAL THING YOU HAVE EVER DONE?
After one year of working in a pharmaceutical company, I decided to open my own company of natural cosmetics at the age of 23 years old in order to change the vision of beauty that is given by the media because I think that every shade is beautiful. That is why I called it Nuances Exotiques (meaning exotic shades).
My advocacy is environmental education. To teach people the daily actions they can do to protect our environment so that it becomes a habit. For example, the use of reusable objects such as glass bottles instead of plastic bottles, or cotton bags instead of plastic bags.
WHAT TIPS CAN YOU SHARE TO PROMOTE ECOTOURISM & CLIMATE CHANGE?
Preserving our planet also means preserving it during our travels. There are a lot of actions people can do to promote eco-tourism. When travelling, favor to stay at green hotels, do not change your towels every day, turn off electric devices when they are not used. You should try to walk more or use green transports as cycles to reduce your carbon footprint, it is also a way to better discover places you are visiting.

When visiting, take care of places and do not touch wildlife. Use reusable objects and buy from local businesses to help local people.

People can also promote eco-tourism in social media in order to educate the others and make them understand that if everyone do all these little things, it will have a big impact on our planet's health.
WHAT MAKES YOU PROUD OF YOUR COUNTRY?
I am so proud of Ivory Coast which is an amazing and beautiful country. Ivory Coast has the highest level of biodiversity in West Africa and so many different landscapes. At the north, you will find savannah and a dense equatorial forest to the south. There are beautiful sandy beaches, and various plantations such as cocoa or plantains for example.

Ivory Coast is also remarkable for its diversity of cultures with over 60 ethnic groups with their own traditions and languages.

People do not have much, but you can feel this good atmosphere. Ivorian are very welcoming, and music is part of their lives.
WHAT CAN YOU PROMOTE ABOUT YOUR COUNTRY?
Ivory Coast is astonishing by the beauty of its natural and preserved sites between lakes, forests, savannas, flora and fauna of Ivory Coast contains treasures of biodiversity. The country is full of protected wild area with 8 national parks, around 300 natural reserves. 3 natural sites is listed as world heritage by UNESCO.
You can also find little pieces of heaven with the beautiful beaches or enjoy the city life in Abidjan.
WHAT TRIVIA ABOUT YOURSELF WOULD YOU LIKE TO SHARE?