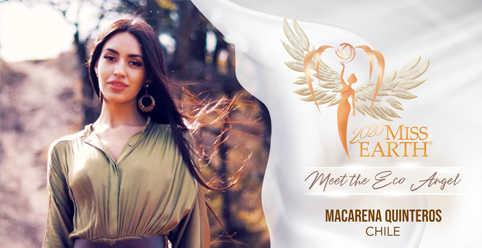 Age: 22
Height: 176 cm
Measurements: 33 in - 24 in - 34 in
"Something important for me and part of my childhood are the times when I adopted and rescued dogs from the street, so that later I could find a home for them."
DESCRIBE YOUR CHILDHOOD/GROWING YEARS
Since childhood, I was quite a curious and kind of nerdy girl. I had top marks at school. Biology was my favorite subject. Also I do have good memories from winter, where I played riding a slide with my parents and climbing high trees together with my dad. Yes, I have good memories of a wonderful Childhood at the most beautiful city for me.
WHAT IS YOUR MEMORABLE MOMENT?
To have entered the University by my own effort. The moment in which I won several scholarships to study psychology was very exciting for me, because it is something for which I worked and studied hard my last three years.
ANY SPECIAL STORIES OR FACTS ABOUT YOUR FAMILY?
When my dad bought me my first violin, and I could start learning how to play at "Casa Azul del Arte" (a local city organization that promotes art in town). It was the first step to fall in love with violins.
WHAT IS THE MOST UNUSUAL THING YOU HAVE EVER DONE?
In my city, it is a tradition in winter to go to the "Estrecho de Magallanes" and all of us who are there throw ourselves into the sea. Here, we call this tradition "El Chapuzón del Estrecho", and the last time in 2019 we were more than 3.200 people!
Based on my "New Cycle" Project in which we have been working on for more than a year, we faithfully believe in the importance of reducing the impact of the textile industry on the environment.
WHAT TIPS CAN YOU SHARE TO PROMOTE ECOTOURISM & CLIMATE CHANGE?
Regarding Ecotourism, always be aware of the places we are visiting and respect them, following the directions they give us and consider that we are visiting the home of our flora and fauna. And in relation to climate change, being informed about what is affecting the planet today is the most important thing. Always educate ourselves and others to be more careful with our actions and decisions.
WHAT MAKES YOU PROUD OF YOUR COUNTRY?
The people of my country are what makes me most proud. The way in which they overcome problems and can get ahead in spite of everything. It is something that characterizes us as Chileans.
WHAT CAN YOU PROMOTE ABOUT YOUR COUNTRY?
The diversity of ecosystems that we have in the same territory. Being a long and narrow country we have a beautiful variety of climates and landscapes.
WHAT TRIVIA ABOUT YOURSELF WOULD YOU LIKE TO SHARE?
Did you know that the highest heel I ever used was about 18 cm (7 inch)?
Did you know that since I was a child I always felt attracted to string musical instruments?
Did you know that I studied psychology for 3 years, until I decided to focus myself on my eco - project and to work on it together with my partner?