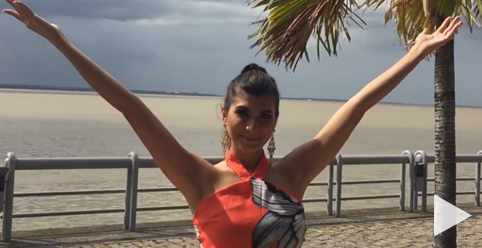 Age: 21
Height: 178 cm
Measurements: 89 cm - 67 cm - 97 cm
Profession: Veterinary Medicine Student
Hometown: Belém
Language/s Spoken: Portuguese, English, Spanish, Italian
DESCRIBE YOUR CHILDHOOD GROWING YEARS (8-13 YEARS OLD)
My childhood was in a city called Tomé-açú in the interior of the state of Pará. I grew up in contact with nature and animals at the family farm, loved riding, climbing trees, bathing in the river. I moved to Belém with my family and lived on Caratateua Island, which is the city's district. I started to study at the reference center in environmental education, Escola Bosque Eidorfe Moreira, where I had the opportunity to learn more about what I already loved. I started to adopt the abandoned animals on the island and take them to the farm (which made my parents a little annoyed but then they accepted). I had a happy childhood.
ANY SPECIAL STORIES OR FACTS ABOUT YOUR FAMILY?
On August 16 of 2016, when I were returning home with my family after a trip, I began to feel unbearable headaches. I spent 10 days going to the emergency hospital and the doctors said it was migraine, they medicate me and I went home. In the middle of that period I stopped eating, I had hallucinations (seeing spirits, doing things without knowing, not understanding what they were talking about) and at the day nine, I lost the movement on the left side of my body and unlearned to speak. My mother took me again to the hospital, the doctor did tests and found that I had a cerebral edema, a high risk case. On the 26th of August, my neurologist called my mother and said that I had a maximum 30% chance of survival, advising if she believed in God, to pray a lot. My family and friends have mobilized all over the country, to pray for me and to give me blood. I spent 7 days in the Intensitive Care and I must confess that it was the 7 longest days of my life. I spent another 28 days hospitalized and my family was my safe haven.
WHAT IS THE MOST UNUSUAL THING YOU HAVE EVER DONE?
I was already a drop in a children's play in high school, to make children aware of the importance of water.
WHAT MAKES YOU PROUD OF THE COUNTRY YOU ARE REPRESENTING?
Brazil is a country of continental dimensions! We are a cheerful and welcoming people! Who knows brazil, never forget it! Here we have a lush fauna and flora and diversified florests, rivers, beaches and waterfalls that make brazil a unique country.
WHAT TRIVIA ABOUT YOURSELF WOULD YOU LIKE TO SHARE?
I do not give up my ideals, I want to have the opportunity to make known to the world my history and thus to be the example to all the people that we have to fight for the life. And fighting for life means seeking to evolve, to grow, to overcome, to learn from adversity. This is how I hope to be able to sensitize people, to take care of themselves and to take care of the environment that is around us!