Height: 172 cm
Measurements: 35 in - 26 in - 37 in
Occupation: Dental Technician
Flower Name: Golden Lily
Advocacy: To clean plastic from the oceans and beaches.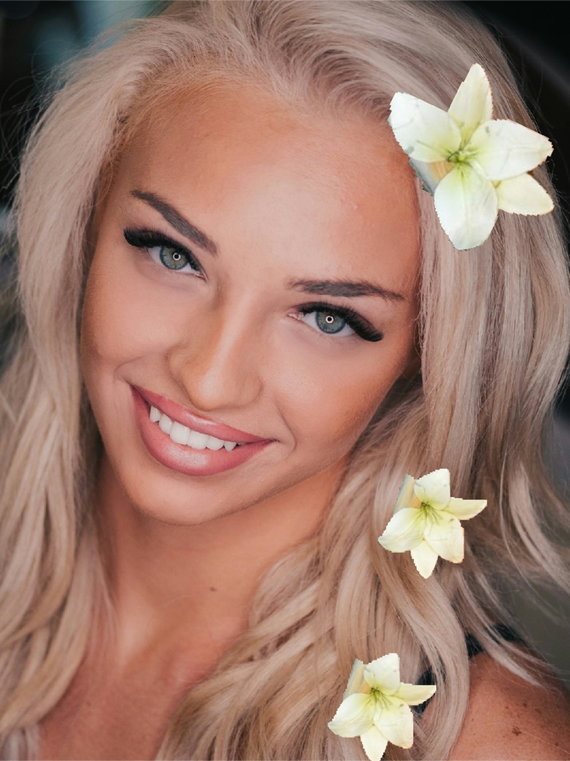 WHAT ARE THE SPECIAL QUALITIES OF THE FLOWER? HEALING? FUNCTION?
Love, purity and spiritual peace.
DESCRIBE YOUR CHILDHOOD/GROWING YEARS (8-13 YEARS OLD).
I live with a loving and caring family and done a lot of sports activity and charity works.
WHAT IS YOUR MEMORABLE MOMENT?
When I graduated high school because it was such an emotional day.
ANY SPECIAL STORIES OR FACTS ABOUT YOUR FAMILY?
Every month, we pick a day where the whole family goes camping, and while we are in the woods, we picked up plastic and trash then sell it to the recycling companies and donate the money to the charity.
WHAT IS THE MOST UNUSUAL THING YOU HAVE EVER DONE?
In high school we decided to build a water well in Africa.
WHAT TIPS CAN YOU SHARE TO PROMOTE ECOTOURISM & CLIMATE CHANGE?
To open eco-tourism development workshops in cooperation with the Ministry of the Environment.
WHAT MAKES YOU PROUD OF YOUR COUNTRY?
I am proud to live in my country where there are a lot of natural beauty, from rivers to mountains which stands out the most.
WHAT CAN YOU PROMOTE ABOUT YOUR COUNTRY?
It is a small and very beautiful country where 3 multi-ethnic groups live and every national group is welcomed, many tourists from all over the world visit the county every year.