Age: 25
Height: 170 cm
Measurements: 32 in - 26 in - 36 in
Career / Education: Entrepreneur
"Growing up I had so many different pets. I had dogs, pigs, rabbits, turtles, and even a squirrel."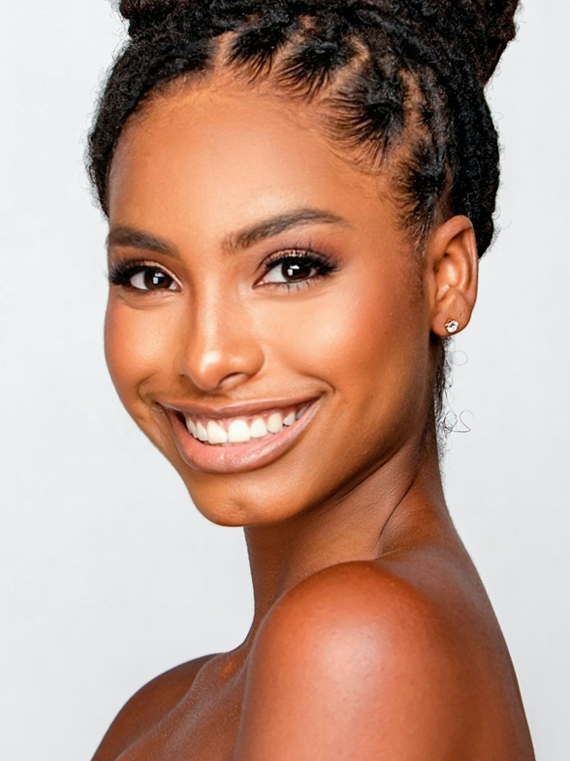 DESCRIBE YOUR CHILDHOOD/GROWING YEARS
I spent most of my childhood traveling with my parents and sister. We had an RV and for awhile I was homeschooled. After homeschooling I attended primary schools in the Toledo District, Belize which consist of many villages with humble lifestyle compared to the US but I never felt like I lacked anything. I was always surrounded by fresh air, vibrant coconuts trees which also served and the best natural tropical juice and the inner as healthy snack.

I learned to swim before I learned to walk so the Caribbean Sea was always a fun place to be. We danced Punta to Garifuna music and played marbles in the dirt and hopscotch. WIFI was nonexistent but I felt more connected to earth. I then moved back to the States as a preteen, no longer surrounded by coconuts but I was surrounded by my mom's family and it was easy to feel at home.
WHAT IS YOUR MEMORABLE MOMENT?
My most memorable moment was my first solo trip was on a three-day weekend. I had been trying to plan trips previously with friends, however our schedules never aligned. I was set on Europe at the time and I've always wanted to visit the city of love, Paris. I purchased a round-trip ticket the next day and had the time of my life. I stayed at a hostel and had roommates from all over the world: China, Germany, and Ireland. I made amazing friends and sat under the Eiffel tower as it started to pour down rain. I have never felt more free and more confident in my life. My first solo trip taught me to trust the universe and most importantly myself.
ANY SPECIAL STORIES OR FACTS ABOUT YOUR FAMILY?
I was not born in a hospital. I was born in a small house. My mother had a midwife and my dad delivered me with his bare hands. There were some complications at birth, my umbilical cord was wrapped around my neck and this is why I was given the name DESTINY.
WHAT IS THE MOST UNUSUAL THING YOU HAVE EVER DONE?
I once took a Buzz Feed quiz to determine my next solo trip. The quiz asked me a series of questions based on what I look forward to, while on vacation alongside the things I like and dislike. They combined my answers and told me that based on my personality I would adore Ireland. I booked a one-way ticket to Dublin that same night and had the time of my life! I visited different castles and distilleries and ate so many potatoes!
My Advocacy is two parts: 1. Sustainability of marine life and conservation of our natural resources. The Manatee research I did with 'Clear Water Aquarium' and my interest in the ocean, inspired me to get my Open Water Dive Certification and participate in environmental campaigns. I believe everyone should do their part by protecting Mother Earth so the next generation can reap the benefits we now enjoy and 2. Children's Rights: My family and I have a Non-profit organization in which we supply sustainable meals to children in 3 plus villages for the past 10 years. We provide them with school supplies, toys and resources necessary for them to excel in the classroom.
WHAT TIPS CAN YOU SHARE TO PROMOTE ECOTOURISM & CLIMATE CHANGE?
Take public transportation, carpool, ride a bike to help reduce Carbon Footprints. Limit our single-use plastic, and purchase locally. As far as climate change, we may think that we have a small impact on earth, but we can cause a ripple effect. For instance, we can invest our money responsibly and shop at sustainable companies we can reduce the amount of energy that we use at our house by unplugging appliances, plant you own backyard garden to help you eat fresh.
WHAT MAKES YOU PROUD OF YOUR COUNTRY?
We celebrate the best of both the Caribbean and Central American ways of life. I am most proud however of the people in my country. We accept people for who they are, and we do not judge one another based on things that they cannot change. We embrace each other's culture, traditions and foods and we treat the janitor with the same respect as we would the CEO. We do not wait for things to happen we make them happen as can be seems by our many cottage industries and home based businesses. So, the people are what I'm most proud of because without the people there would be no unique Belize.
WHAT CAN YOU PROMOTE ABOUT YOUR COUNTRY?
As a certified scuba diver, I can speak 1st hand about the beauty of our second largest coral reef in the world. The diversity of our marine life is second to none as Jacques Cousteau first discovered for himself in our reef and ultimately pioneered scuba gear just to be able to enjoy the spectacular beauty of our marine world.

Our waters are considered one of the world's best diving areas in the world for scuba, snorkeling or fly-fishing. It is a great country to travel to get trained to become a certified diver. So if you are looking to explore the marine underworld, Belize is the place for you. Be careful though, because our people and food are equally inviting.
WHAT TRIVIA ABOUT YOURSELF WOULD YOU LIKE TO SHARE?