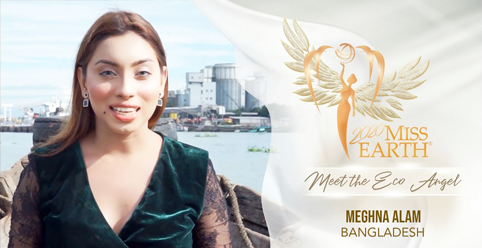 Age: 25
Height: 165 cm
Measurements: 34 in - 27 in - 36 in
"I may not be tall but I stand tall for all the women of the world. Because women, in general, have to be rule breakers, to be change-makers to make their voices heard and their footprints implanted in society."

DESCRIBE YOUR CHILDHOOD/GROWING YEARS
I grew up as the daughter of a farmer's leader. My father never had the time or luxury to take me to a fantasy park or a children's fair. My memories of spending time with my father as a kid consists of attending workshops, seminars, human chains for various environmental causes holding his hands from the age of 10. From that age, I started working as a translator to connect the farmers from various countries. While translating for others, I learned to express, to acquire knowledge, and to connect with different kinds of people consciously.
WHAT IS YOUR MEMORABLE MOMENT?
One of the memorable moments of my life is when my youngest sister was born and her tiny little fingers wrapped around mine. She was the 4th daughter in the family and the society expected to see regret in our eyes on the birth of another daughter. Her birth had started a revolution in me that love is all we need to overcome social stigmas.
ANY SPECIAL STORIES OR FACTS ABOUT YOUR FAMILY?
One of the most special facts about my family is that we are four sisters. Four of us went to the same school, one of the most prestigious ones in Bangladesh based on merit securing scholarships. In a patriarchal society where you are constantly reminded that not having a brother makes you weaker, your knowledge becomes your weapon to fight back. That is the essence of being a part of my family.
WHAT IS THE MOST UNUSUAL THING YOU HAVE EVER DONE?
I think one of the most unusual things I have done in my entire life is being unstoppable. I have had several crisis, my father falling sick and my family going through a financial turmoil leading to a huge gap in my studies. I was on the verge of getting depressed, isolated by relatives, and swamped by poverty. But even at my worst days, I got up, dressed up, kept a smile on my face, and won many battles that empowered me to return to my studies with a full scholarship and to earn enough to support my family.
My advocacy is to fight against climate change by reducing plastic production globally. I would actively engage myself in creating a digital platform for women to sell various recycled products targeting climate-conscious consumers. It would sensitize people about climate change while empowering women simultaneously. It is a process of looking for a solution while giving a voice to the women of our society.
WHAT TIPS CAN YOU SHARE TO PROMOTE ECOTOURISM & CLIMATE CHANGE?
To promote eco-tourism and climate change, my tip would be to include and acknowledge the voices of the grassroots who are most impacted by the effects of climate change such as farmers, peasants, and the landless people, who live in the most delicate situations. We must bring them together with the civil society organizations so that we can have a continuous dialogue, shared resources, and a space for accountability of our ideas and actions.
WHAT MAKES YOU PROUD OF YOUR COUNTRY?
What makes me proud of my country is the resilience of the people here against all odds. Every year, the people of my country re-emerge, re-organize, and re-model it to find and practice the best climate adaptation practices. This is because Bangladesh is one of the most vulnerable countries to climate change, and it is prone to natural disasters like flooding, droughts, etc. even though their contribution to carbon emission and plastic production is negligible.
WHAT CAN YOU PROMOTE ABOUT YOUR COUNTRY?
I would promote The Sundarbans, one of the largest mangrove forests in the world that saves Bangladesh from any harm like a guardian angel. It reduces the speed of wind during cyclones. It ensures the biodiversity and livelihood of people in the region. I think it deserves a lot of attention internationally so that countries in the world can start valuing and conserving the forests of their own.
WHAT TRIVIA ABOUT YOURSELF WOULD YOU LIKE TO SHARE?