Age: 22
Height: 172 cm
Measurements: 81 cm - 69 cm - 97 cm
Profession: Administrative Assistant
Hometown: Abaco
Language/s Spoken: English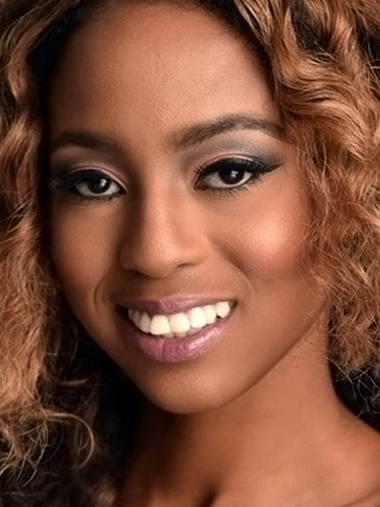 DESCRIBE YOUR CHILDHOOD GROWING YEARS (8-13 YEARS OLD)
I grew up on the beautiful island of Abaco, which is the furthest north island of the Bahamas. I lived with my parents Arthur & Yvette Mitchell and my siblings. I have 5 brothers in total Tameko, Atario, Jerone, Tyrone and Khemron Mitchell. Because my last brother came later, I spent 12 years as the last child. I love my family more than anything in this world. I was what we call a "Tom Boy". I enjoyed running around bare feet, climbing trees, running through bushes, riding my bike and building clubhouses. Days when my mother forbade me to go outside, I spent my time playing with my teddy bears or watching Disney Channel (Only watched Disney, no other channel) I was never the girl that always wanted a new doll and cried whenever she was denied it. My family love dogs. We had manyyy dogs Blackie, China, Scorpion, Daisey, Lucky, Tubs and Chubs (look a likes), Toby, Danger, Thousand and many others. I named my two favorites after my favorite Disney Stars, Hillary Duff and Shia Labeouf. I've had a wonderful childhood.
ANY SPECIAL STORIES OR FACTS ABOUT YOUR FAMILY?
My dad grew a little sugar cane field in our yard. When it was time to harvest, he would cut them all down and the whole family would gather that night in the living room and he would peel and share it out to us while we either watch a movie together or tell old stories.
WHAT IS THE MOST UNUSUAL THING YOU HAVE EVER DONE?
I slept outside on the porch because the breeze felt really good.
WHAT MAKES YOU PROUD OF THE COUNTRY YOU ARE REPRESENTING?
My People! I am proud of the strides persons are taking to put our Bahamaland on the map at an international level. Every athlete, model, singer, scholar, artist, dancer, etc. I am proud of them because they help make our country great.
WHAT TRIVIA ABOUT YOURSELF WOULD YOU LIKE TO SHARE?